Update 19 – April 2020
President's Message Zola Brown
Life as we know it has changed in so many ways since the CDC community mitigation plan for Covid-19 has been in place. I follow the rules by wiping everything down and I even order online to keep my distance. As an essential employee for healthcare workers and a caregiver for a senior citizen I find myself glued to the governor's daily updates. My routine is off, but my anxiety is down as I adjust to our current state. No situation is the same – we all deal with this matter in our own way, but I don't want anyone in the 19th Ward to ever feel they are alone during this time of uncertainty.
The city and county are doing their best to take care of families in need by offering free food and other services. 19th Ward District Delegates were asked to take this opportunity to keep in touch with neighbors. We are checking in with churches and community services to keep you informed of any vital services through our weekly update. The office manager is still coming into work to take your calls, but we are not currently accepting any visitors. Also, the majority of our large gathering have been canceled or postponed at this time. We'll keep you posted.
Let us continue to patronize our businesses in our neighborhood! The street managers are still on the job. This urgent situation will challenge our local businesses and determine if they will be able to stay open during this unprecedented era. So let's try to make a Friday or Saturday commitment to get some local takeout if you can.
I hope you and your families are safe, healthy and doing well. We are all probably taking care of projects we never got to, books we have not read, puzzles, and craft projects we wanted to finish. It's also a great time to explore the 19th Ward website and catch up on the 19th Ward newsletter. Take a walk, but keep your distance and enjoy the flowers coming in for spring. I see you 19th Ward family on social media entertaining our kids with short stories, science projects, recipe ideas and exercise programs. I'm sending the entire neighborhood, frontlines , essential workers and businesses, and healthcare workers a Big Bear Hug! Stay Safe, Stay Home. Love you 19th Ward,
Zola Brown, President 19th Ward Community Association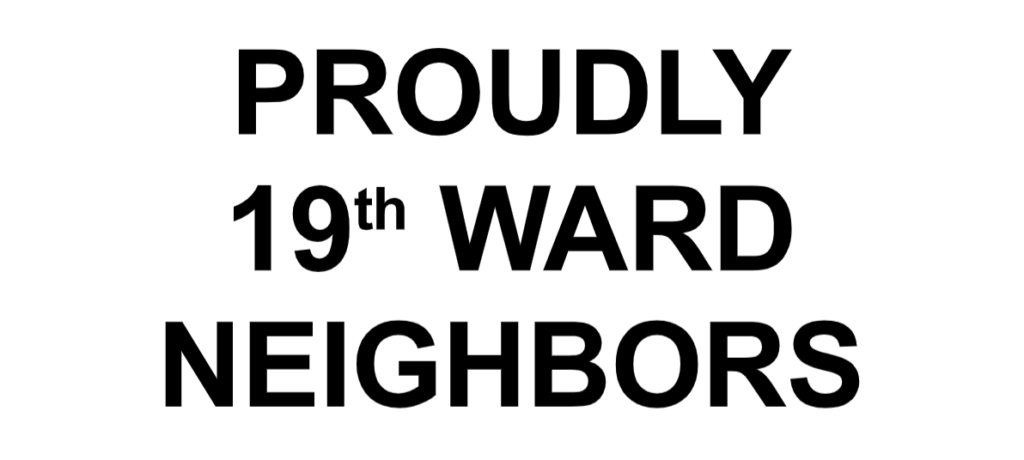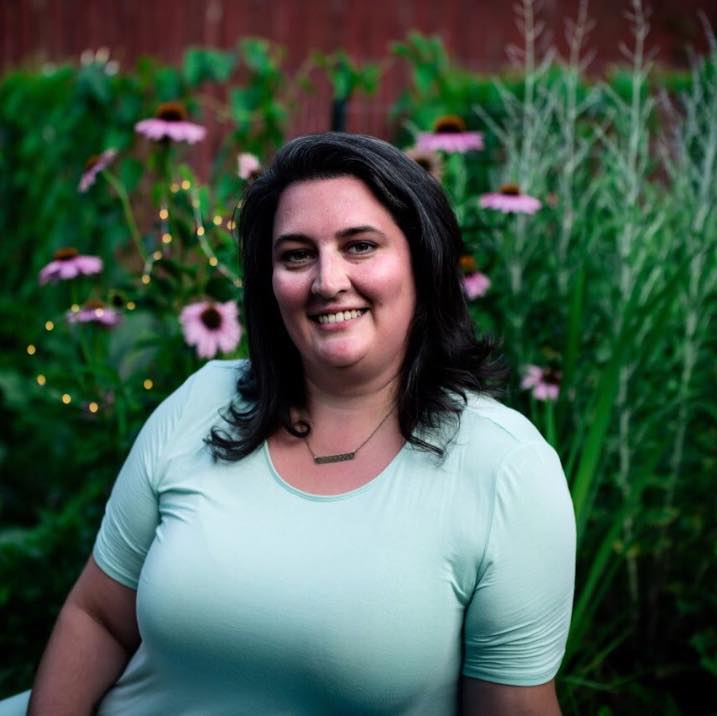 In 2013, Lauren moved back to her hometown of Rochester after living in New York City, Syracuse, and Cortland, NY. Lauren graduated from SUNY Cortland and New York University with degrees in sociology and nonprofit management. Lauren works at the University of Rochester's Center for Community Leadership as an Associate Director for Community-Engaged Learning.
Lauren Caruso and her husband Steven Terry have lived in the 19th Ward since 2015 when they bought their first home on Aberdeen St. From 2016 to 2019 Lauren served as the delegate from District 16.
Lauren currently volunteers for the Westside Farmers Market where she helps with marketing and promotion via social media and email marketing. The committee makes decisions on the operations of the market and are led by their market manager, Jackie Farrell. Lauren cites the market as one of the biggest reasons she wanted to live in the area. She is co-founder, and currently board chair, for Taproot Collective, a nonprofit with the mission to design and build holistic local food systems, dignified housing, and educational opportunities with youth and families in Rochester. Lauren represents Taproot Collective on the Urban Agriculture Working Group. UAWG is a coalition of gardeners and farmers across Rochester aimed at organizing and empowering urban growers to improve urban agriculture policy, access resources, and connect people to education opportunities. She is also a Master Gardener with Cornell Cooperative Extension of Monroe County.
Outside of work and volunteer activities, Lauren is an avid gardener at her home and you will often find her playing with her dogs, Blueberry and Bees, or working on different craft projects.
"I would recommend living in the 19th Ward and joining the 19WCA because I believe it is a moral responsibility to build a healthy and sustainable community and the 19th Ward is a great place for that. Having spent some time getting to know how other neighborhoods organize themselves, I think the 19WCA is run in the most democratic way possible. It's clear how our delegates are elected, what their roles are, and how every person in the neighborhood can get involved. A combination of the housing value, events of the 19WCA, diverse food options, and proximity to our jobs (we can bike easily) made it a no-brainer that the 19th Ward was where we wanted to live. In addition to the Westside Farmers Market, the MLK luminary night and Square Fair are testaments to how connected a neighborhood can be and are big reasons why we decided to purchase our first home here. We plan to stay for a long time. After all, I have blueberry bushes and cherry trees planted so we can't go anywhere!" – Lauren Caruso

A little bit of spring from our neighbor Mark Sweetland.
Census 2020 starts April 1st – let's make sure we get counted!
Restaurants
We're including our updated food map again to give you some ideas about where to get delicious take out while we work through physical distancing. We advise friends to Google places to get hours and phone numbers. Happy dining!"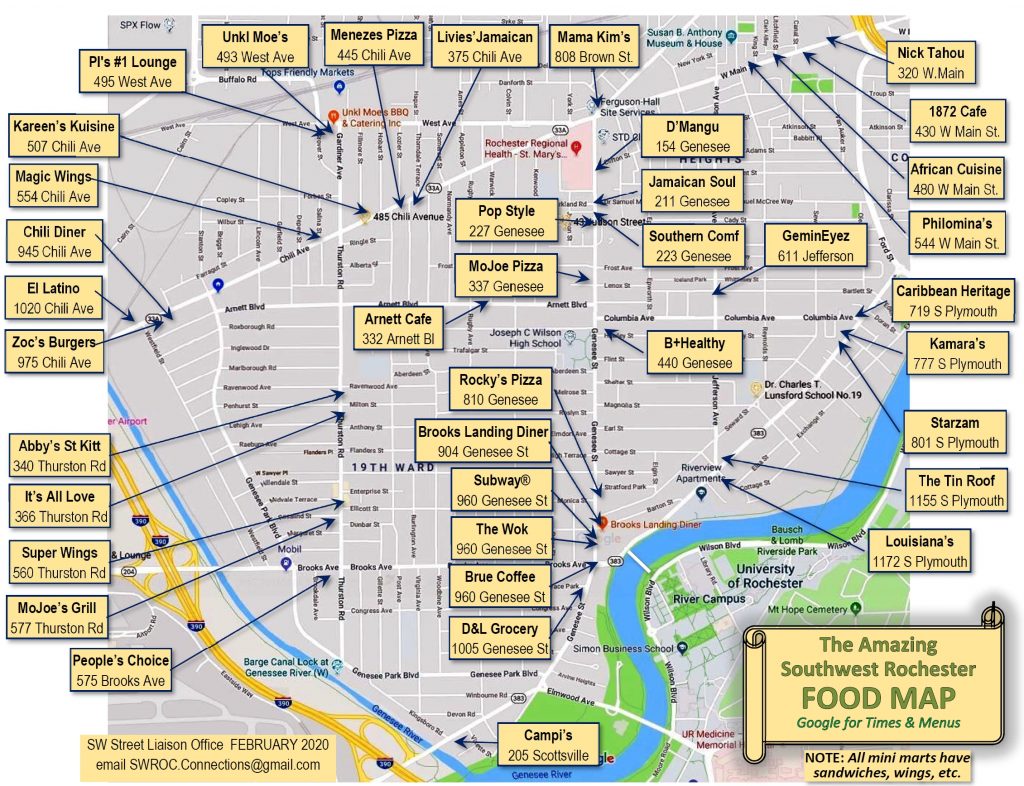 Lawn Signs
In order to spread a little community cheer while we have to keep more distance than usual, our communications team is happy to drop off signs to members over the next month in a contactless delivery to your front lawn while supplies last!
To get your sign, please fill out this form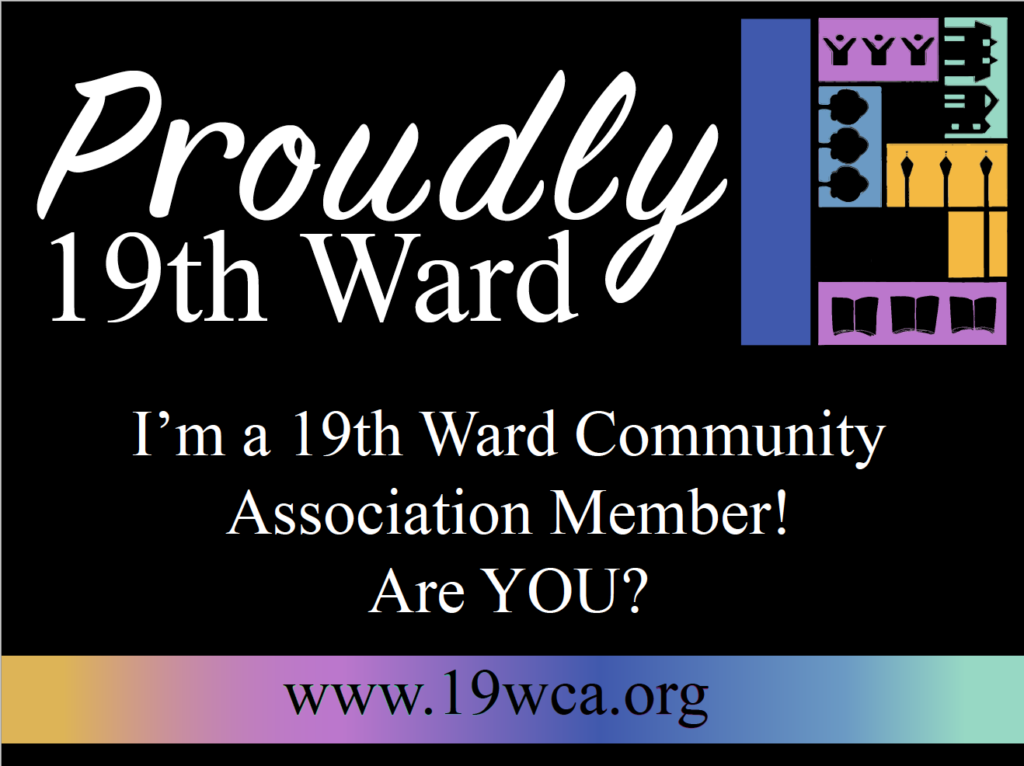 Events Updates
In order to follow social distancing regulations, we unfortunately had to cancel the spelling bee and palm Sunday breakfast. We're working to make our delegates and committees virtual – stay tuned for more info and check out the weekly email!
Spelling Bee Update
The 19th Ward Community Association Education Committee has been directly engaged in sponsoring a spelling bee for the past ten years. The bee is supported by funds from the Rochester Area Community Foundation, and the University of Rochester, which has hosted the event on their campus. Brothers from the Sigma Phi Epsilon fraternity have been assisting with Saturday practices at the Arnett Branch Library until the health crisis forced the closing of all public events.
We haven't given up on the hopes and plans to complete our spelling bee, though we will have to be resourceful to do so. We are soliciting input from the teachers in Schools 10, 16, 19, 29, and 44 who have been conducting little spelling bees within their schools to determine their third through sixth grade students who qualify for the final competition. At least four of the five involved schools were able to conduct preliminary competitions within their schools before the schools were closed. The eventual winner in each grade will be offered a $500 scholarship by the Rochester Area Community Foundation upon their acceptance into an approved college or trade school.
We have received a shipment of tee shirts, which we still intend to deliver to those students who are involved and hopefully can compete in some kind of completion of the spelling bee when it is possible. We have attached a picture of the shirts, modeled by Charlotte. We hope this will be a tangible encouragement to the students and teachers that their labors have not been in vain. Nor has the spelling bee been abandoned.
We are grateful for the education committee's work on this effort, and for the volunteers from the 19th ward that makes this event possible to help our public school students.
Sincerely yours,
Douglas and Charlotte Giebel
Chairs, 2019-20 spelling bee
Flower Sale
Hello Friends of the Southwest and Monroe Y's!
We hope you are all well and safely getting through the Corona virus emergency. We are sure many of you are missing the programs and fellowship of our wonderful Y branches. In spite of the restrictions in our ability to gather in groups, the needs of the community that are met by the Y all over the greater Rochester area continue. These services often depend upon the funding available through the YMCA's Annual Campaign.
The really great news (and we could all use some good news) is that spring has arrived and summer will come – virus or no virus! It also means it is time for the Southwest Y Flower Sale. Planting flowers will beautify our neighborhood and is an acceptable, socially distant activity.
The annual Flower Sale run by the Southwest Y has been a tradition for more than 30 years! Luckily, we are able to offer this sale to benefit the Y's Annual Campaign in a safe manner even though the branches are closed. All proceeds from the Flower Sale will be donated to the combined Southwest/Monroe Annual Campaign.
Attached to this email is the order form for this year. We hope you will continue your support of the Southwest Y by purchasing your annuals as you have in the past.
The process will be slightly different due to the temporary branch closures. Here's how it will work this year:
Print out the order form as usual
Pay by check made out to Carol Kramer
Mail your order form and check to Carol Kramer, 96 Rosalind Street, Rochester, NY 14619, by April 30, 2020
Pick up your order at 96 Rosalind St on May 15 and 16, 2020. (See order form for pickup times). If you are unable to pick up your order on those days contact Carol to arrange a different day/time.
We will have a "touch free" pick up process. The orders will be pre-sorted and most will be in flats for easy pick up. If you have a small order it may be helpful to bring a box or container to carry your order to the car and transport it home.
Please note the option for Monroe members to pick up orders at the Monroe Y will only be available if the branches have reopened by May. If the branches have not reopened we may be able to arrange for limited delivery service if you are unable to pick up your order.
Thank you for your support of this important fundraiser for the Southwest and Monroe branches. We recognize these changes might raise some questions. Please call Carol at 436-7521 if you have questions or concerns.
Carol Kramer and Jean Verno
Flower Sale Co – Chairs
Flower-Sale-Form

Delegates Council
September 10
October 8
November 12
Check upcoming issues of Update 19 for more information about our summer and fall events!
Committee Updates
Reach out to our office manager if you would like to get involved.
Delegates Council
Delegates Council will meet virtually on April 9th at 7pm. See full list of dates above!
Garden Committee
The Garden Committee is looking forward to spring. We've seen crocuses in bloom around the neighborhood!
Communications Committee
The Communications Committee is going to spend our social distancing time delivering lawn signs. See the info above, or here again is the link to the form if you would like us to deliver one to your lawn!
Housing Committee
The 19th Ward Housing Committee meets the third Thursday of each month at 1 pm. Look out for updates about how we'll meet during social distancing. Our meetings generally last about an hour. A City representative from Buildings and Code Enforcement attends to work with us on specific properties, concerns/issues, code enforcement, etc.
Schools Committee
The Schools Committee meets the first Tuesday of the month at 7 pm in the association office. Stay tuned for updates about meeting info.
Still time!
Rapids Cemetery Generous Funding Matching!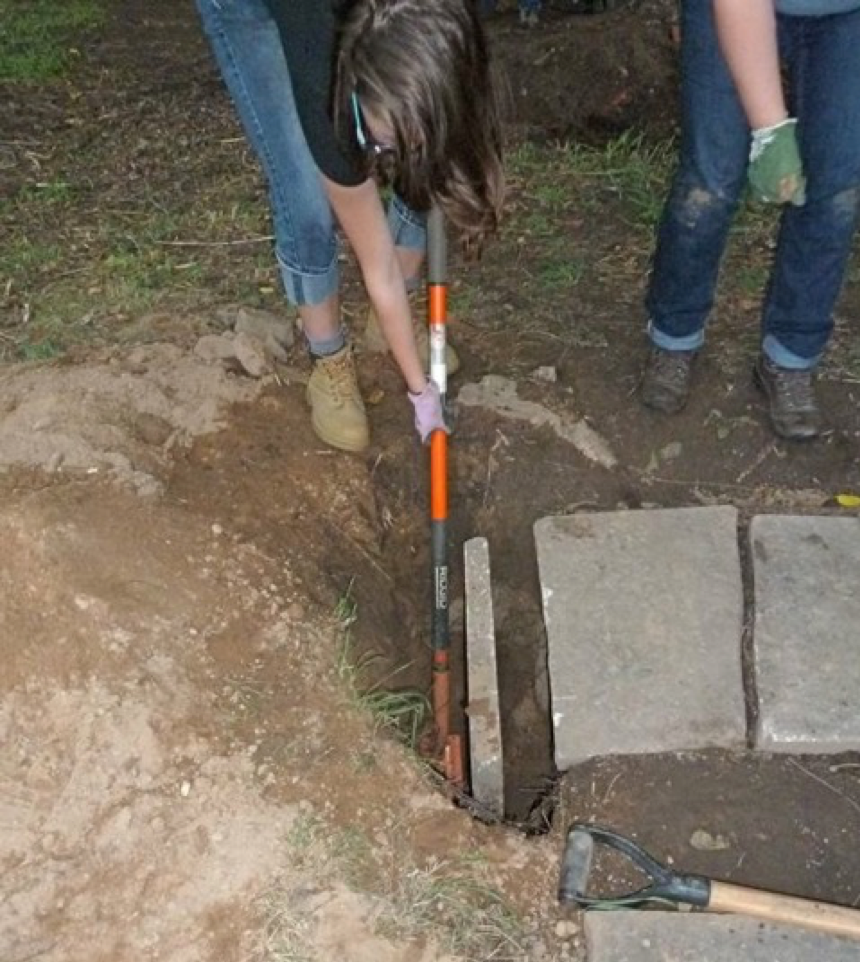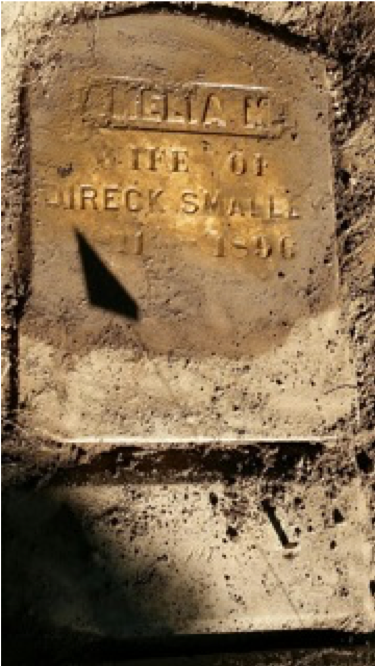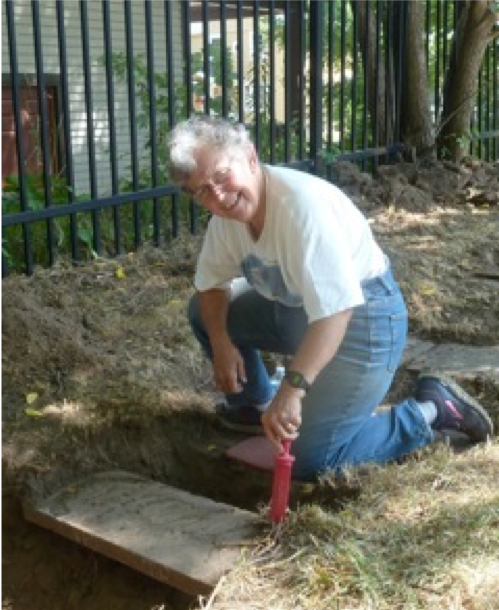 We have received $290 of our $500 goal – can you help us reach the finish line?
A generous donor has agreed to match donations to our 19WCA Rapids Cemetery fund for a limited time.
An anonymous donor has stepped forward and offered to match Rapids Cemetery donations, for a limited period of time, and up to a total of $500. Even small amounts are very welcome. $5 that you give becomes $10, $20 becomes $40, etc.
To take advantage of this exciting matching offer, simply earmark your contribution by mentioning, when you call the office or when you send in your check, that the donation is for the Rapids Cemetery Fund. 19WCA is a 501(c)3 nonprofit organization.
If you are not familiar with this 19th Ward pioneer cemetery on the north side Congress Ave near Genesee St., do take a walk over there some day. Much restoration work has been done in the past few years, all on a volunteer basis.
Some of the ways the Rapids Cemetery funds might be used:
Interpretive signage that will instill neighborhood pride and stability
Professional IT development work to complete the virtual tour of the cemetery that was begun in collaboration with RIT
An ongoing need to purchase a few items to support volunteers, such as shovels, hoses, probing tools, gardening gloves, buckets, clippers, a wheelbarrow
Engage youth in paid supervised prevocational skills
Consult with a specialist on food forests and edible gardens
Develop the site as a heritage tourism stop 
Design commemorative floral gardens alongside a rebuilt entryway that will invite passersby to enter, explore and reflect.
Speaking of heritage tourism, it is perhaps not well known that Susan B. Anthony lived nearby on Brooks Avenue from 1840 through the mid-1860s. Her Temperance Movement interest coincided with the Castle Town period of drunkenness and rowdy behavior. The Sunday afternoon tea sessions with abolitionist Frederick Douglass took place here in the 19th Ward at her father's home. Asa Anthony, a distant cousin who harbored freedom-seeking slaves, lived in the 19th Ward also. Close by the cemetery itself is the Underground Railroad safe house owned by Susan's Voting Rights colleague Rhoda DaGarmo.
The Rapids Cemetery Restoration project stakeholders include:
Office of the City Historian: Christine Ridarsky
Veterans Groups including VFW, American Legion, Legion Auxiliary, Chapter 20 Vietnam Veterans, Buffalo Soldiers and others
19th Ward Community Association (and its History & Archives Group)
City of Rochester Department of Planning & Zoning
City of Rochester Department of Environmental Services
City of Rochester Department of Parks & Recreation
City Information on COVID-19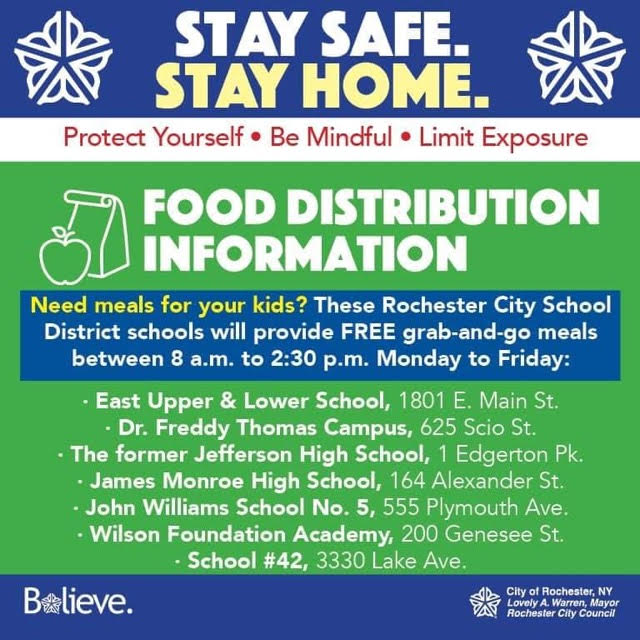 ui-covid-faq

city-info-finance

city-of-rochester-mayor

City Pauses Bulk Refuse Collection During COVID-19 Outbreak
(Thursday, April 2, 2020) – Effective Monday, April 6, the City of Rochester's Department of Environmental Services will pause bulk refuse collection until further notice. Normal refuse and recycling collection will remain on schedule. In order to be collected, all materials must fit in the customer's green refuse or blue recycling toter. This change is being made to keep the refuse collection process as simple and easy as possible for both residents and collection workers.
"By simplifying the collection process for refuse and recycling, we are making it easier to provide and maintain this vital service as we all deal with COVID-19," said DES Commissioner Norman Jones. "Bulk items like furniture, tree branches, etcetera that can be safely stored in your home, or on your property, should be kept until this crisis passes. We appreciate the community helping us ensure that regular recycling and refuse pickup continues as normal."
City DES continues to maintain adequate staffing levels to provide normal refuse pickup and other vital services. This change is necessary to maximize the department's flexibility to respond to situations as needed.