Update 19 – May 2020
President's Message Zola Brown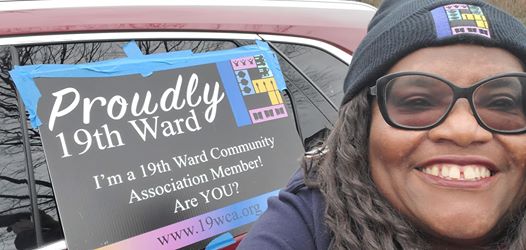 Governor Cuomo quoted "We are New York tough, smart, disciplined, unified and loving." I interpret this as we care about one another and if we stick together, we can make it through anything. During this pandemic, the rules have been a challenge. Most of us have complied and now we must get ready for reopening. What plans do you have in place to prepare for work and community engagement? Otherwise, let's continue to practice social distancing and wear masks to protect each other.
I want to thank Adrian Hale, Senior Manager at the Greater Rochester Chamber of Commerce for delivering 200 disposable masks to the 19th Ward Community Association for distribution to our area business community. Over 17 businesses received a 19th Ward care bag. Businesses shared the masks with those who entered their establishments. Thank you, Eleanor Coleman for the great idea to help keep the community safe. Thank you Rotary Clubs, who are also handing out masks to the community. Thank you to John DeMott, Chris McDonald, Demond Meeks, Ruth Jenerson and Fran Villegas for volunteering to deliver masks and carry out the vision.
While the sunshine is trying to make its way through, we have a lot to look forward to in the 19th Ward Community while we try to safely re-open. June 6, 2020, would have been our annual Square Fair Festival but we decided to cancel due to the pandemic. We will still have our Parade, make some noise in honor of our traditional event, and honor all our students and frontline workers. The Farmers Market will be returning, and I certainly hope we can revaluate how we can still do Porch festival in August depending how well we are managing COVID-19.
The COVID- 19 virus has affected all of us in one way or another through the economy or human loss. This is certainly something none of us has experienced before and if you have lost a family member or going through hardship, our thoughts and prayers are with you. We hope the information shared in our weekly update, monthly newsletter, and Facebook helps you in some way. Let's stick together, uplift one another and take one step at a time because all our lives are valuable.
Zola Brown, President 19th Ward Community Association
Mask Distribution
19th Ward Community Association
Business Community Mask Distribution
Arnett Café
Be+Healthy
Brooks Landing Diner
Chell's Liqour Store
Chili Diner
D&L Grocery
El Latino
Jim Dalberths
Livie's
Lonnie Pollocks
Magic Wings
Mo Joes
Nick Tahou
People's Choice
Popstyle
This Is It
Zoc's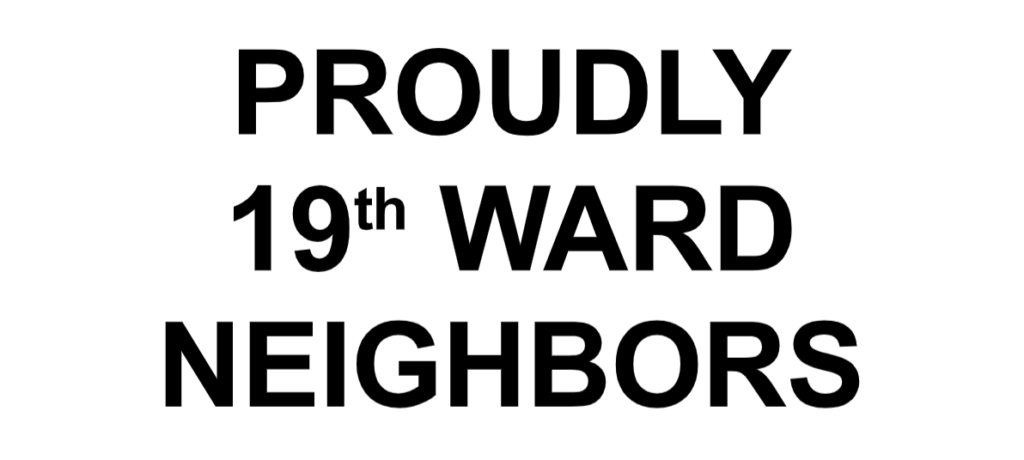 Tyrese J. Bryant is a lifelong resident of the city's 19th Ward. He attended School #16 and School of Arts for his K-12 education and received a bachelor's degree in Political Science from St. John Fisher College and a master's degree in City and Regional Planning from Clemson University. He currently works for a local business in Real Estate and Land Use Development.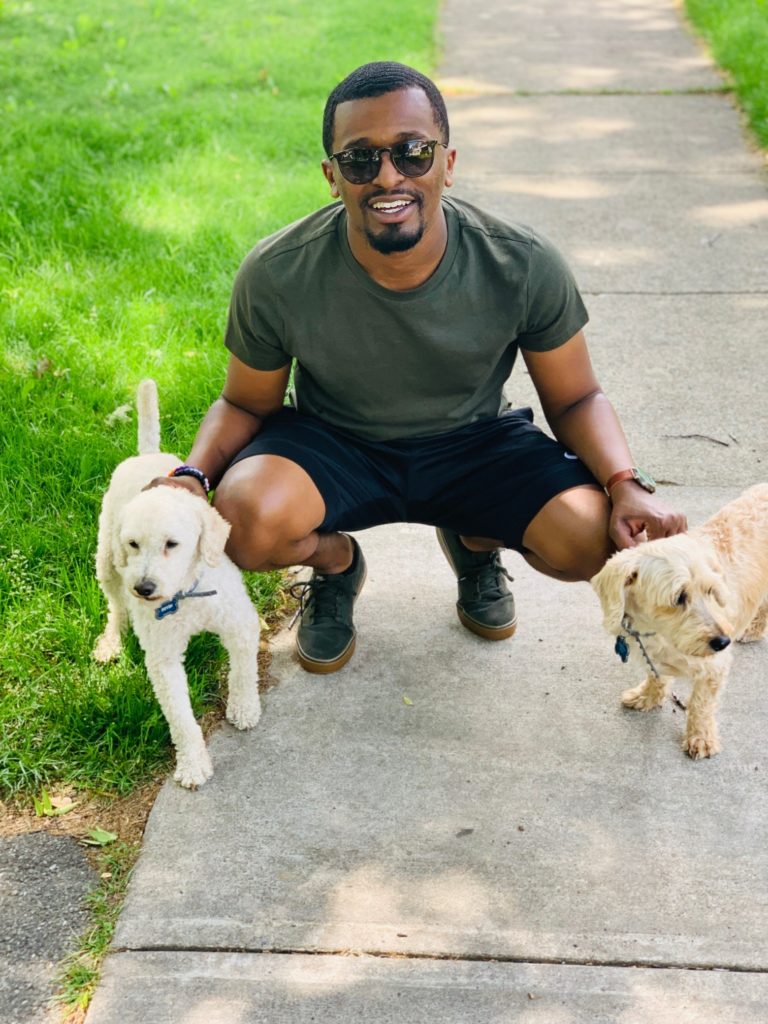 Tyrese is committed to community. He serves as a District Delegate in the 19th Ward Community Association, Baden Street Settlement Board of Directors, Marie's Kids Board of Directors (Charleston, SC), Marie's Kids is a STEAM education nonprofit created to help introduce students to Science, Technology, Engineering, Arts, and Math (STEAM) through interactions with their social and physical environment and provide pathways for their continued educational development. The organization was named after Marie Alfred, a passionate educator and mother of eight who recognized the value of providing children with an early start in math and reading. http://www.marieskids.org/
Tyrese also serves on City of Rochester Zoning Board of Appeals and is a former board member of Rochester's Young Professionals. He is a third-generation member of Antioch Baptist Church on Joseph Ave where he is active in multiple ministers.
Tyrese has worked tirelessly promoting education, civility, and as an advocate in his community, church and at the universities he has attended. His favorite quote comes from Rev. Dr. Martin Luther King Jr., which says, "Use me, God. Show me how to take who I am, who I want to be, and what I can do, and use it for a purpose greater than myself."
In his private life, Tyrese enjoys urban planning, traveling, spending time with family and friends and playing with his two dogs, Gavin and Devin. Tyrese is an avid Clemson Football fan, Go Tigers! His favorite local restaurant is Dogtown on Monroe Avenue. "I recommend living in the 19th Ward because it gives you a dense urban/suburban feel with great housing options and a diversity of neighbors whose families become yours. I recommend joining the 19WCA because as neighbors we truly are stronger together. Community Associations are the backbone of the change we seek in our city and our community and by being a 19WCA member you can make a difference with your voice and service."
THANK YOU HEALTHCARE WORKERS!!
We are especially proud to thank just a few of our neighbors who work in the health care industry during this difficult time, and also because Nurses Week started on May 6th. Don't forget to thank a nurse and if you see any of these lovely folks, give them a thumb's up and show them you care by wearing a mask if you need to go out of the house.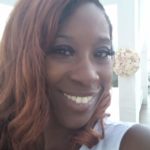 Around the Neighborhood
Mitchell Lurye and his wife, Ali moved into the 19th Ward in December and "we love the community here." Mitchell has been painting buildings and streets in Rochester for the last 10 years. He was very excited to do a painting that reflected his passion for our community. He passes the old Crowley sign every morning on his walk and it struck him as being very iconic.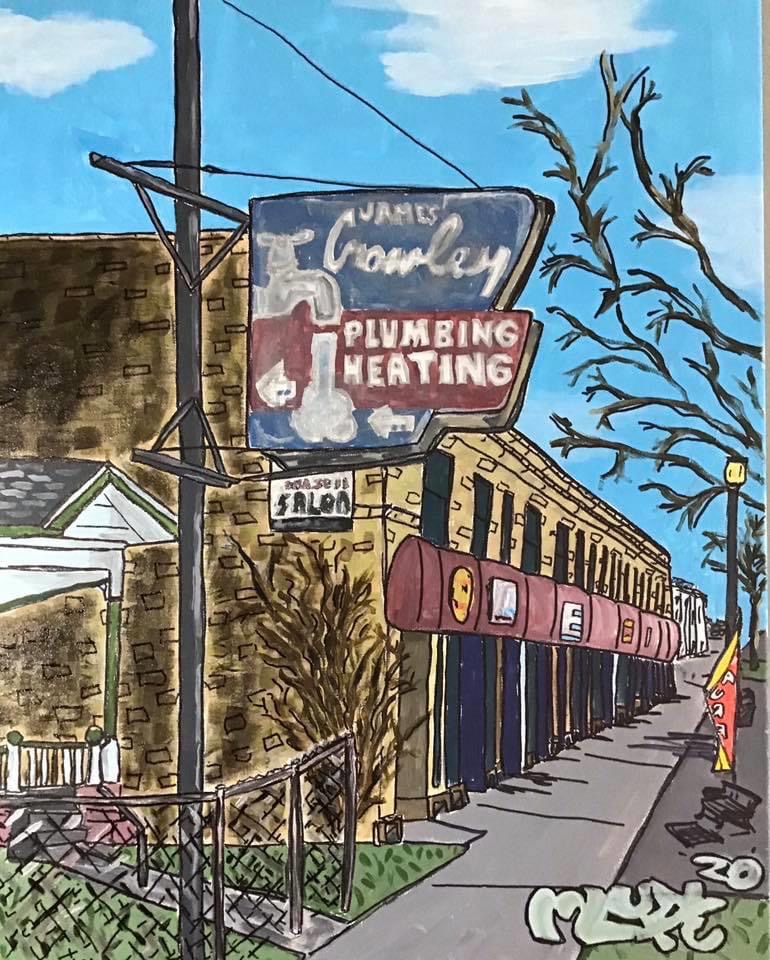 Thank you for being part of the Proudly 19th Ward community Mitchell and Ali Lurye!
Greetings from the Arnett Branch Library!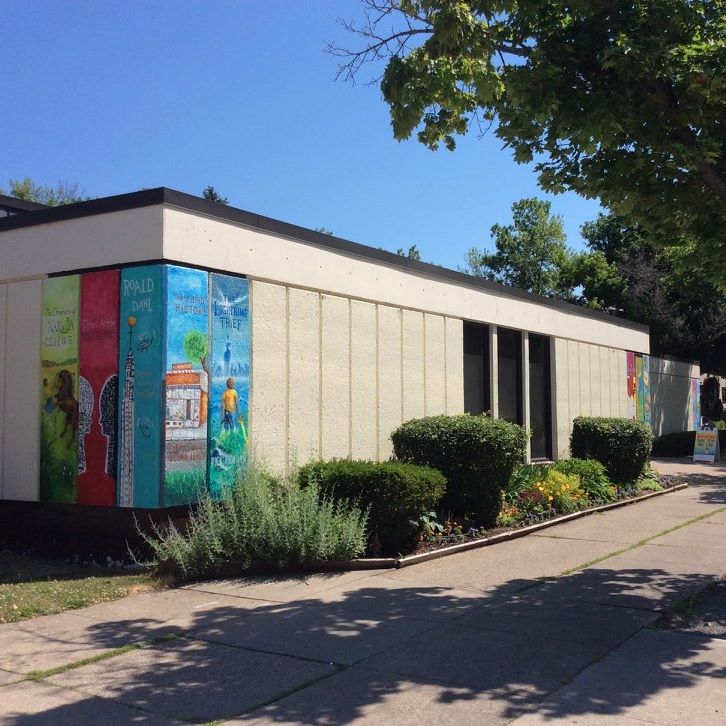 All our friends and neighbors are in our hearts during these troubling times. We are looking forward to the day we can all get back together again at our beautiful building. In the mean time we hope everyone is able access all the online resources the Rochester Public Library has to offer at https://roccitylibrary.org/ . You can find all sorts of interesting and educational services at that site along with books, videos and music. Please feel free to email any of our librarians if you have any questions regarding online services:
bruce.tehan@libraryweb.org
ginger.brewer-bennett@libraryweb.org
nancy.cholewa@libraryweb.org
Also check out our Facebook page. We have posted some fun games and story-times there.
If you visit our Facebook page please be sure to drop a comment or two. We miss you all and would love to hear from you!
Milk Giveaway
The University of Rochester has teamed with Dairy Farmers of America and the Cornell Cooperative Extension of Monroe County to host a free milk give-away this Monday on River Campus from 1-3 pm.
Key details: free milk in half-gallon containers available on Monday, May 11 from 1-3 pm. It's a drive-thru pick-up process in the University's Park Lot; volunteers and signage will direct drivers to the distribution point. All are welcome.
Daffodils at St. Monica's
Logos and Communications
During the fall semester, 2019, the 19th WCA joined forces with a writing course at the University of Rochester called "Creating Digital Identities." This course is taught by Kate Phillips, who is one of our neighbors and delegate of District 13! The goals of the course were for students to explore ways that we communicate our individual and community identities using design and digital tools. Kate was thrilled that the 19th WCA was willing to partner with her class, and grateful for a generous grant provided by the Rochester Center for Community Leadership that was used to print student designs at the end of the semester.
Those materials include our new logo, matching stickers and buttons that are now part of your membership benefits!
The students in Kate's class worked hard and narrowed their work down to two potential design for a 19th WCA logo through feedback of Association members who visited them on campus, community members when they visited local businesses, and at the 19th WCA annual convention last year.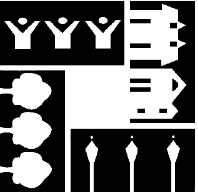 Both candidates drew inspiration from the existing logo, which through some sleuthing they determined was designed by RIT students in the 90's who were very taken by our attractive houses, street lamps, and beautiful trees, as well as the real treasure of the 19th Ward: our amazing people. You can see on the left that square design also references our annual celebration at the Square Fair.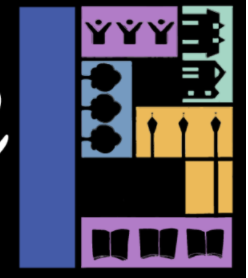 One team created a "special edition" logo (right) that built on our previous logo but that incorporated a new color palette. All of the students in the class love the vibrancy of our neighborhood and wanted to engage more young people by adding color! They also threw back to a number of our old logos that feature a "19" (Kate promises she'll tell you more about this in a post soon), while adding books to represent our little free libraries and the ways that Arnett Library brings our community together.
The logo that ultimately was adopted by the delegates as our new logo (below) also keeps the elements of the old logo, adds books, and you'll see the Square Fair is now represented by carnival tents — the street lamps also now look a lot more like our street lamps 🙂 One of the important elements for this team was to highlight the diversity within the 19th Ward and our history of celebrating our diversity. So if you look closely at our new logo, you'll see that all the people are unique.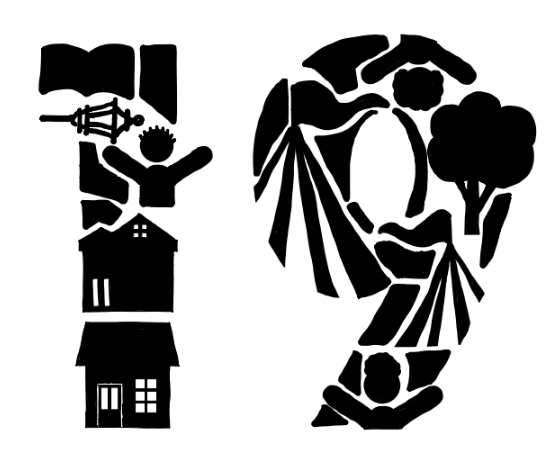 Lawn Signs
We had hoped to hand out lawn signs that were designed and donated by the "Creating Digital Identities" class during our annual Square Fair, but unfortunately that was not in the cards this year. In light of the pandemic and our current circumstances, the communications committee has been working hard to deliver signs right to your lawns to bring us together, bring some joy to our community, and help us stick together and support each other during this challenging time.
We have delivered about 65 signs!!!! And love seeing them around the Ward. The students who designed the signs were hoping to highlight the pride they experienced from all the residents they talked to while they were learning our history (they worked really hard on getting the font on the "proudly" just right), and hoped to get more people involved and excited about the 19th WCA, especially young people.
We still have more, so if you would like one delivered right to your yard, give us a call or fill out this form:
To get your sign, please fill out this form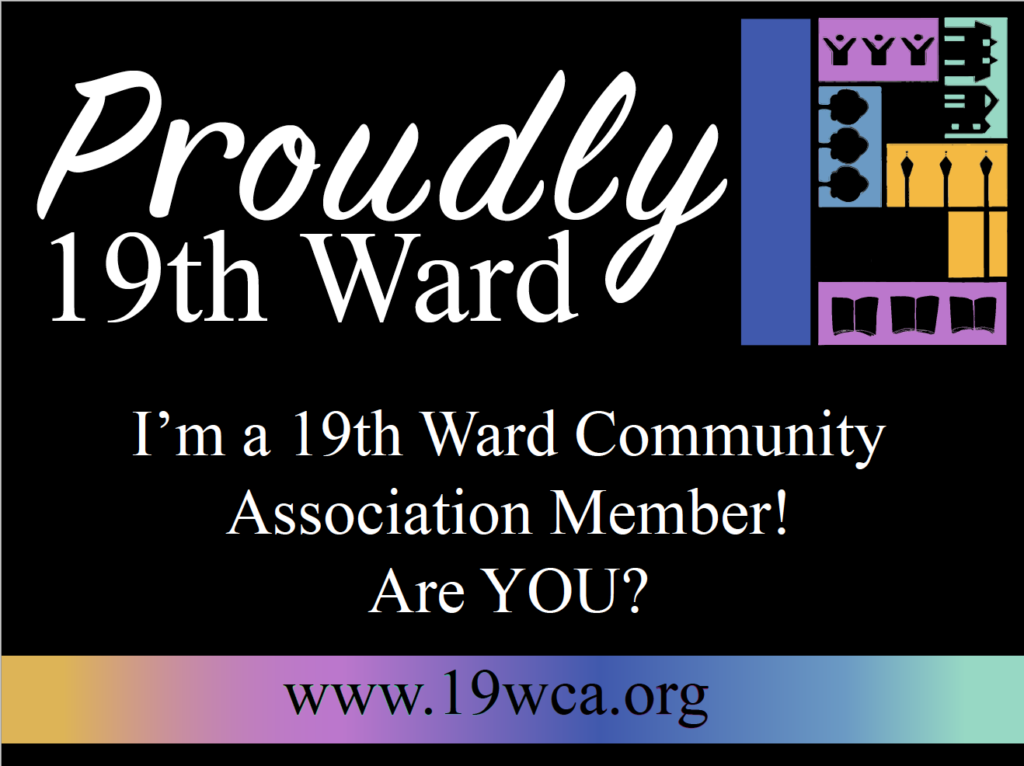 Restaurants
We're going to keep including our updated food map for a while to give you some ideas about where to get delicious takeout while we work through physical distancing. We advise friends to Google places to get hours and phone numbers. Happy dining!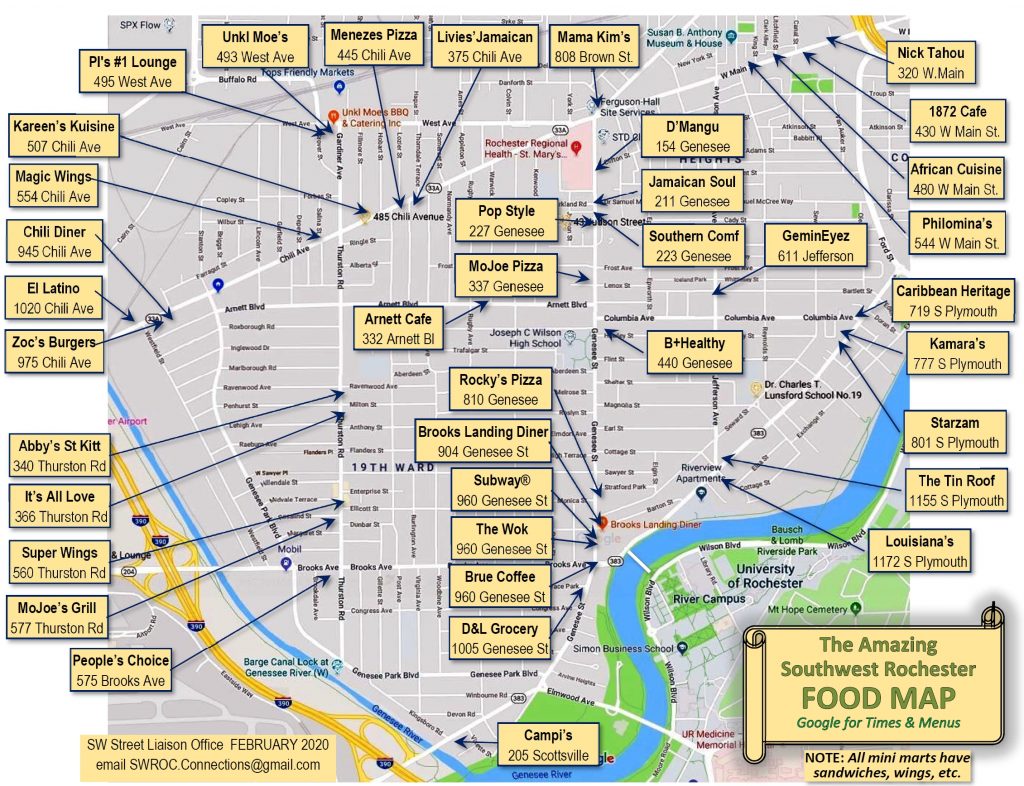 YES YES YES
The Westside Farmers Market will open on June 9.
NYS is encouraging farmers markets because we are essential, and shopping at open markets is easier and safer than shopping in stores.
The market will open with restrictions due to COVID 19 guidelines. Many of the things we love about the market – music, crafts, yoga, etc will not take place until restrictions ease.
At least for the beginning of the season the market will not be so much a community gathering place, or an event, as at will be a place to buy food.
Watch the market Facebook page and our website www.westsidemarketrochester.com for details as the date gets closer. Send an email to westsidemarketrochester@gmail.com if you want to receive our newsletter.
Thanks and we hope to see you on June 9!!!!
Events Updates
Delegates Council – now via Zoom!
May 14
June 11
September 10
October 8
November 12
December 10
Check upcoming issues of Update 19 for more information about our summer and fall events!
Committee Updates
Reach out to our office manager if you would like to get involved.
Delegates Council
Delegates Council will meet virtually on May 14th at 7pm. See full list of dates above!
Garden Committee
The Garden Committee is hoping things won't keep freezing! We've had frost advisories lately, but love seeing those blooming magnolia.
Communications Committee
The Communications Committee is going to spend our phsyical distancing time delivering lawn signs. See the info above, or here again is the link to the form if you would like us to deliver one to your lawn! We're also looking for a new chair.
Housing Committee
The 19th Ward Housing Committee will meet the third Thursday of each month at 1 pm when we are able. Look out for updates about how we'll meet during social distancing. Our meetings generally last about an hour. A City representative from Buildings and Code Enforcement attends to work with us on specific properties, concerns/issues, code enforcement, etc.
Schools Committee
At the Schools Committee meeting held on Tuesday April 14 various possibilities for completing the 2019-20 spelling bee were discussed. The current sequestering mandates prevented most possibilities from being viable. We decided to proceed to recognize and reward those students who through competitions held in school, before they were closed, had been selected to represent their grade and school in the actual bee whenever that might take place. We have begun delivering tee shirts to the teachers who are maintaining distant learning contact with all their students. We were able to take tee shirts to the teacher from School 10 for the twelve student winners from her school on Wednesday, April 22, and expect to deliver more shirts to those at Schools 44 and 16 later this week. It is very encouraging to see the efforts that these teachers are making for their students. In many cases they are going the extra mile to provide services beyond their normal call of duty. We owe these dedicated public service professionals a debt of gratitude for the job they are doing in the face of all the present difficulties. It is our hope that the spelling bee will be another tool for continuing their students' learning in these adverse circumstances.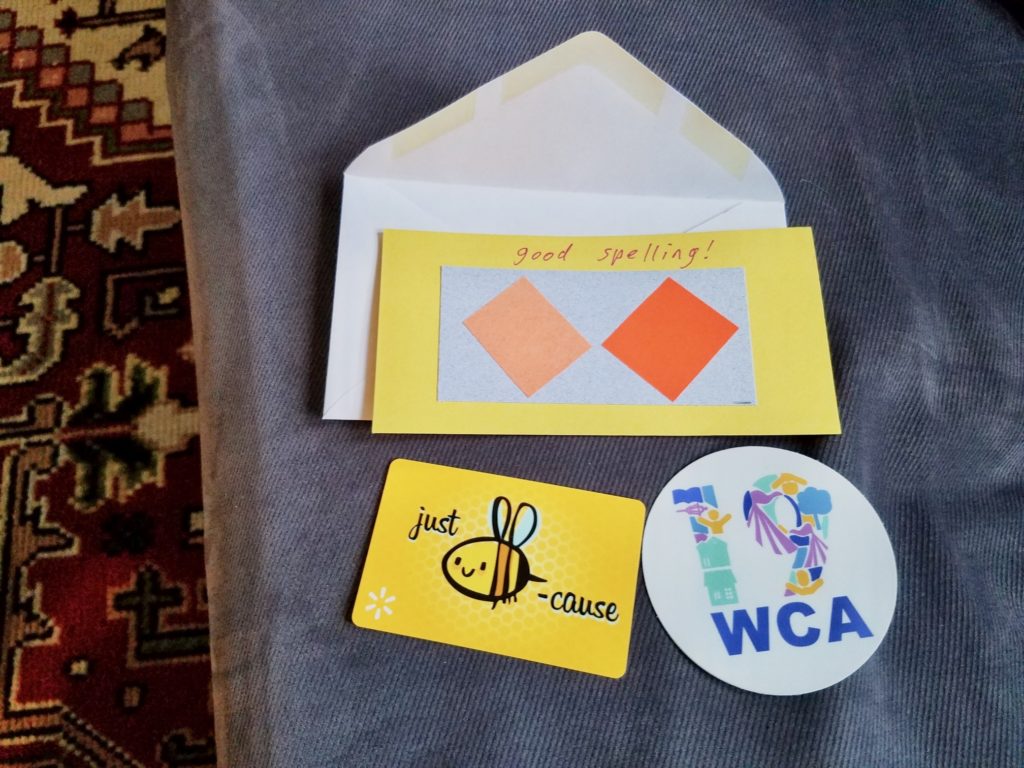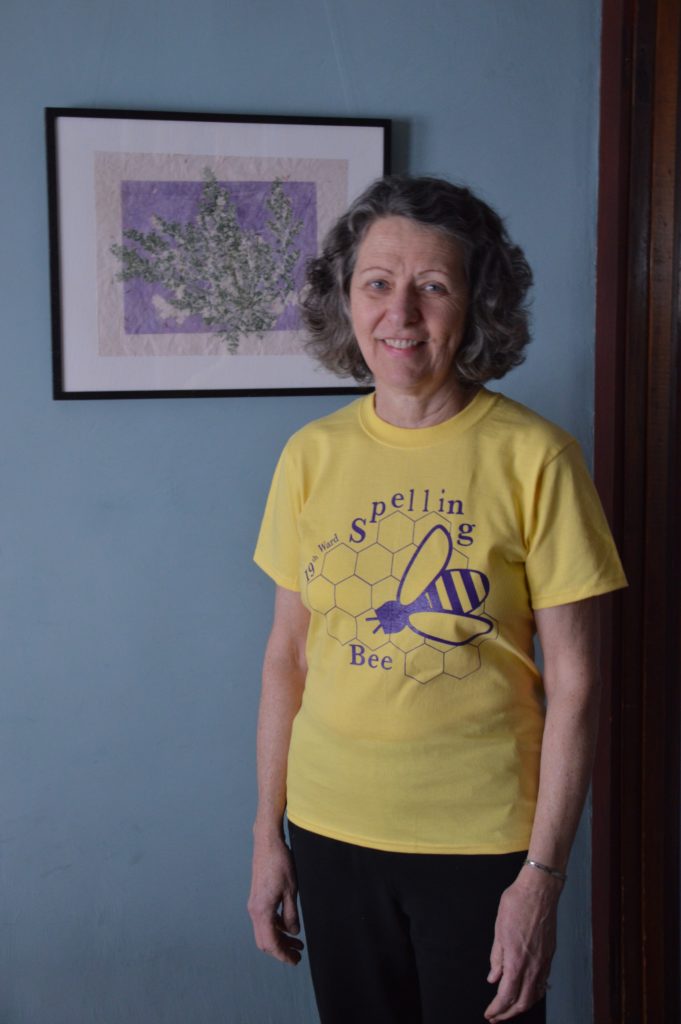 Thank you!
Rapids Cemetery Matching Funds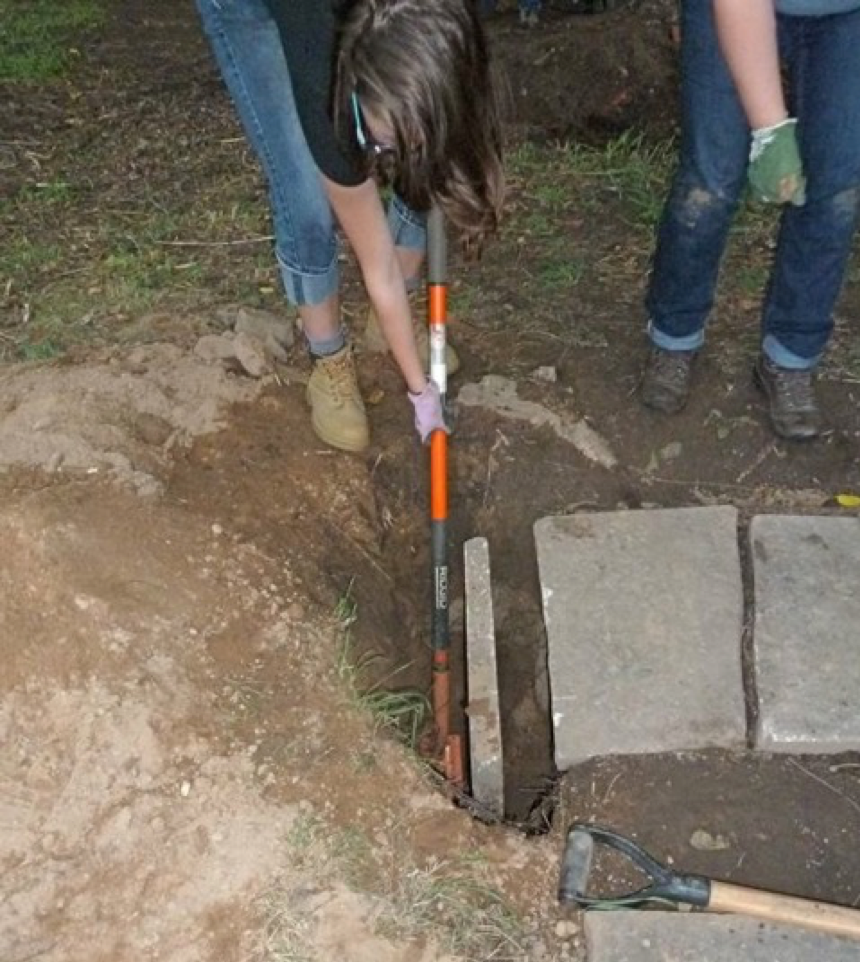 RAPIDS CEMETERY FUND
A HUGE THANK YOU To our Anonymous Matching Fund Donor!!
AND THE FOLLOWING DONORS:
Steve Berardi
John Curran
Jackie Farrell
Jennifer Grotz,
Ruth Jenerson,
Bill & Susan Morehouse
Gail Mott
Donald Parry
Donna Sarnacki
Mark Sweetland
Sandra Talarico
Armin and Margaret Weiss
MaryDan Cooper, Chair
and the History & Archives Committee, 19WCA
Reminders
CENSUS 2020
Census forms have been mailed to homes. You are also able to respond online, or by telephone. Please make sure we are counted!
UPDATE: CITY WILL RESUME BULK REFUSE COLLECTION EFFECTIVE MONDAY, MAY 18 AS PART OF THE COMMUNITY REOPENING. IF THERE IS AN EMERGENCY NEED FOR BULK REFUSE PICKUP BEFORE MAY 18, RESIDENTS SHOULD CALL 311.
*****
City Pauses Bulk Refuse Collection During COVID-19 Outbreak

Effective Monday, April 6, the City of Rochester's Department of Environmental Services paused bulk refuse collection. Normal refuse and recycling collection will remain on schedule. In order to be collected, all materials must fit in the customer's green refuse or blue recycling toter. This change is being made to keep the refuse collection process as simple and easy as possible for both residents and collection workers.
City of Rochester – Motorist Advisory
Traffic to be Affected on Scottsville Road
(Tuesday, April 28, 2020) – Beginning Thursday, April 30, traffic on Scottsville Road (from Moore Road to Kingsboro Road) will be affected due to milling and paving operations. Two-way traffic will be maintained, however access to driveways and private walks may be restricted at times. Motorists should expect delays during this time. The project is expected to be completed by the end of May.
Job Training
Monroe County is partnering with SUNY ATTAIN to host a free informational session on Wednesday, May 13 at 11 a.m. on Zoom. ATTAIN assists the community in developing occupational and technical training needed for the workplace; and this event is to promote those services to those whom may not have access.
Anyone interested can register at – https://MonroeCountyATTAIN.eventbrite.com.