Update 19 – June 2020
President's Message Zola Brown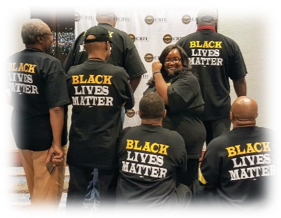 Black Lives Matter. The nation is speaking out regarding the death of George Floyd and many others and the everyday racist acts and behavior against Black people. As a community, we must remove ourselves from our comfort zone and discuss and assess how we eradicate systematic racism.
Black Lives Matter. The 19th Ward Community Association was formed to suppress the oppressive behavior regarding discriminatory housing practices. Members of the Association have spent years on committees trying to fight for education, housing and criminal justice reform.
Black Lives Matter. People of all races must unite against racism. However, we must recognize the trauma, racism and emotional toll that Black people in the community deal with. Issues around the COVID-19 health pandemic does not help. If your only focus was on the looting and violence, then you missed a chance to understand the real issues: police brutality, education reform, decent housing, good paying jobs, slumlords and a chance of history repeating itself.
Black Lives Matter. What can we do to move forward in the Association? Increase diversity amongst our committees so all voices can be part of the decision-making process. Fill in the Census 2020 so we receive necessary resources into our community. Vote and hold our politicians accountable for the needs of the 19th Ward. Register for the NY State Senate virtual forum on Monday, June 8, so you know who you are voting to represent our area.
The COVID-19 virus is still with us and we ask that you take the necessary precautions to protect your circle, social distance and wear a mask in public.
June is End Gun Violence Awareness month and everyone is asked to wear orange. We have postponed the June 6 Square Fair Parade. Please support the Westside Farmers Market Grand Opening June 9, 2020, and all of our local businesses.
We hope the information received through our weekly update, monthly Update 19 newsletter and Facebook helps you in some way. Let's work together to continue the fight for social justice and to end racism. If you truly believe All Lives Matter, then you must agree Black Lives Matter too.
Zola Brown, President 19th Ward Community Association
Street Liaison Report
Below is part of a survey we did and sent the City NSC & RPD. Contrary to impressions created by media, in SW Rochester at least, any looting was clearly organized and targeted. More than one of us reported out-of-state plates congregated at certain locations. BTW, some reports circulated Saturday evening on social media, such as looting at the liquor store at Thurston and Enterprise, were fictional.
A visual survey of our 6 Southwest Commercial corridors on the 7:30 am morning of Sunday, May 31, lists the businesses that incurred damage and/or theft.
Southwest commercial corridors comprise about 430 businesses and organizations. The damage was not random. It was clearly targeted to specific kinds of businesses with specific products, as in most cases adjacent business were not touched.
* These businesses may have covered windows prior to the Saturday evening incidents.
Chili / West Ave's
599 Chili – Metro PCS / Untouchable Wireless*
4 West Ave – Chesters Check Cashing
450 West Ave – Tops (boards were probably defensive)*
460 West Ave – Family Dollar door
Genesee Corridor
10 Genesee St. – Kicks & Caps
36 Genesee St. – Chase Bank door
118 Genesee St. – West Main Jewelry & Pawn, Inc.
411 Genesee St. – Empire Clothing & Beauty Supply
900 Genesee St. – Genesee Liquor, Wine & Spirits
Thurston-Brooks-Arnett
670 Thurston Rd – Walgreens Pharmacy
Notes:
1) The most severe damage was in the Bull's Head area on West Main St and the north end of Genesee St.
2) A check later in the day Sunday showed several more businesses that were not damaged had covered their windows to prevent possible damage Sunday evening. This created the impression that damage was more widespread.
Grant opportunities
City of Rochester Business Emergency Retention Grant Program 2020 ($3,000)
Great news! For small neighborhood businesses on our commercial corridors the City of Rochester's Business Emergency Retention Grant has been increased to $3000.
It is a true grant, not a loan, and does not need to be repaid. It offers up to $3000 to help continue business operations and retain employees, including: Rent, Mortgage, Payroll, Insurance, Utilities, Inventory and other similar short-term debt and operating expenses necessary to continue operations.
Download the application and instructions here:
SW Street Liaison Office
19th Ward Community Association
St. Mary's Campus, 1st Floor
89 Genesee St, Rochester NY 14611
Phone / Text 585-313-2559
End Gun Violence Awareness Month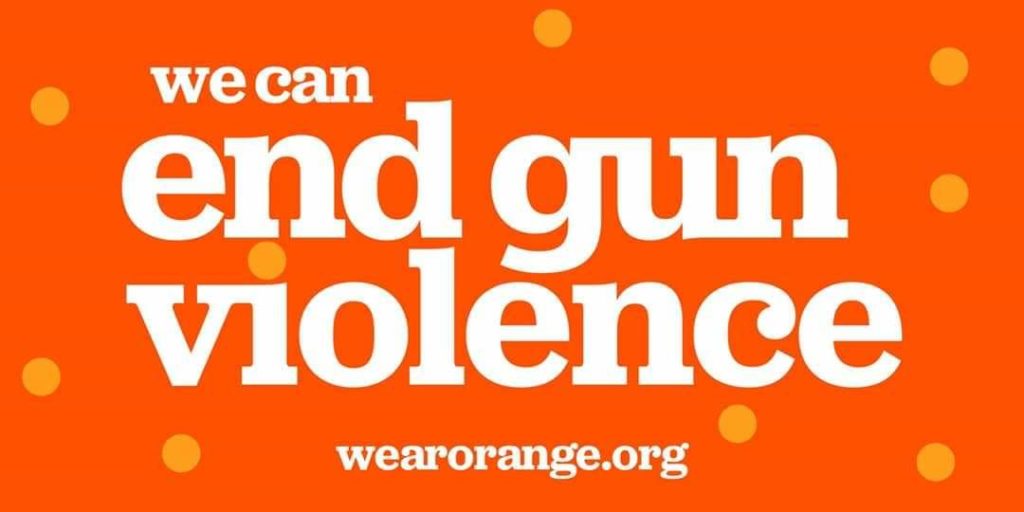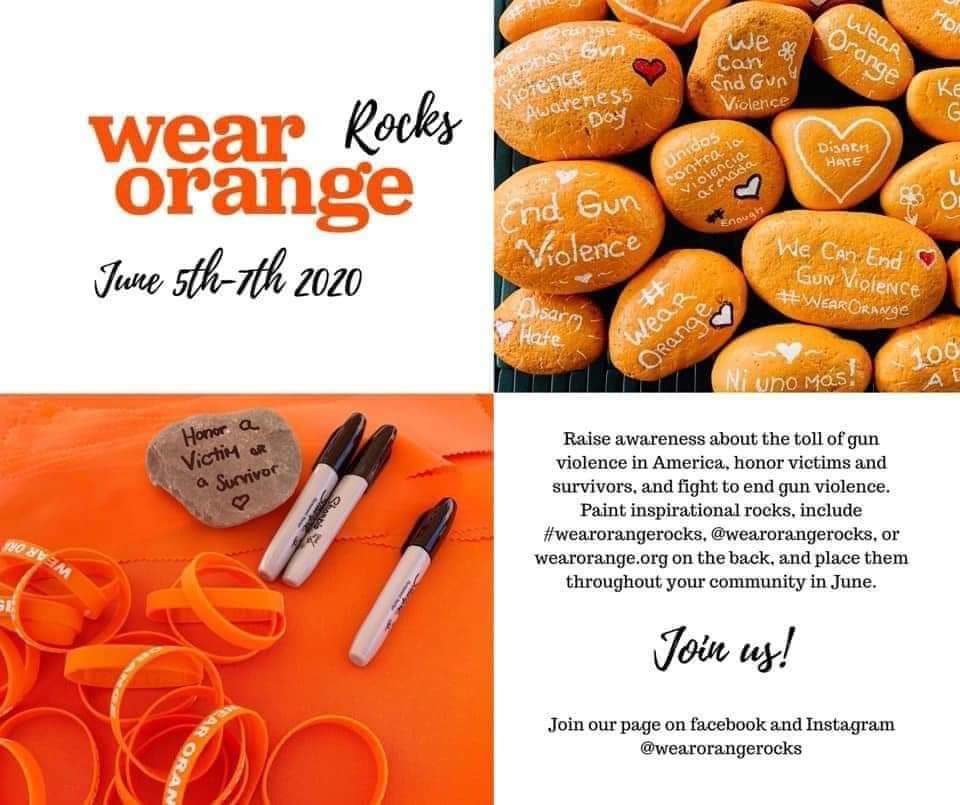 Rise Up Rochester, Incorporated is a nonprofit that empowers the community to establish and maintain a nonviolent culture and provides support to crime victims and their families.
June is Gun Violence Awareness Month. On June 5th, 6th and 7th the City of Rochester will light all City owned buildings Orange. We are asking that you wear Orange shirts and take selfies with the hash tag #wearorangeROC, #Wecanendgunviolence,
You can put an orange bulb on your porch and Moms Demand Action will have painting kits to paint small rocks that can be placed in parks and Community Gardens. An anti gun violence saying can be written on the rocks also.
Since 2008 countless families that have had their lives turned upside down by homicide have received needed support through Rise Up Rochester programs like its monthly support group and annual service of remembrance. Hundreds of classrooms have learned how to prevent violence in their neighborhoods, and thousands of students have taken a stand against violence through the Stop the Violence Billboard Contest.
Rise Up Rochester, Incorporated is directed by a committed core of volunteers who meet regularly to plan, organize and strategize how to take back our streets and provide support to crime victims and their families. If you want to join this team and empower our community to establish and maintain a nonviolent culture, please contact them at RiseUpRochester@yahoo.com or call (585) 489-3632.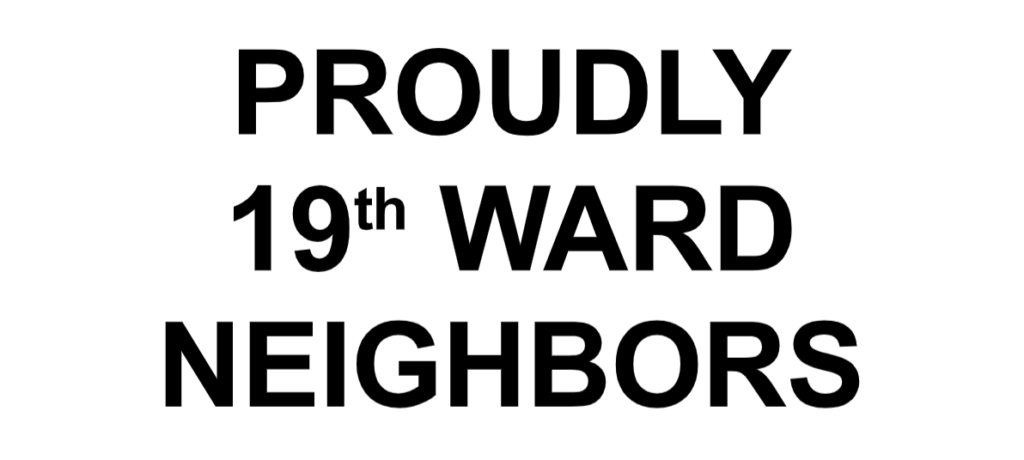 Kate Phillips grew up in Rochester and some of its suburbs. She attended SUNY Geneseo and studied philosophy — if you know her, you may know she thinks too much so philosophy seemed like a good outlet. After graduating she joined the Peace Corps because her most serious philosophical interest had always been ethics, so she thought she'd try to go do something good rather than just thinking about how to be good. She served two transformative years as a teacher in Betroka, Madagascar, and while she learned many things there, one of them was how much she loved to teach. Upon returning home she decided to apply to grad school so she could help people think about philosophy and ethics and being good people. This led her to pursue her PhD in philosophy at the University of Rochester, and now that she has graduated, she is working as a professor in the Writing, Speaking and Argument Program at the University of Rochester.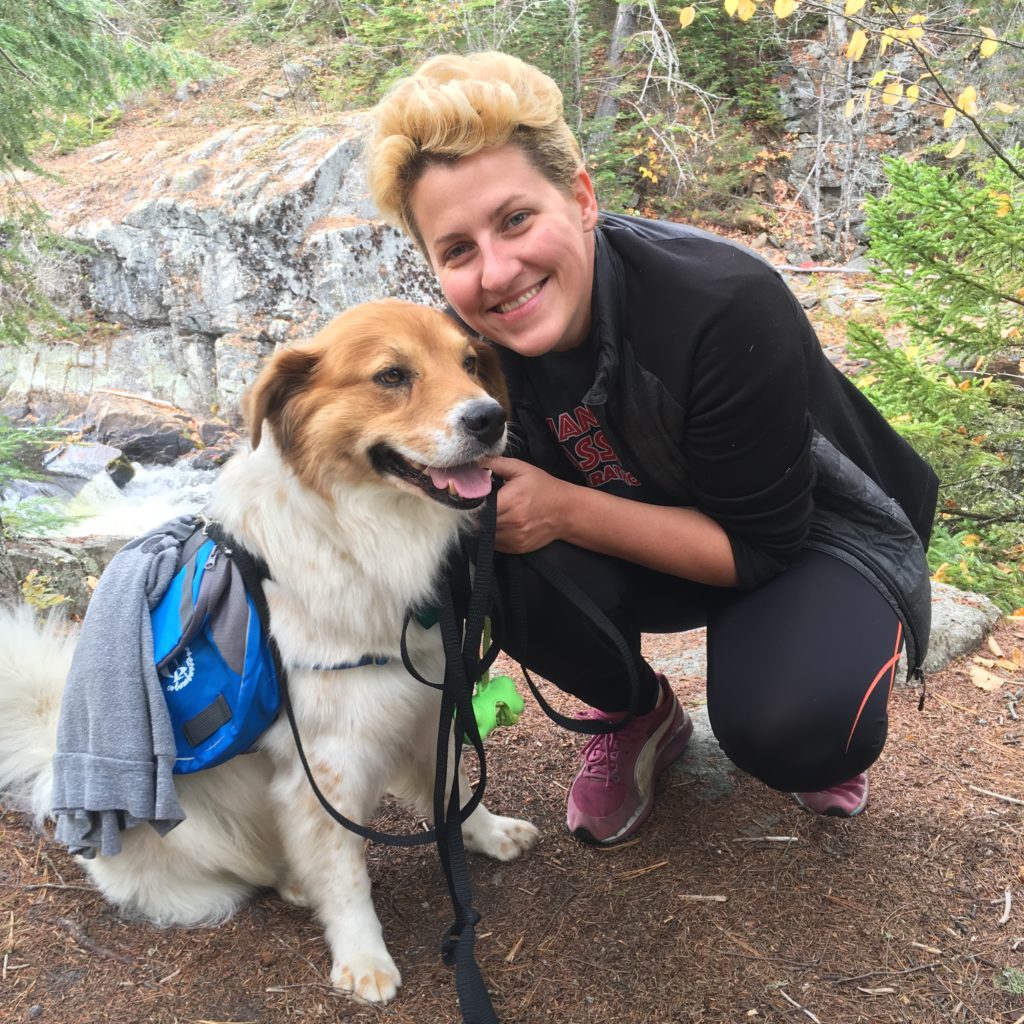 Kate and her wife Alicia moved into the 19th Ward when they bought their first house in 2015. They now have two dogs, which you will often see them out walking, and one sweet cat. They found the 19 WCA by way of their first house tour and now Kate works in the communications committee and is also a delegate for district 13. They love living here, love their neighbors, and couldn't imagine a better place to call home.
Since joining the 19th Ward Community Association, Kate started collaborating with the 19 WCA and some of her classes to learn more about the history of the neighborhood and organization. She teaches a course about argument and evidence that explores the 19 WCA's history of fighting racist real estate practices while simultaneously exploring arguments about equity issues in housing today. She also taught a communications class exploring community identity that collaborated with the 19 WCA to design our new logo, lawn signs, and stickers and buttons that are part of your current membership benefits. When she was chair of the 19 WCA communications committee, Kate also designed our current website – she welcomes feedback if you have any challenges with the site.
Kate thinks the 19th Ward is a great place to live because of the amazing community here. She loves that everyone always asks how it's going, is always willing to help, and she feels really grateful to live so close to SO MUCH good food. She loves to explore new streets, see our beautiful houses, find new front lawn gardens, and go biking on the canal trail. She also loves her family at the 19 WCA and all the awesome events they work so hard to put together for us.
Around the Neighborhood
Frontline worker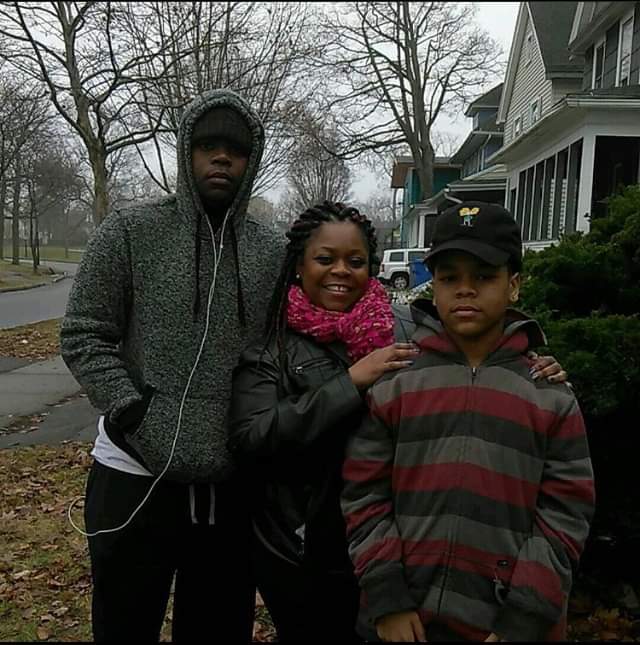 Kellie Miller lives in 19th ward works on front line in Transportation at Strong Memorial Hospital
Ravenwood Work Party
Neighbors are invited to a Work Party at the Ravenwood/Thurston Community Garden!
When? Saturday, June 13, from 9 to 11 am
Where? the SE corner of Thurston Road at Ravenwood Avenue
What will we do? pull weeds, prune bushes, repair wooden arbor, and spread mulch
What to bring? mask, gloves if you have them, any tools you enjoy using. (We will provide some also from the 19WCA office.)
Hoping to see some of you there!
Charlotte and Douglas Giebel
In Memory of Jackie Levine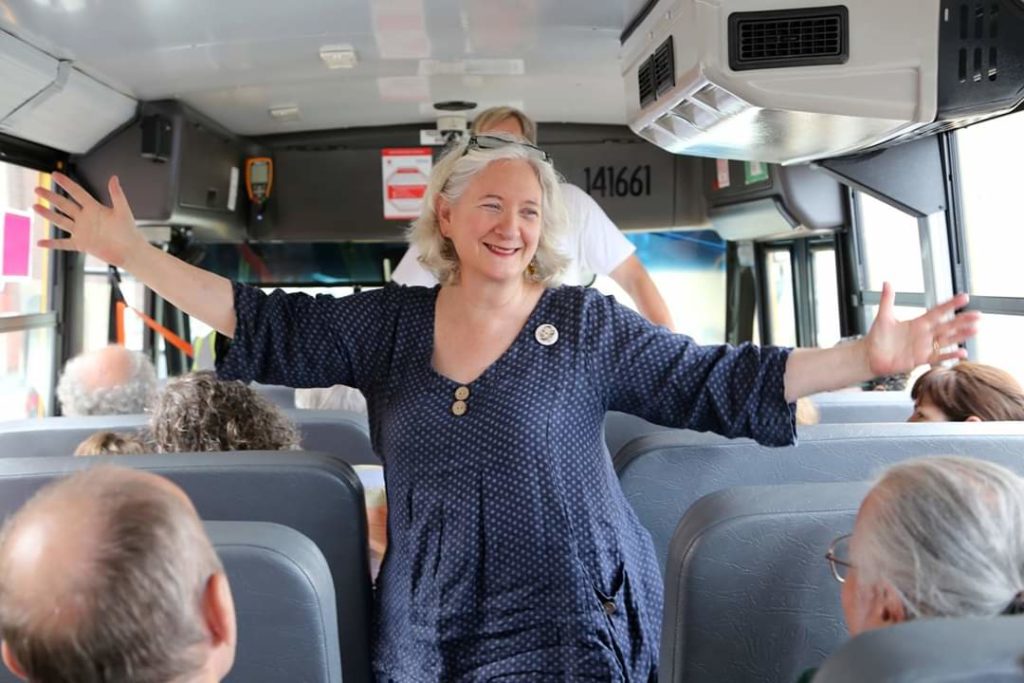 The 19th Ward community extends our condolences to John Borek. John is a former president of the 19th Ward Community Association. We lost a good friend and neighbor with the passing of John's wife, Jackie Levine on May 23, 2020.
Jackie Levine's career choices allowed her to pursue her passions: cooking, travel, languages, education, and collecting brilliant, interesting friends. She was a sous chef at Chez Jean Pierre, the first French restaurant in Rochester, NY; an employee at the now infamous Village Green Bookstore, her husband's bookstore; and for 35 years she thrived at the University of Rochester, first as an academic advisor and ultimately as Director of the Center of Study Abroad. In this last treasured job, she was able to meet people from, and travel to, countries all over the world. This led to lifelong friendships and cultural exchanges from India to Italy, Poland to Ghana, and every place in between.
In 2009, she received the UR Goergen Award for Excellence in Undergraduate Education; and in 2016 she was the recipient of the Lifetime Achievement Award from the Institute for the International Education of Students and Jacqueline began her academic studies at Dutchess Community College, followed by the University of California, Berkley, and the University of Nice, France, where her love of French blossomed.
She was awarded an AS from Monroe Community College in 1974; a BS in Humanities from the UR in 1980; and a MA in French from the UR in 1984.
In addition to her husband of 44 years, Jackie is also survived by her sister Eileen (John) Daniel; brother Steven Levine; niece and nephew Diana (Joe) Seroski; Jordan Daniel; grandnieces and nephews Noa and Ezra Seroski; Amy, Andrew and Terri Leker; Godchildren Pamela Kim Adams, Julia Norton, Yoav Shafrir, and Margaret Storms; and by special students, she met through the UR and Study Abroad Programs: Sara Korol and Philip Brune and their children Celeste, Darian and Daphne; Jan & Sarah Pytalski; Melinda Fountain & Tom Cumbow and their children David and Margot; Kristina Wilson & Eric Richard and their daughter, Joan; and many wonderful friends in Rochester and around the world.
Contributions may be made in her name to any political parties/organizations that work to unseat right-wing elected officials.
Memorial service and shiva dates will be announced after it is safe for us to gather together again.
Since we can't be with John in person, you may want to send a card to him at 296 Melrose St.
We are so happy to tell you that the Westside Farmers Market will be returning for its 13th year!! – hmmm 13 in a pandemic! Oh my.
Once again we will be located in the parking lot of St. Monica Church, from 4:00 – 7:00 each Tuesday beginning June 9.
We will look a bit different, and be a bit different, in order to keep us all safe. The Genesee St. entrance will be blocked off, leaving only the Monica St. entrance for walkers and vehicles. Everyone will need to stop at the market booth, show off your mask, wash your hands, read the signs, and possibly stand in line for social distancing. Bathrooms will not be available to shoppers. Cash will be accepted, but not preferred. Credit/debit means less handling. We are following strict guidelines set up by NYS Dept of Agriculture & Markets that have been sent to all farmers markets.
The vendors will be spread out in 3 rows. We will ask everyone to stay 6 foot apart. Children need to stay with parents.
The saddest is that we won't be able to encourage congregating, so no live music, no crafts for kids, no yoga, etc.
There is lots of good news!– No. 1, the market will open. No. 2, we will be able to see each other again. No. 3, New York State Dept. of Agriculture & Markets has declared famers markets essential, and a safe way to purchase food – open air, socially distant, food less handled. No. 4, we will be supporting our farmers, and without them there is no food.
Returning farmers and vendors are Lagoner Farms, Rainwater Farms with Baby Norah, Fire Creek Farm with baby (maybe), A Taste of Supreme Bakery, Cooking and Eating Healthy with Phil with Baby Saint, Grawn Honey, GG Bakes will return after taking one year off. New vendors include Lost Woods Bakery bringing artisan and sandwich breads, Flint Maple bringing maple syrup, maple fudge, and maple products, Rochester Kettle Corn bringing you-know-what!! We are working to get our Co-op booth up and running again, and hope to have those products that you can't find at the market – yogurt, cheese, and more, all purchased from New York farms.
We are VERY EXCITED to keep the market going, and hope that guidelines will ease through the summer so that we can relax a bit on the rules, and maybe bring in some fun. We are looking forward to seeing everyone again, and are willing to follow the rules in order to make this all happen.
Thanks for years of support. I hope you can join us
Did you ask what we might need? There is a list:
Large plastic and empty cat litter jugs – we will use them to create walkways – drop them at 470 Rugby
Saw horses – we will use them in front of the vendor booth to ensure a 6' distance – drop them at 470 Rugby
Volunteers– we always need volunteers – send us an email westsidemarketrochester@gmail.com, or call 585-436-8999 to talk about volunteer opportunities.
Monetary donations – we needed to make purchases that were not in our budget: a lot of signage, hand sanitizer, masks, gloves, handwash stations, equipment rental….and our income is down due to the pandemic. Many of our sponsors are not able to support us this year because of their own financial setbacks. If you can help out, we will be very grateful. Checks can be made payable to 19WCA/WestsideFarmers Market, and mailed to (or dropped at) 470 Rugby Avenue.
!!! THANKS AND SEE YOU ON JUNE 9 !!!
Restaurants
We're going to keep including our updated food map for a while to give you some ideas about where to get delicious takeout while we work through physical distancing. We advise friends to Google places to get hours and phone numbers. Happy dining!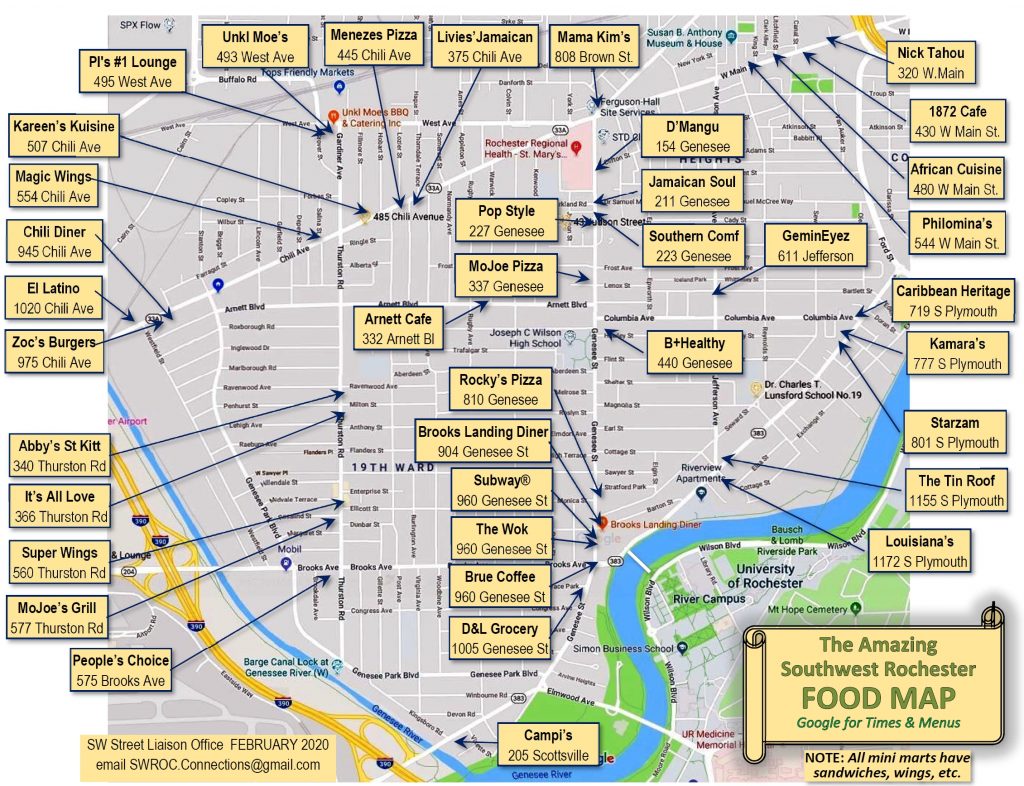 Events Updates
Delegates Council – now via Zoom!
October 8
November 12
December 10
Check upcoming issues of Update 19 for more information about our summer and fall events!
Committee Updates
Reach out to our office manager if you would like to get involved.
Delegates Council
Delegates Council will meet virtually on June 11th at 7pm. See full list of dates above!
Garden Committee
The Garden Committee is enjoying seeing your beautiful gardens bloom.
Communications Committee
The Communications Committee is in search of a new chair.
Housing Committee
The 19th Ward Housing Committee will meet the third Thursday of each month at 1 pm when we are able. Look out for updates about how we'll meet during social distancing. Our meetings generally last about an hour. A City representative from Buildings and Code Enforcement attends to work with us on specific properties, concerns/issues, code enforcement, etc.
Schools Committee
The schools committee is continuing to meet and will keep us updated on the good work they're doing.
Rapids Cemetery
We are hoping that the veterans group will begin to petition for north perimeter fencing at the cemetery. We've finally been able to clear the north slope where the Terrace Park garages and irregular fencing are located.
We've installed thirty metal fan trellises to improve the black raspberry food forest. The buds just began to appear today. We harvest them for St. Peter's Kitchen.
Our two-year effort to develop a self-guiding cell phone tour is getting some glitches fixed by one of the original RIT students who helped design the app.
We will be requesting from the City a donation of a large quantity of mulch to freshen up the garden, terrace and food forest during the last week in August when the college freshmen perform community service. Brockport College has already asked us to provide them with an activity.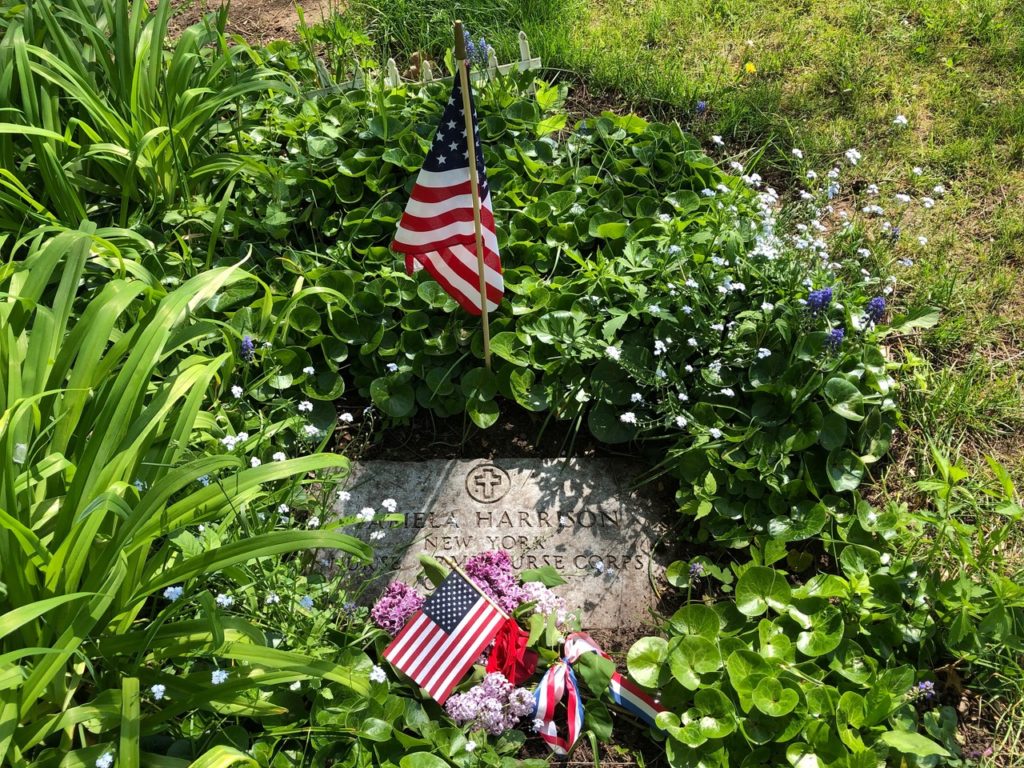 Civil War Nurse, Pamela Harris's Grave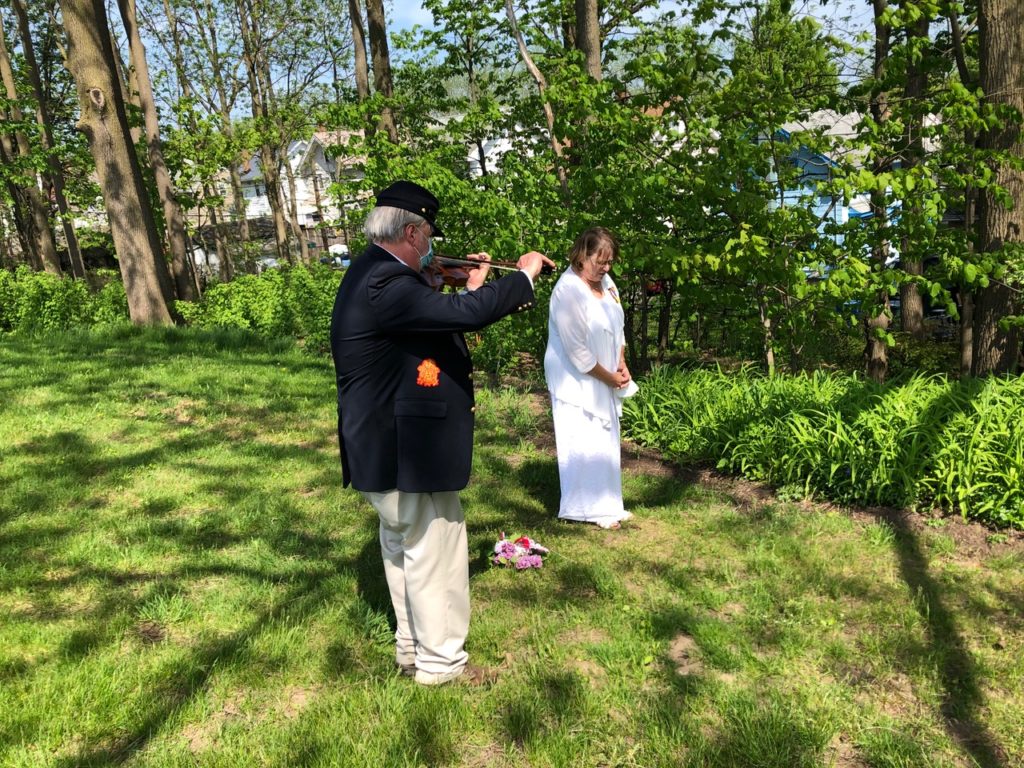 Two visitors came on Memorial Day from Waterloo representing the Sons and Daughters of the Civil War. He's playing the Ashoken Farewell theme and she followed with singing "Amazing Grace" at Civil War Nurse Pamela Harrison's grave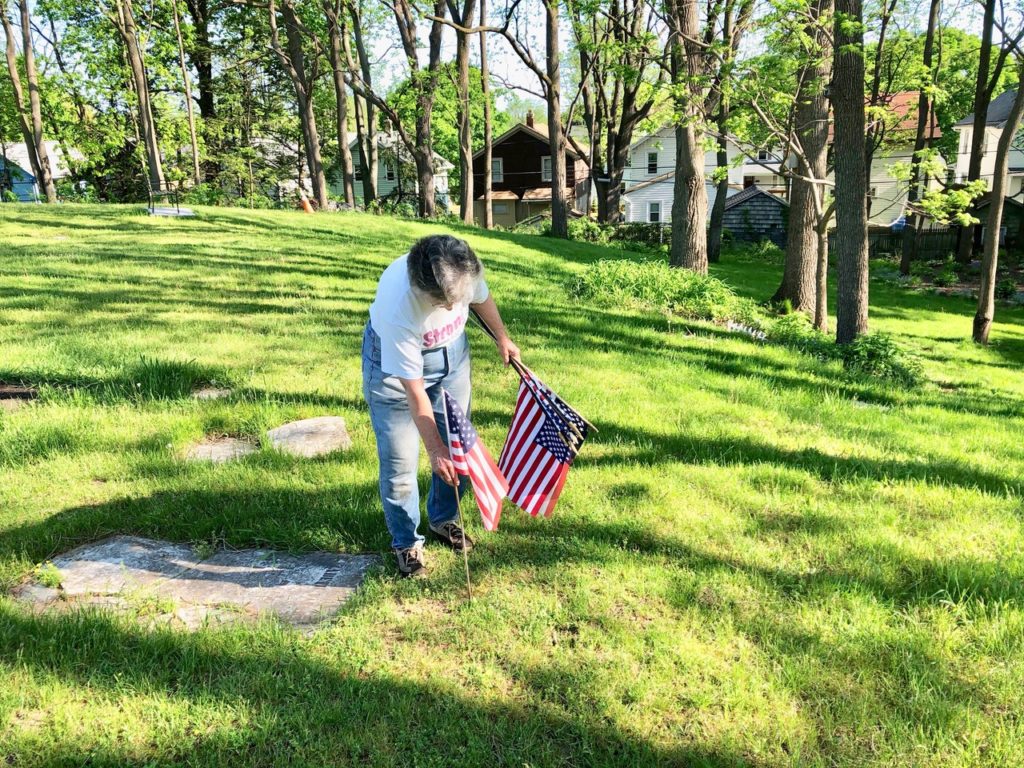 JoAnn removing the flags from the cemetery. She puts them in place on Memorial Day, Flag Day (June) and Veterans Day. You can see in the background of her photo how well our Meditation Garden is doing. The hostas are thriving and the weeds have been easy to control because of our weed mitigation efforts a few years back.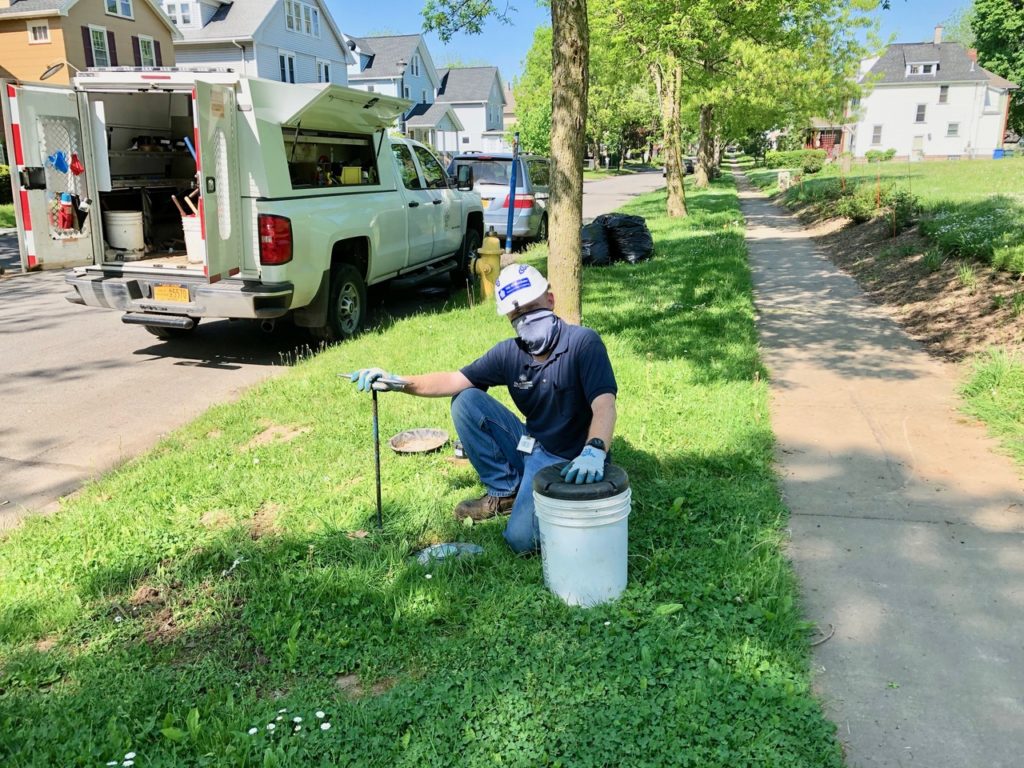 The friendly City worker was there and got the upright faucet water running again. It was getting tiring lugging buckets from a neighbor's home to water the new roses and decorative grasses.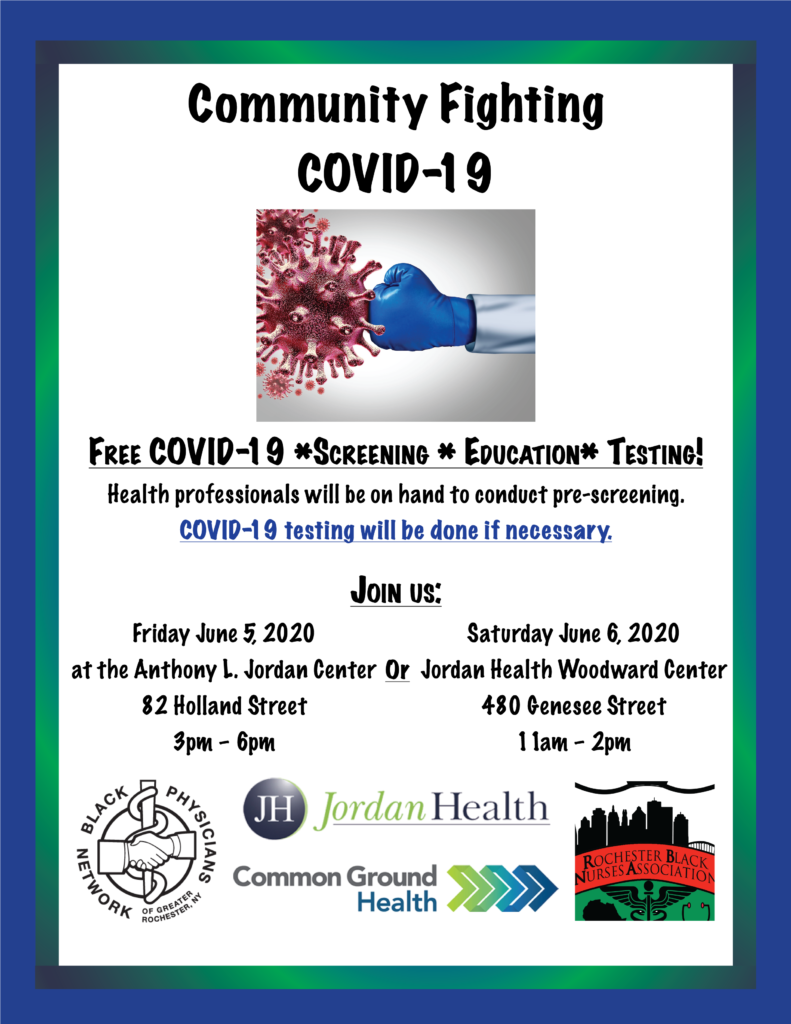 VOTE
candidate-forum-2020-1-2-1-1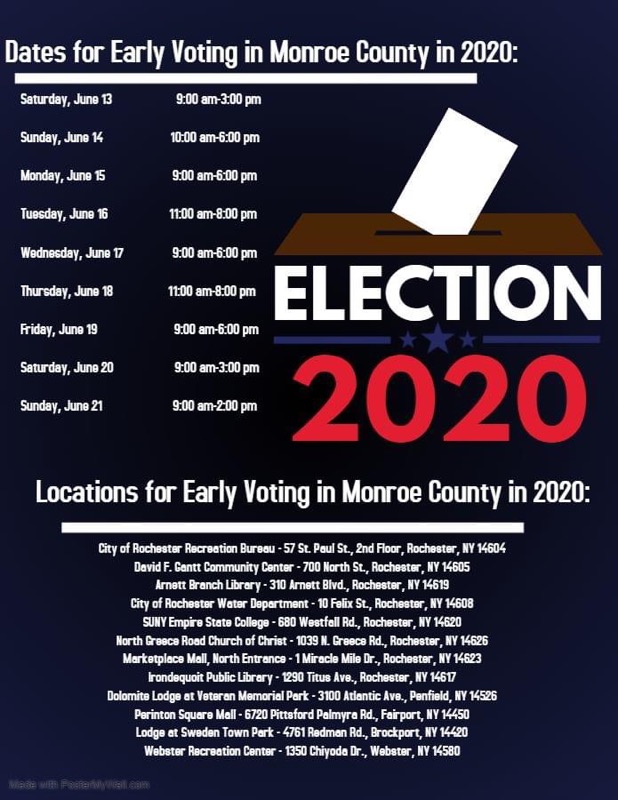 ARNETT BRANCH IS AN EARLY VOTING SITE FOR THE 2020 ELECTIONS
Early voting is now available to all voters in Monroe County. Each year voting patterns are evaluated and adjustments made in locations and hours to accommodate voters further. The Arnett Branch library has been selected as an Early Voting location for 2020 Primary and General Elections.
Voters can choose to vote at any site in the county. Voters could decide to vote at an Early Voting center near their workplace or school instead of near their home. Each site flexible enough to accommodate larger or smaller numbers of voters as needed during the nine days of Early Voting.
Early voting at the Arnett branch library will be available during the following dates and times:
June Primary/Special Election Early Voting: June 13 through June 21
| | |
| --- | --- |
| Saturday, June 13 | 9 am – 3 pm |
| Sunday, June 14 | 10 am – 6 pm |
| Monday, June 15 | 9 am – 6 pm |
| Tuesday, June 16 | 11 am – 8 pm |
| Wednesday, June 17 | 9 am – 6 pm |
| Thursday, June 18 | 11 am – 8 pm |
| Friday, June 19 | 9 am – 6 pm |
| Saturday, June 20 | 9 am – 3 pm |
| Sunday, June 21 | 9 am – 2 pm |
Bruce Tehan, Children's Librarian & Site Supervisor
Arnett Branch Library
310 Arnett Boulevard
Rochester NY 14619
585-428-8214
Voicemail: 585-428-8288
bruce.tehan@libraryweb.org