Update 19 – August 2020
President's Message Zola Brown
It's August and many of us are either making plans to go back to work and/or school. We have had many hardships this year and we need everyone to hang in there! Our Community Association is here to help provide any information on resources you need. We will do our best to help you and get your delegate involved. Foodlink is providing free meals for our children throughout the city and are committed to helping local families. If you have resources that can help a family in our community or an idea to bring resources to families in need, please reach out to the 19th Ward Community Association office (585) 328-6571.
Our community mourns the passing of civil rights leaders C.T. Vivian and U.S. Representative, John Lewis. Locally, we also lost phenomenal leaders that have had direct impact on the 19th Ward, the Honorable David Gantt who served our neighborhood for over thirty years, and retired Pastor James Cherry Sr. from the Aenon Missionary Baptist Church. Both were friends and mentors to many, and we are grateful for their contributions to our community.
We are still committed to Black Lives Matter. This is an opportunity to finally address some of the systemic social problems we have had for a long time. Police brutality is real and asking elected officials across the country to re-allocate funds does not take away from supporting good police work. Whatever we have done in the past has not worked. We want officers to feel part of our community but refrain from the traditional tactics that divide our neighborhood. I have spoken to our neighbors who are affected by this movement. Some are traumatized by their experience and appreciate the movement bringing the issue to the forefront, but also feel that retaliation and racism will keep us from moving forward. I will continue to remind you to break the silence. We cannot be silent about police brutality, inequality in education, poor housing, low paying jobs and health disparities. Around our neighborhood, St. Monica's is having a Black Lives Matter forum and Aenon Missionary Baptist church has a series of Solidarity Sundays highlighting issues in the Black community for the month of August.
Our neighborhood has plenty of bright spots and the gardens around the 19th Ward are lifting our spirits. Please continue to share your photos! We look forward to your participation in this year's Chalk Festival allowing everyone to be an artist. This is a socially distanced event in lieu of our annual porch fest.
I want to welcome all new members of the Association and new neighbors in the 19th Ward. I hope you plan to get involved with community building and contributing to the neighborhood. Please continue to support the Westside Farmers' Market every Tuesday and all of our local businesses in the 19th Ward. We hope our information through our weekly update, newsletters and Facebook help in some way.
Zola Brown, President 19th Ward Community Association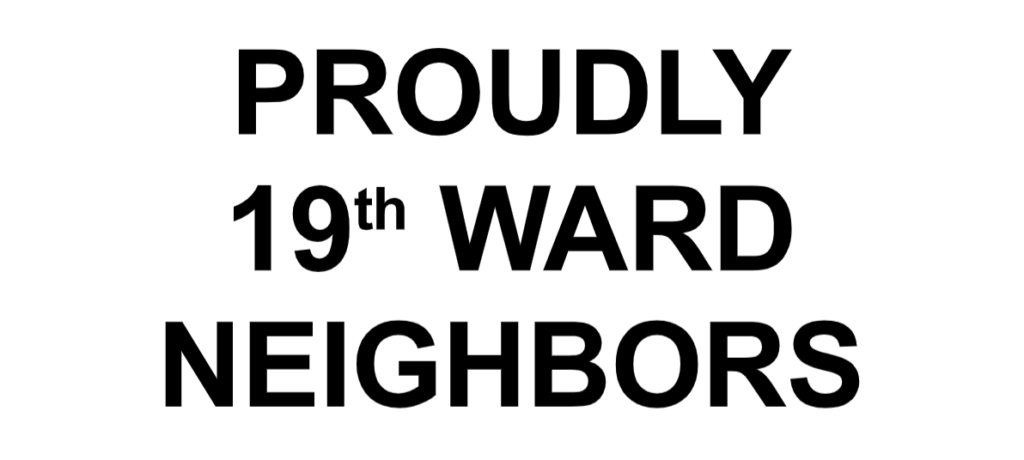 Sandra Powell has been a resident of the 19th Ward for over five decades.
She was five years old when her family immigrated to the United States from England. Yes, she was born in Leeds, England, but raised in Rochester, NY – thanks to her uncle who sponsored her family in 1966. After sharing a two family home with her uncle, her parents were eager to own their own home, again. They enlisted the assistance of a realtor, who directed them to a wonderful section of Rochester in the 19th Ward. Sandra lives on a lovely street (Terrace Park) nestled between Brooks, Congress with cross streets of Genesee St. and Pioneer St.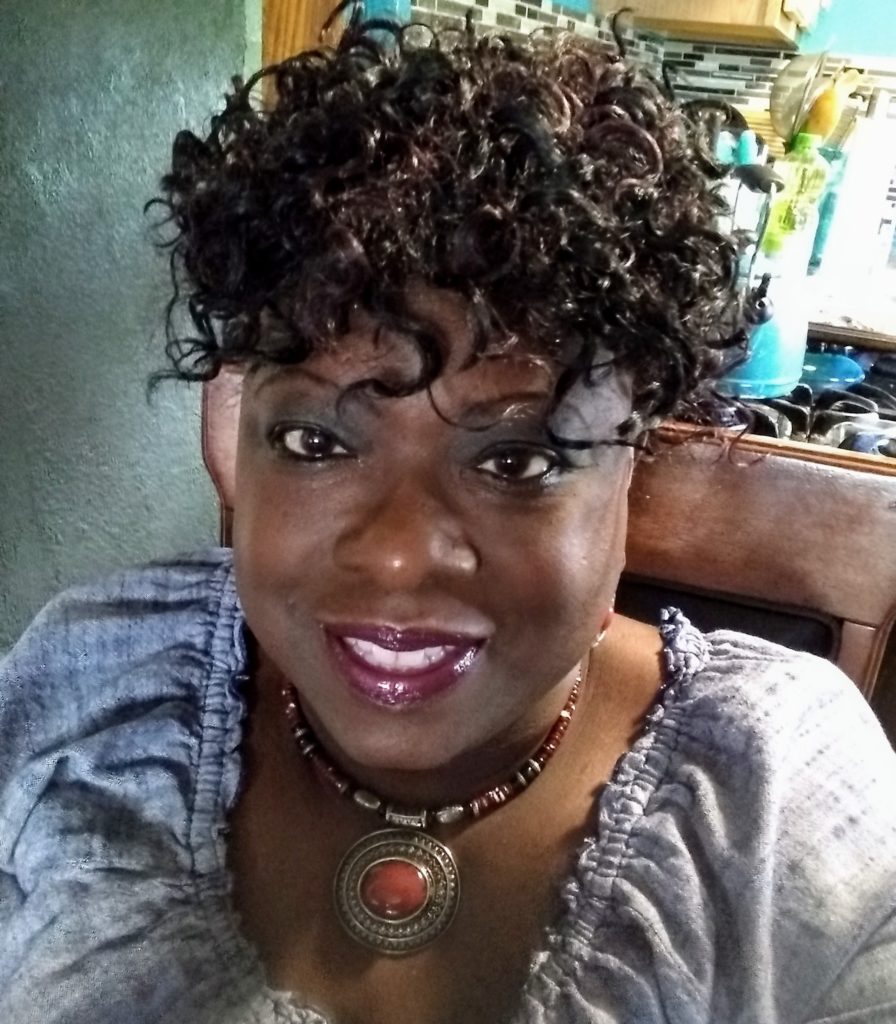 Sandra feels fortunate to have grown up in an era of going to neighborhood schools (37, 16 & Wilson Jr. High) with her neighbors. This created an unbreakable bond and friendships due to all her friends were in walking distance, the parents knowing each other, and everyone looking out for each other (hence the term village).
In the Fall of 1979, Sandra left the village to attend college in the "Big City." After earning her bachelor's degree, she returned home to the Ward. She didn't know then (1984), that she would rekindle her love affair with her hometown.
Sandra started her career at Sibley's (no longer in business) as an Assistant Buyer and after a year and a half she was promoted and relocated to Syracuse, NY. Being away from the Ward for 3 years she came home every chance she could. She learned that she missed living in Rochester and the need or desire to live in a large city was all out of her system. She planned her vacation for one of those cities, but her home base needed to feel familiar.
After returning to Rochester, she switched companies and returned to community involvement as she had in high school. She was involved in a mentoring program, a committee member for the Strong Museum to increase a diverse membership, as well as being a Big Sister for 10 years with the Big Brother/Big Sister Program. Sandra continues to be a part of many community outreach programs throughout the Rochester community, as well as being a community leader for the United Way and, most importantly, a 19th Ward Community Association member.
Sandra has lived in the 19th Ward in the same house off and on for more than 5 decades and while her house has gone through many renovations, the ownership has remained in the Powell Family.
In November of 2019, she was invited to a meeting, which presented an opportunity for her to represent the 3rd District of the 19WCA as a delegate.
After being a part of the 19th Ward for most of her life, she feels it has become part of her DNA, with the strong diverse neighborhoods, wonderful rich history in our businesses, in our schools, parks, and bike trails.
"We are a kind, spirited, caring diverse community filled with pride and many stories to tell, but still have more to create. Please come join my little piece of heaven, the 19th Ward Community, and create your own story and share the beauty of this community. I am not selfish; I am willing to share…"
Around the Neighborhood
Urban by Choice – 19th Ward RCSD Educators Perspective
We spoke to three 19th Ward educators about why they choose to continue to live in the City. Their perspectives on the reopening of schools proved to be quite similar.
Diane W has worked for the RCSD since 1991. Born in the former Genesee hospital, Diane is a city girl through and through. She convinced her husband to move into the 19th Ward from Henrietta in '93. Ms. W. is preparing herself to better serve the needs of her students by training on an online learning platform called eLearning. She has previously used Google Classroom but feels that the eLearning platform has more diverse options for the types of activities that are available to students. Diane jokingly says that decisions about what school will look like in the fall will be made by people above her pay grade. Her most pressing concern is that schools do not open and become breeding grounds for the spread of Covid. She says, "NY'ers worked hard to bring down the curve, I don't want that work to have been in vain".
Dede G, world's greatest Steelers fan, has worked the RCSD for twenty-three years. Her main purpose for continuing to live in the city is because of its affordable housing and the lifestyle of urban life. She likes that recreational and cultural amenities are easily accessible in the city, which added to the ease of raising her children. The high number of events and available activities also guides her decision. Ms. G is currently reviewing websites that support remote learning and offer strategies to help teachers meet the needs of students with special needs. She prefers not to return to school in person at all in the fall. For some students, following directions consistently is a part of their individual academic goals and therefore, "it seems difficult or maybe impossible for some students to adhere to proper social distancing regulations" with fidelity.
Twelve year veteran teacher, Gail J has lived in the city for most of her life. She taught as an adjunct professor at Monroe Community College, while still employed at Eastman Kodak Company as a systems analyst. When she married, she moved to suburbia with her new family. Shortly thereafter, Gail's job transferred her to Atlanta, GA. Upon her return from Atlanta, they found an ideal house in the 19th Ward for her and her two daughters. She has lived here for the last twenty-five years. Ms. J enjoys living in a community in which good neighbors surround her. She also appreciates the diversity in the city. Gail lives next to a young couple with children on one side and nuns on the other. "I could not ask for better neighbors", she says.
In preparation for returning to school in the fall, Ms. J has created lessons on google classroom, enrolled in webinar courses, created masks for her students, and kept abreast of how to protect herself and her students from Covid-19. She is deeply concerned about returning to school in the fall because the only way to eradicate the Coronavirus is with a vaccine which is not currently available and will not exist in September. Gail is in her early sixties, an age group in which the symptoms are more serious than other age groups, and she is a caretaker for her 85-year-old mother. A few of the questions that Gail has on her mind are: How often will students and teachers be tested? Will they be frequently and repeatedly tested? We know that there are not enough tests available in the United States, so if we are tested, how long will it take to receive the results? Taking students and teachers' temperature each day does not identify those who are asymptomatic. Lastly, Ms. J is concerned about physical distancing in the school, the lack of PPE supplies, and the school's ventilation system so she is more comfortable following the lead of schools like Harvard University, who moved all of their courses online to protect their students and faculty members.
Overall these teachers feel that returning to in-person school feels like playing a highly lethal game of chance. A chance that these teachers don't want them or their students to take.
City Meals
City Partners with 20 Restaurants to Deliver Meals to Seniors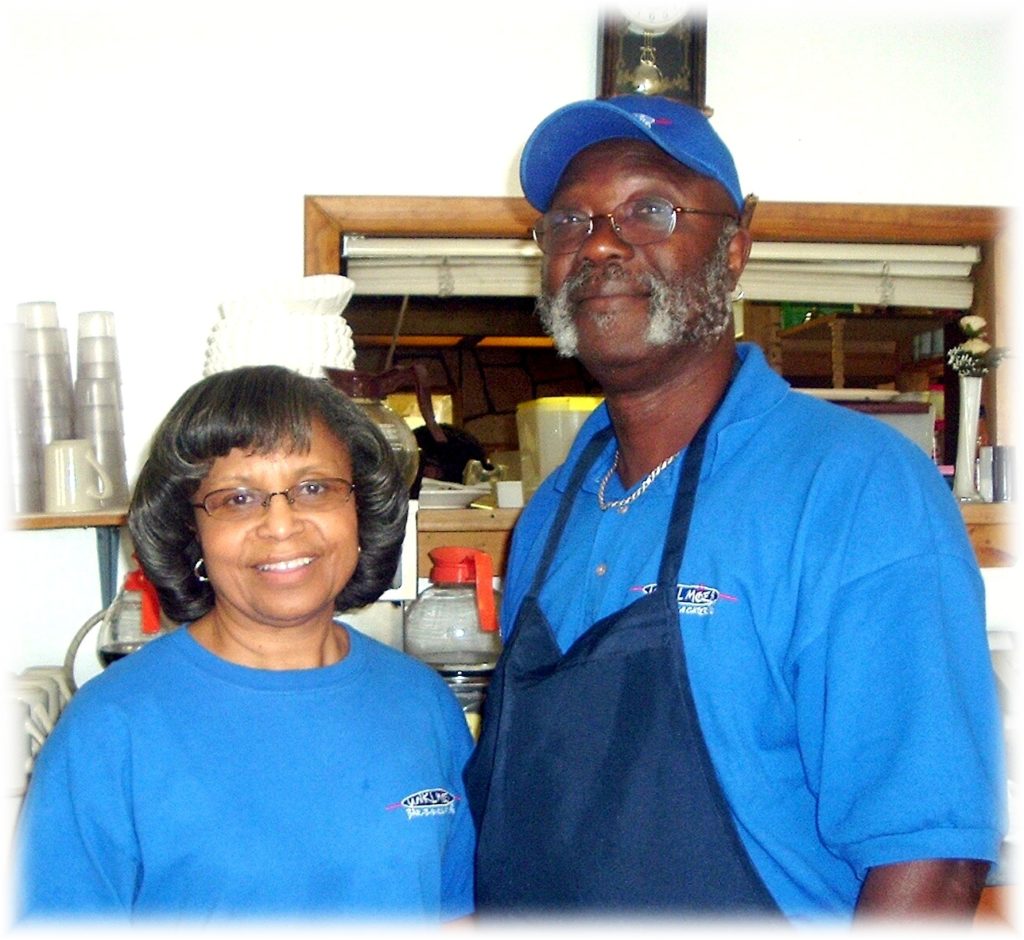 (Sunday, Aug 2, 2020) – Mayor Lovely A. Warren today announced that the City of Rochester is collaborating with 20 restaurants to deliver meals to area seniors, age 60 and over, who live within the city Limits and are unable to travel to access food due to the Coronavirus pandemic

"The Coronavirus pandemic is a healthcare crisis that created an economic crisis and we are ready to do all we can to confront those challenges," said Mayor Warren. "These grants will help small, local restaurants maintain a presence in our neighborhoods while also supporting residents who are vulnerable to the dangers of social isolation. Programs like this help us create more jobs, safer and more vibrant neighborhoods and better educational opportunities."

The City Department of Neighborhood and Business Development has awarded each restaurant with a Restaurant Grants of up to $15,000 to prepare free meals for delivery to area seniors for up to three months. The City is contracting with Goodwill of the Finger Lakes 211/LIFE LINE Mission program to facilitate the enrollment and delivery process.

Starting Monday, Aug. 3, seniors residing in the city seeking to receive meals can call 211 (or text 898-211) 24 hours a day, seven days a week to enroll in the program and order a meal.

Seven days advance notice is required on meal orders and the first orders will be ready for delivery August 10. Senior can order up to three meals a week and place one month's worth of orders per call.

The federal Coronavirus Aid, Relief, and Economic Security (CARES) Act provided funding for the restaurants, which were selected through a competitive proposal process.

The restaurants are:

* Ludwig's Center Stage Café, 25 Gibbs St.; * Munchie's ROC City Empanadas, 154 N. Clinton Ave.; * Allegiant Restaurant, 801 S. Plymouth Ave.; * The Acorn Exchange, 75 S. Clinton Ave.; * India House Restaurant, 998 S. Clinton Ave.; * Lorraine's Food Factory, 777 Culver Rd.; * Neno's Gourmet Mexican Street Food, 642 Monroe Ave.; * Marty's On Park, 703 Park Ave.; * Caribbean Heritage Restaurant, 719 S. Plymouth Ave.; * D&L Tropical Sensations, 1005 Genesee St.; * 'Unkl Moe's BBQ and Catering, 493 West Ave.; * Arnett Café, 332 Arnett Blvd.; * Borinquen Bakery and Restaurant, 1195 N. Clinton Ave.; * El Pilon Criollo, 973 N. Clinton Ave.; * Tricia's Kitchen, 1014 Hudson Ave.; * Nin's Restaurant, 1049 Hudson Ave.; * Taste of Bahamas, 4705 Lake Ave.; * Kandis Food and Drink, 701 Lake Ave.; * El Sazón Restaurant, 144 Lyell Ave.; * El Divino Restaurant, 1149 Lyell Ave.
Community Rally
Local Black Leaders Featured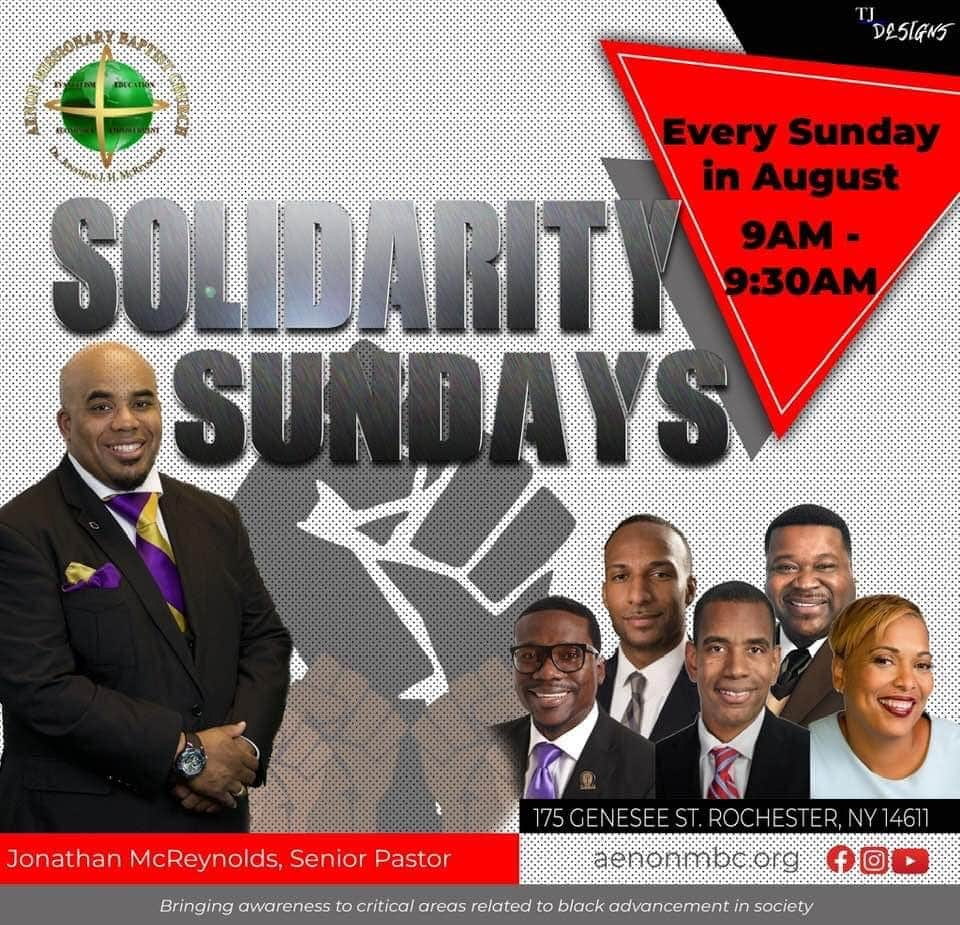 Solidarity Sundays, a month-long series of outdoor morning events focusing on key issues facing the black community.
Sponsored by the Aenon Missionary Baptist Church, ‪175 Genesee Street‬, the series is open to the public. It will be held ‪from 9 to 9:30 a.m.‬ each Sunday in August on the front lawn of the church.

"The objective of Solidarity Sundays is to bring awareness to the critical areas related to black advancement in society," said Dr. Jonathan Jamel H. McReynolds, Aenon's senior pastor. "The focus shall be upon local issues that are in need of solidarity, synergy and engagement in order to advance and elevate our community."

Dr. Lesli Myers-Small, superintendent of the Rochester City School District, kicked off the series August 2nd "Blacks and Education."

The following is the schedule of dates, topics and speakers for the remaining four Sundays:

‪Aug. 9‬: "Blacks and Economics," Malik Evans, at-large member of the Rochester City Council and former member and president of the Rochester School Board.

‪Aug. 16‬: "Black Solidarity," Willie Lightfoot, at-large member of the Rochester City Council and former Monroe County legislator.

‪Aug. 23‬: "Blacks and Poverty," Demond Meeks, Democratic candidate for the 137th New York State Assembly District and a former administrative organizer for SEIU 1199, a labor organization known as United Health Workers East.

‪Aug. 30‬: "Blacks and Voting/Public Policy," Dr. Cephas Archie, chief equity officer for the City of Rochester and former chief diversity officer for SUNY Brockport.
Elaborating on the purpose of Solidarity Sundays, McReynolds said the series is designed "to promote public engagement and to facilitate institutional transformation in the public square, grass-roots organizations and various civic organizations that work for the advancement of society."

Social distancing will be enforced at the event and people will be asked to wear masks, McReynolds said.
People may bring lawn chairs. Limited seating will be available for the disabled and the eldlerly.
Rev. Dr. Jon McReynolds, Senior Pastor
www.aenonmbc.org
Ice Cream on Thurston Road
We were a little sad that the small ice cream shop on Thurston Road has decided to stay closed this summer. According to the owner the Covid restrictions presented too great a challenge.
Down the street at 419 Thurston, the Thurston Express store just added a soft ice cream machine! They offer vanilla and chocolate, cones and dishes, in sizes from $2 and up. Problem solved.
FYI, Thurston Express is newly remodeled, clean & bright, operated by a real mom & pop and their kids. The deli offers subs, burgers, hots, fries, pizza, wings, sandwiches, cookies, coffee, hot & cold beverages and snacks. And now: ice cream!
19th Ward Gardens and Porches
Photos from our neighbor Allison.
Echinacea, coleus and phlox next to Arnett Library. The Coopers have been keeping these plants watered during the hot month of July. Thank you Bob and MaryDan!
Photos from our neighbor Janice.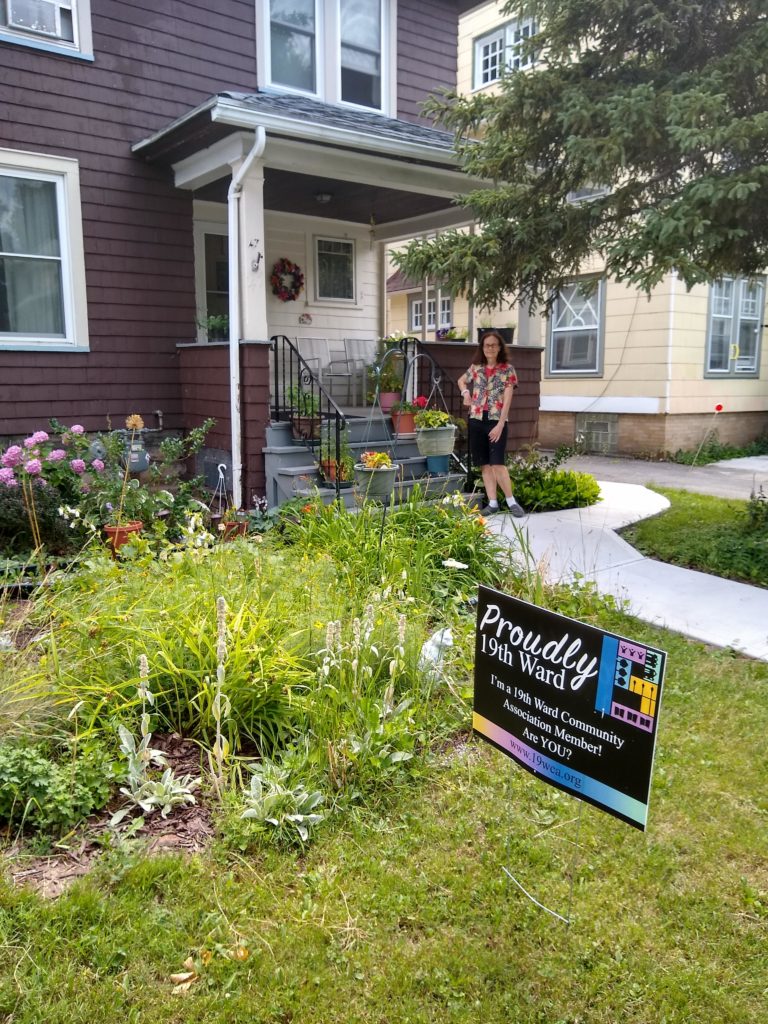 Jane Braband in her beautiful yard.
Phlox, a petunia, and a cala lily from Mark Sweetland.
Congratulations Ginger! You have been recognized for your outstanding service and recognized as a Rochester Regional Library Council 2020 Library All Star!
You were nominated by Bruce Tehan who had this to say, "Ginger Brewer-Bennett is a true library all star. In her role as the Arnett Branch Library's adult services librarian she has gone above and beyond in her quest to provide quality library services to our patrons. Her reference services, readers advisory, and her collection development work are of the highest caliber. She is a great leader and is well liked and respected by staff members and patrons. She is creative, dedicated, and smart. I could go on and on about many great things that Ginger has done for the Arnett Branch Library community but what I will concentrate on here is her digital literacy work. Ginger has been both passionate and tireless in her efforts to ensure our patrons have the computer skills they need to survive, to grow, and to enrich their lives. As we all know, computer skills are needed for most facets of life in today's world. If a person wants to further their education, land a job, or connect with family and friends a block or half a world away, they need to be digitally literate. If a person wishes to buy a plane ticket to visit a sick relative, wants to file for government assistance, or wants to volunteer for a not-for-profit organization, computer skills are needed. The list of reasons one needs computer skills can go on forever. Whatever our patrons are trying to accomplish, Ginger makes sure they are ready to succeed. In addition to her partnership with the Literacy Volunteers of Rochester, Ginger has provided top notch computer advice on our public floor. She has also conducted well-planned and well-presented formal computer classes that have proven to be wildly popular with our patrons. She also conducts many one-to-one computer sessions with our patrons that prepare them to take the formal classes or to build on what they have learned in those classes. As the manager of the Arnett Branch Library I have had many patrons pull me aside to tell me how Ginger has made their lives better. Formerly justice-involved individuals reentering the community have found jobs, grandmothers have communicated with grandchildren via social media, parents have been able to advocate for their children, and students have passed college courses all thanks to Ginger. She has even made my life better, or certainly easier, as I find myself always asking her to explain new technology to me. If the work by Ginger described above was not amazing enough, she does something amazingly selfless. Oftentimes Ginger sees a student determinedly working to master tech skills who does not have the equipment he or she needs. In those cases Ginger fixes that problem using her own money to purchase gently used laptops. She is a master at finding bargains on eBay. She then cleans the laptop up and installs proper software on it and then presents the laptop to the student. This is always a heart warming and life changing moment for the student and for Ginger. Ginger's wisdom, talent, handwork, and kindness has made a big difference in the quality of many library patrons' lives. Now with the NY COVID-19 Pause in effect, the importance of Ginger's work has become even more vital. Speaking of the NYS COVID-19 Pause, Ginger has found ways of continuing to instruct her students using long distance learning methods. Ginger is a very special librarian."
In Memory of James L. Cherry, Sr.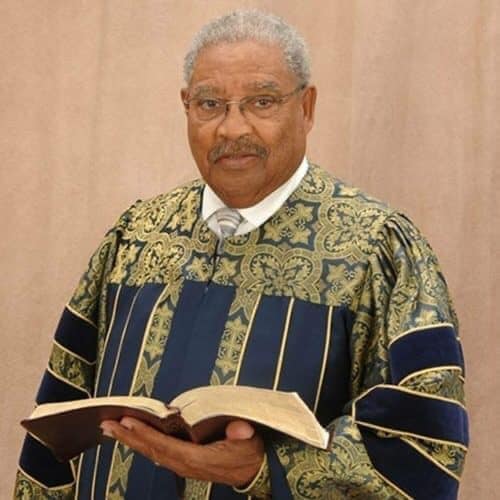 The 19th Ward community extends our condolences to the Cherry Family, Pastor Jon McReynolds, the Aenon Missionary Baptist Church family, and our community in the passing of retired Pastor, James L. Cherry, Sr. "Pop" Cherry, you were loved by all and will truly be missed.
"Blessed are those who mourn, for they shall be comforted." Matthew 5:4
Rev. Dr. Jon McReynolds, Pastor
Aenon Missionary Baptist Church
It's the end of July which means we are at about halfway through the 2020 market season! With a global pandemic impacting everything we do, we'd like to take a moment and acknowledge the amazing volunteers that make the Westside Farmers Market run each week. We are fortunate to have a diverse and talented crew that dedicate their talents, ideas, and love of community. For example, co-op booth volunteer Nancy Topolski made homemade masks to sell at the market. So far we've raised $64 which helped to offset the cost of replacing our refrigerator when it broke. John Curran shows up every Tuesday morning to begin mapping out and setting up the market so vendors and visitors have an easy time social distancing but also get what they need. Lisa Barker brings a wealth of knowledge about market customers and products working with Nancy at the co-op booth. Karen Emerson can be seen at the Market info booth greeting visitors, punching loyalty cards, and distributing the children's crafts. And of course, our volunteer market manager Jackie Farrell makes it all tick with her dedicated work each day of the week. These are just a few volunteers amidst a stellar group of individuals who when come together make one of our area's greatest assets work. And of course, we wouldn't be here if it weren't for you–the shoppers! As always, thanks to each and everyone of our supporters and volunteers. See you on Tuesdays, 4:00 – 7:00, at St Monica Church, 831 Genesee St.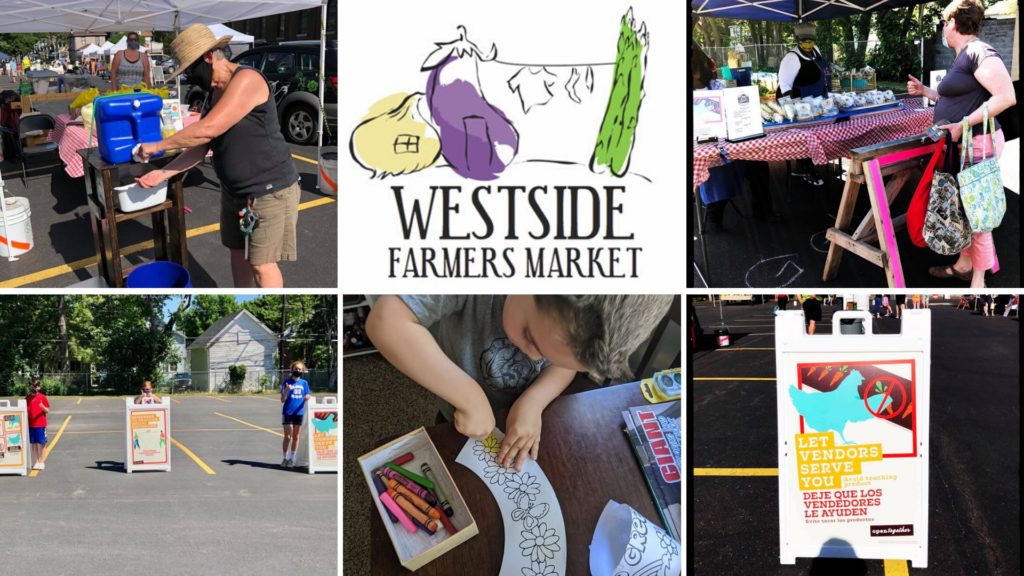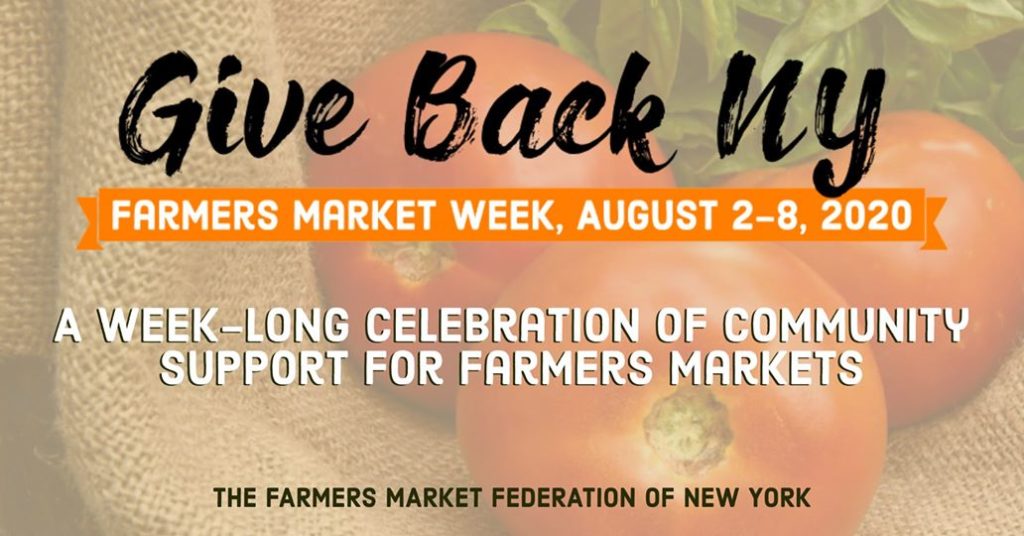 Events Updates
Reminders
Amazon Smile
The 19WCA is listed as a charity , we receive 0.5% when folks purchase. Thank you!!
Lawns
The 19WCA office is receiving many calls from people needing someone to cut grass, trim hedges, etc.
If you know anyone who does this, please ask them to call the office at 585-328-6571, or email 19thward@19wca.org
Thanks!
Introducing Chalk Festival!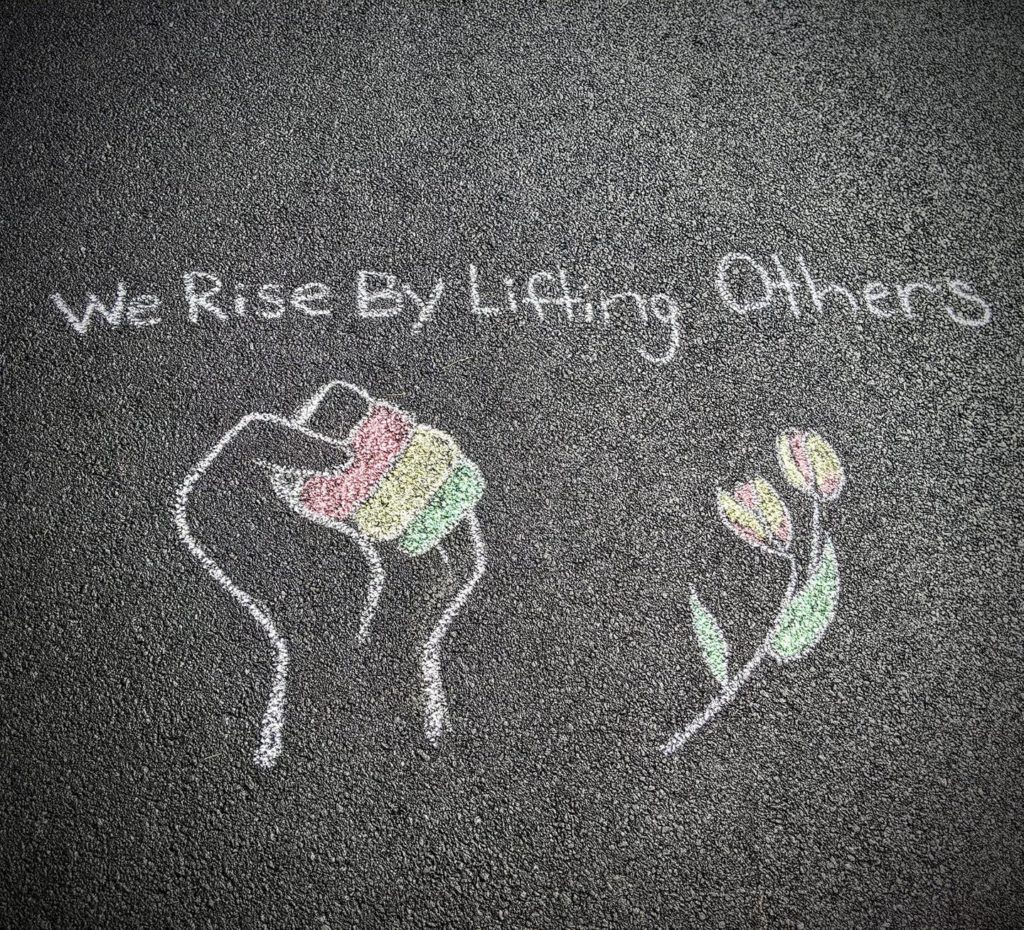 Help turn the 19th Ward Neighborhood into Rochester's largest and socially-distanced art gallery by turning your driveway or sidewalk into a piece of chalk art! You and your family can walk around the neighborhood and visit the "Chalk Spots" while meeting and mingling with your neighbors at a social distance.
Date: Saturday, August 29
Time: 1:00pm, no end time
Please wear a mask if you cannot maintain a distance of 6 feet and practice the CDC guidelines.
If you'd like to host a "Chalk Spot", please complete this form or email the 19WCA at 19thward@19wca.org.
Delegates Council – now via Zoom!
September 10
October 8
November 12
December 10
Check upcoming issues of Update 19 for more information about our fall events!
Committee Information
Reach out to our office manager if you would like to get involved.
Delegates Council
Delegates Council will meet virtually on September 10th at 7pm – enjoy your summer break!
Garden Committee
The Garden Committee is enjoying seeing your beautiful gardens bloom.
Communications Committee
The Communications Committee is in search of a new chair. We are also very interested in some help working on the newsletter if anyone is familiar with WordPress or willing to learn!
Housing Committee
The 19th Ward Housing Committee will meet the third Thursday of each month at 1 pm when we are able. Please get in touch with our office manager about how we'll meet during social distancing. Our meetings generally last about an hour. A City representative from Buildings and Code Enforcement attends to work with us on specific properties, concerns/issues, code enforcement, etc.
Schools Committee
The schools committee is continuing to meet and will keep us updated on the good work they're doing.
Covid-19
Wear A Mask – Stop the Spread
COVID-19 testing is available to all New Yorkers statewide. You do not need to be symptomatic or an essential worker to get a test.

If you go to a test site run by New York State, there is never any charge for your test. In Monroe County, the state runs a test site at Monroe Community College. If you go to a test site operated by local private companies including pharmacies and medical practices or not-for-profit organizations, you are advised to check with the testing site and your insurer in advance of being tested to confirm you will not be responsible for any fees associated with your test. Individuals who have questions regarding eligibility or access for testing should call the New York State COVID-19 Hotline at 1-888-364-3065 or visit the NYSDOH website https://covid19screening.health.ny.gov.
Emergency food boxes in response to COVID-19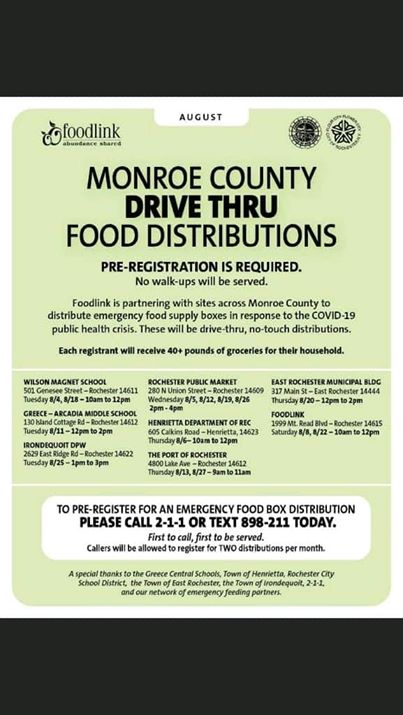 Summer-Meals-Neighborhood-Delivery-Flyer-19th-Ward-F

St.-Stephens-Church-Mobile-Meals-Flyer

St-Monica-VBS-2020-community-Flyer