Update 19 – August 2022
President's Message Karen Emerson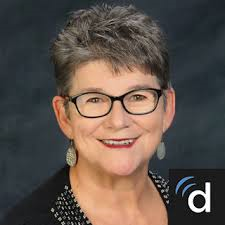 It's the time you spent on your rose that makes your rose so important…People have forgotten this truth, but you mustn't forget it. The Little Prince
I received a handwritten letter in the mail the other day. I did not recognize the return address or the name of the sender. It was a thank you card for the time I spent volunteering. This short note, just 3 sentences, confirmed that my efforts were appreciated, valued and celebrated. I realized that my part in volunteering was tending, caring for the mission of the organization. This reminded me of the quote above that it is important to spend time caring and tending to the things that are important to us. "Our Beloved Community" needs to be tended, watered, inspected for aphids and other things that can destroy it. It is in the tending, caring, weeding and feeding that we build and sustain our neighborhood and our neighbors. Your time, talents and ideas are valuable. Over the next few months we will be calling on our neighbors to help us tend our rose. Please be generous with your time and talents.
Happenings
The Westside Farmers Market is in full swing. Besides the usual vegetables and fruits, we have had a continuous supply of music. Last week local artists were available to share their creations with neighbors. The Corn Festival was this past week and we enjoyed some fresh corn, good music and fresh produce. The market is every Tuesday 4-7pm at 831 Genesee Street until October. Tuesday August 16th will be Neighborhood Association Night. Representatives for several of the southwest neighborhoods will be in attendance and hoping to engage with neighbors.
Saturday August 6th we hosted 2 great events. Our Community Garage Sale and PlayRocs. PlayRocs was held in cooperation with the YMCA Neighborhood Center at Aberdeen Square. Thanks to Common Ground Health, YMCA Staff and our Executive committee for pulling that together.
The Community Garage Sale had a total of 14 sales that made the general map. Thanks to our generous neighbors who donated great items to the 19WCA. The proceeds of a few hundred dollars were added to the general fund. Please let us know if you would like to bring this on as an annual event.
We had a nice gathering for National Night Out on August 2nd. Many thanks to those who made the night a huge success, RocHard Corvettes and Classic Cars, Nate Rawls Community Jazz Band, Southwest Rotary and district delegates. RocHard Corvette and Classic Cars were the focal point of the caravan from Bulls Head to the office on Thurston Road. The Genesee Section of the Rochester Police Department was well represented. Captain Michael Jones, our Crime Prevention Officers Johnson and LaRuez, as well as some of the command staff joined many of our neighbors to bring attention to the cooperation needed to end violence in our neighborhoods. Councilmember LaShay Harris presented proclamations on behalf of the City of Rochester to the SW Neighborhood Service Center and the 19th Ward Community Association for hosting this event.
Before COVID I had suggested we do some strategic planning for the future of the 19th Ward Community Association. I am glad to announce that we are moving ahead. We have signed a contract with Causewaves to help us maneuver the next steps to make the 19th Ward Community Association sustainable into the future. I am asking if you would like to participate in this process, please notify the office. Your input is greatly appreciated and needed so that we can continue to remain a vital part of the Rochester community. Due to the longevity of our association and our valuable input and participation with the city and county, it is imperative that we solidify the voice of southwest Rochester. Our neighbors have provided thoughtful and helpful feedback to our political officials to help get the resources needed for the 19th Ward.
Please remember our food insecure neighbors, when you are out getting your own groceries. Our food cupboards are always in need of stocking. Our cupboards are well used. Please be generous.
We will be reinstituting the Housing Committee. If you would like to get involved please contact the office.
Kaboom. If you have not had a chance to get over to the garden at Kirkland and Kenwood you should. This is a cooperative project with the University of Rochester, Southwest Rotary, School 29 and our community. The sensory garden will be a place where children and adults can experience nature in the middle of the city. Stop by for a real treat.
We will be participating in Wilson Days August 26th. Wilson Day is a volunteer program that the incoming students at the University of Rochester participate in. We will host students at the Ravenwood Garden, Rapids Cemetery and the Association office. If you would like to meet and work with the students, please join us from 12:30-4pm.
We will be doing a Mini Clean Sweep at West Ave Saturday August 13 from 10-12noon. Come for the whole time or just for a few minutes. See you there. We provide the picker uppers, gloves and bags.
Multiple organizations are giving out backpacks for the coming school year. Check our weekly updates for this information. Also consider welcoming returning students on Sep 7, 2022 at neighborhood schools. Call the office if you are interested.
Continue to stay cool and enjoy our summer days!
Karen V. Emerson, President
19th Ward Community Association
AROUND THE NEIGHBORHOOD
19WCA 2022 Convention
The 19th Ward Annual Convention is coming soon in November – date and location to be determined. We will celebrate the past year and vote for a new President, 1st or 2nd Vice President, Treasurer or Secretary. The bylaws of the organization regarding election are on the 19th Ward website. If you are a member in good standing and desire to hold one of these offices, please contact our current President, Karen Emerson at president@19wca.org. Please remember – in order to vote you must be a member living in the 19th Ward, and current with your annual dues. Please call the office at 585-328-6571 with any questions.
Kenwood KABOOM! Playspace Volunteer Days
CALLING ALL VOLUNTEERS!
At 133 Kenwood Ave, in the heart of the Arnett Neighborhood in Rochester, New York, we aim to create an equitable playspace where children can imagine pathways to opportunity through play, curiosity, and accessibility.
We're looking for community members to help us keep the build up cost low by volunteering in project construction! Click here to volunteer: https://www.signupgenius.com/go/10c0e4baaac2fa3f4c70-kenwood Sign up to get involved today!

Date: August 5th through August 13th
Time: 9am to 2pm each day
Location: 133 Kenwood Avenue

Activities: moving compost, planting, & mulching
Bring gardening tools: rakes, round pointed shoves, and gloves!

We need roughly 4 people to fill 2 hour time slots, so please share this in your network!
19WCA Mini Clean August 13th 10-2PM – West Ave.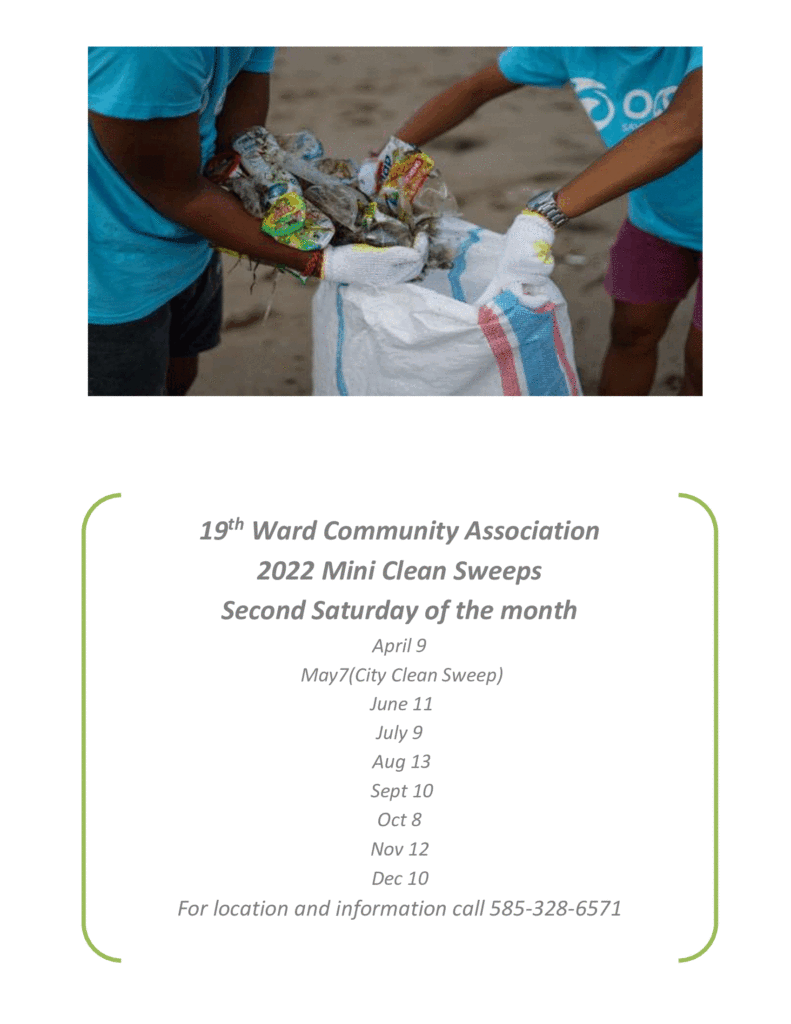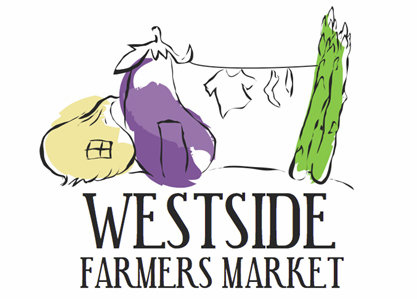 We are so excited to be in our 15th season. It is not common for an all volunteer run market to operate for this many years, but here we are, thanks to our dedicated group of volunteers.
Come to the market, bring your friends. Stock up on food for the week. There is more variety every week. We have even more vendors than last year, and weekly live music and kids crafts. Community organizations are also with us weekly with information about health, nutrition, library resources, and more.
We have a large variety of products – blueberries, cherries, peaches, apricots, greens, microgreens, beets, turnips, peppers, flowers, herbs, eggs, pork, beef, poultry, fish, fresh and frozen dinners, bread, desserts including vegan and gluten free options. You can find granola, yogurt, cheese, smoothies, frozen pasta, peanut butter, tofu, hummus, and more at our Co-op Booth.
The Westside Farmers Market is proud to be serving the community!
LAWNSIGNS – Don't have one? Pick one up at the market and put it in your lawn – It lets your neighbors know that there is something wonderful happening every Tuesday, just around the corner.

WEEKLY MUSIC: We are still looking for sponsors for our musicians. When you sponsor a week of music, we will be happy to acknowledge your name and/or business name at our information booth and in our newsletter.
Good things are happening on Genesee Street
Please view link below from our local media to see positive happenings on Genesee St.
Rochester church hosts basketball outreach program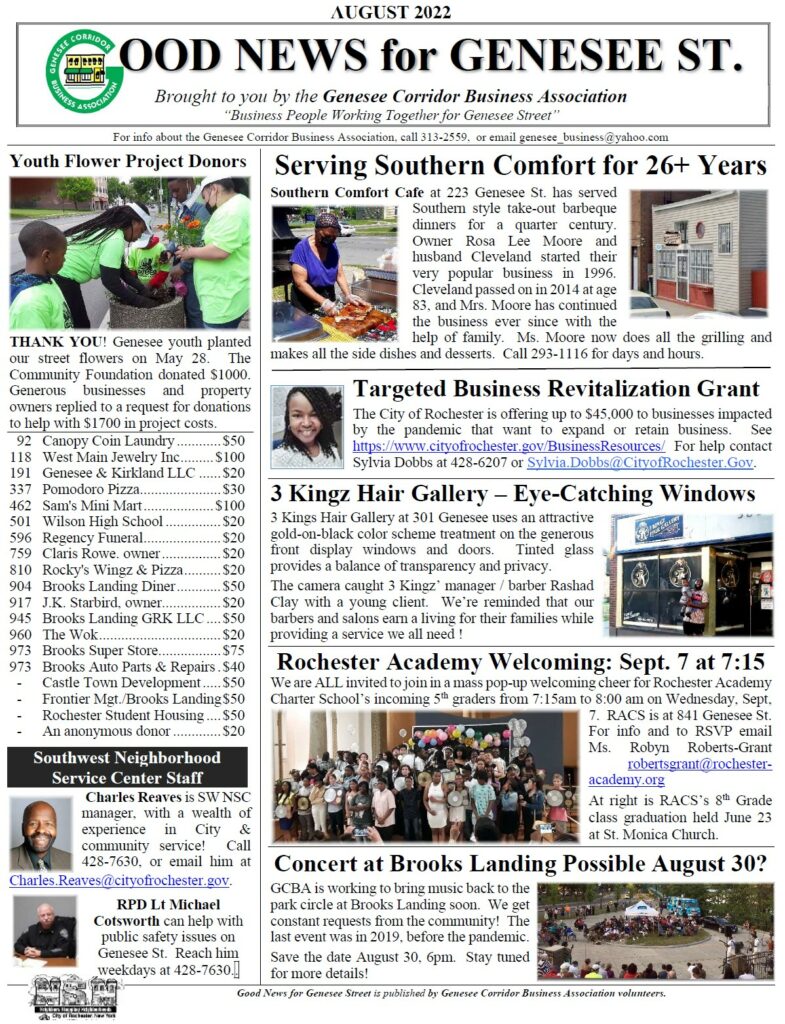 Play Rocs – August 2022
Photos of a fun time with neighborhood children, parents and community leaders at Aberdeen Square.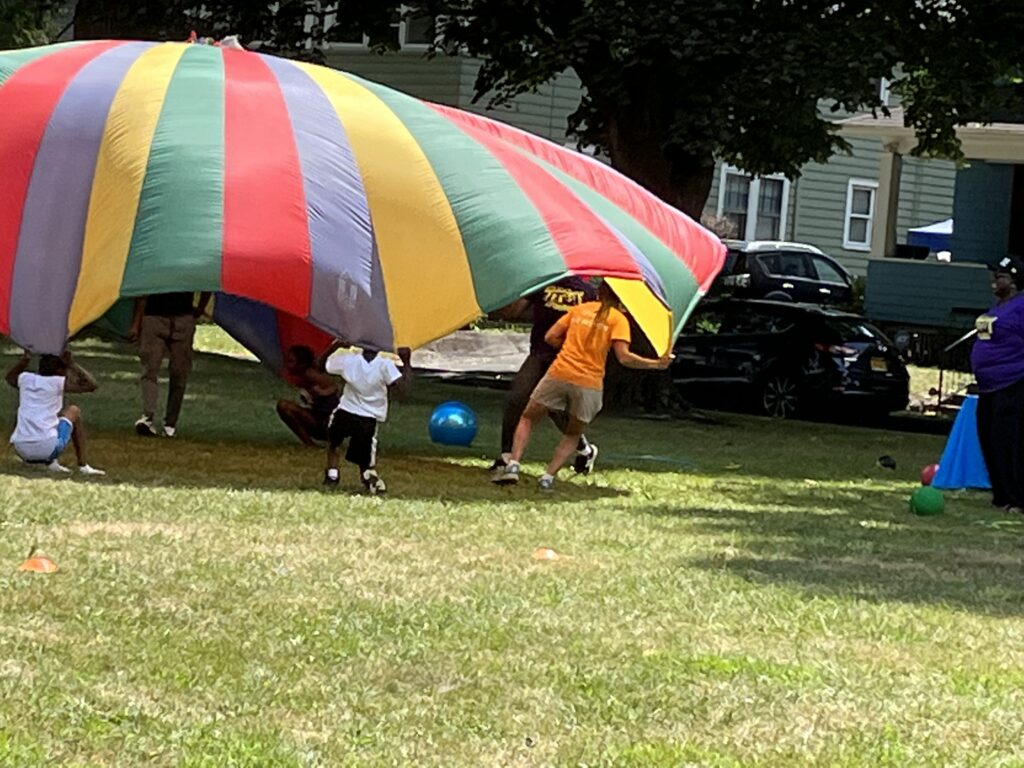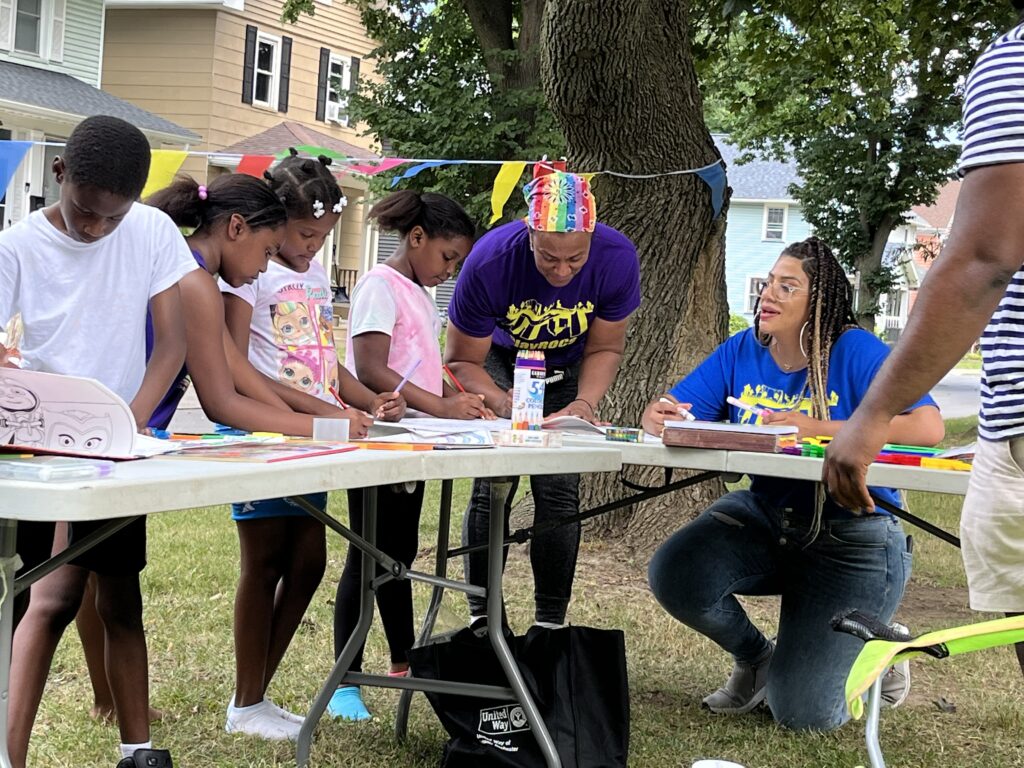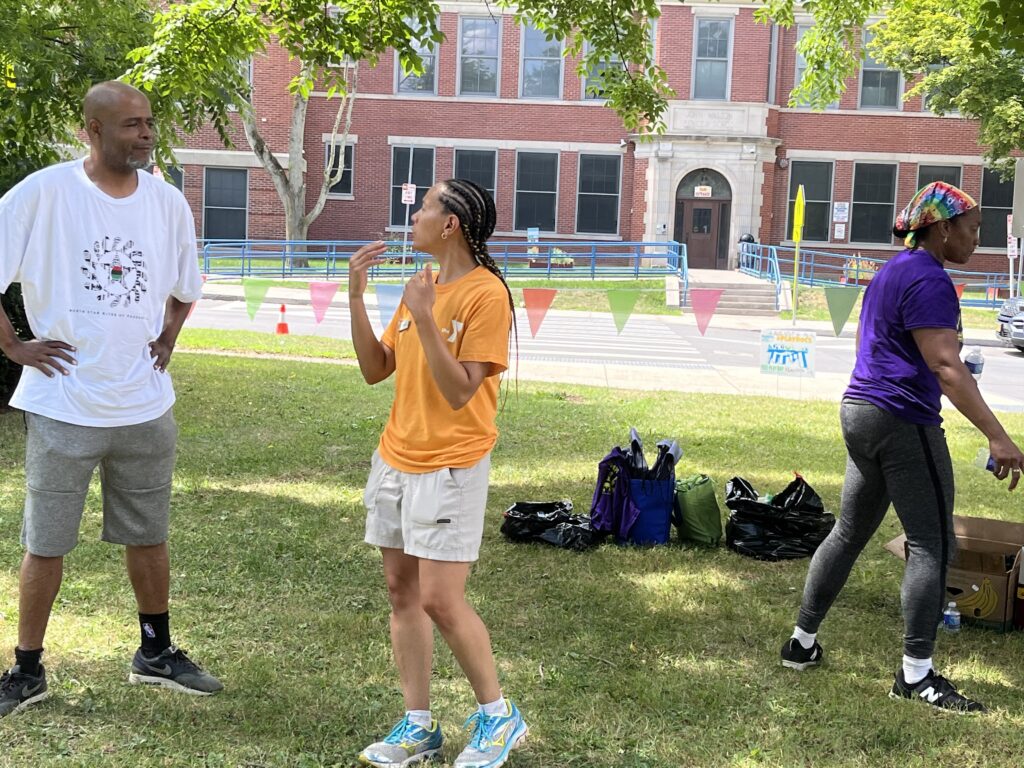 Arnett Library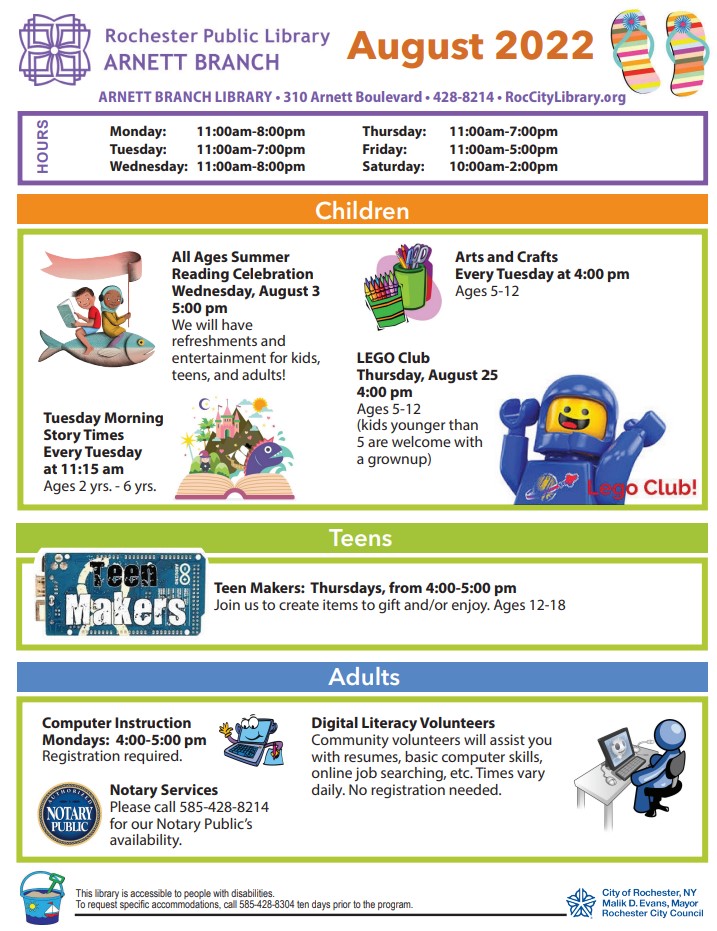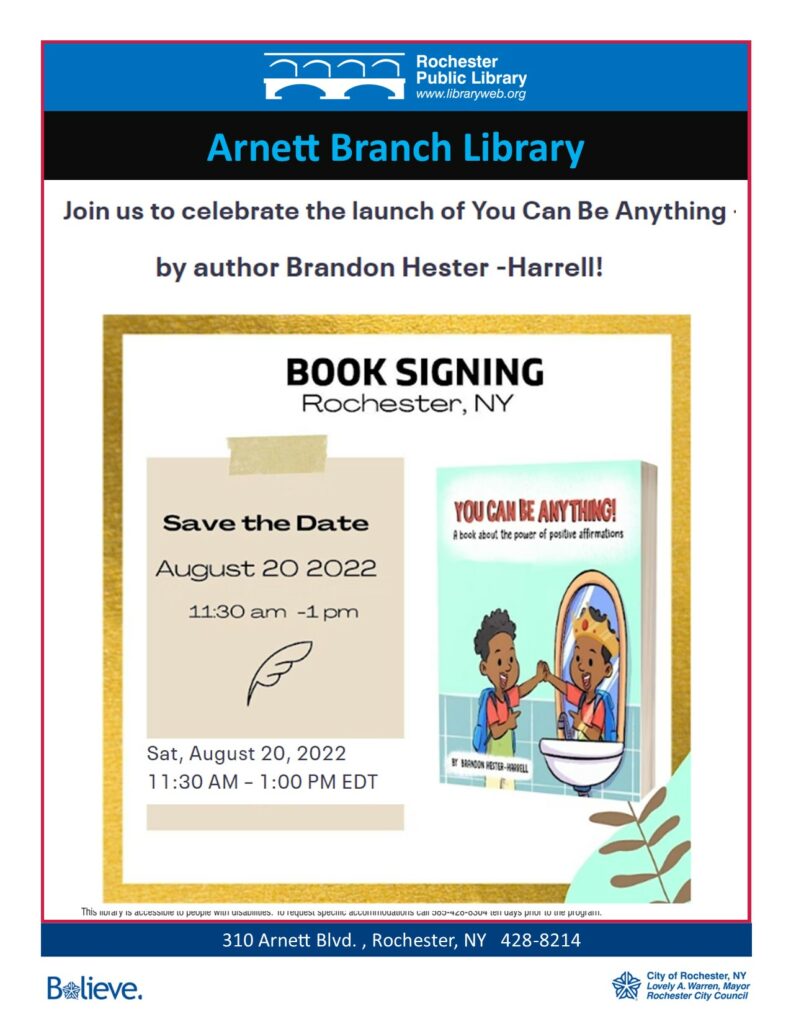 MORE COMMUNITY NEWS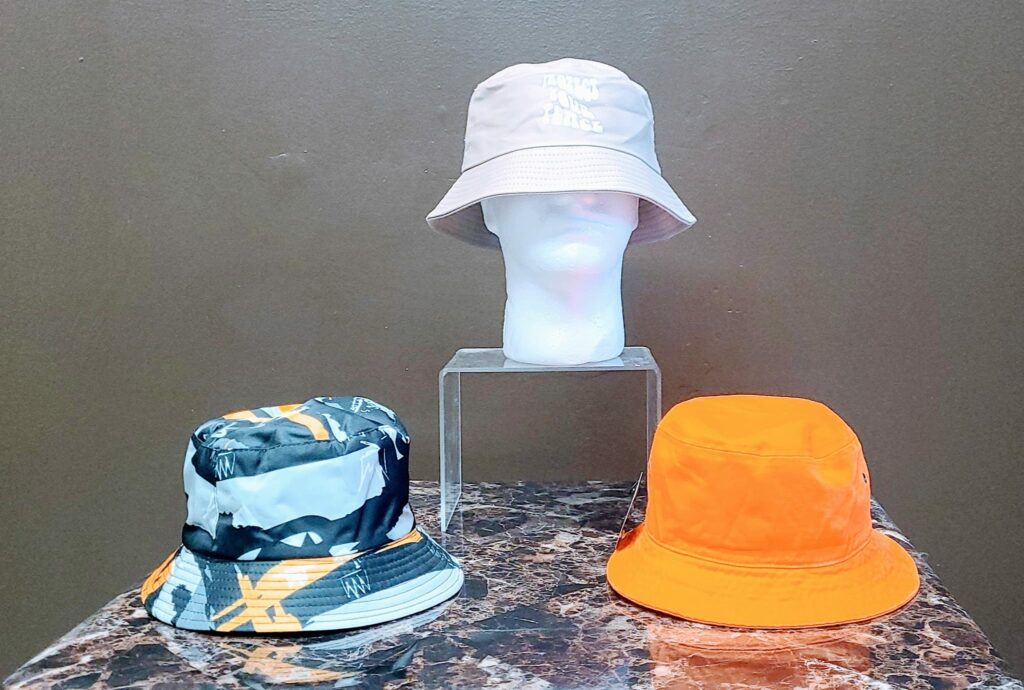 – Submitted by Chris McDonald
Crown Collectives sees itself as more than a retail store. It's a community-focused boutique focused on helping men of all ages level up.
We do this by starting with the male's attire and body care, and then we take it a step further by offering beginner classes in the game of chess, lessons on how to tie a tie (necktie and bow tie), and essential etiquette tips as well.
Some of the items we offer are hats and caps, ties, pocket squares, oils, lotions, and essential oils and aromas.
Look at Crown Collectives as a member of the community doing what it can to help men become better and in turn improve our community as a whole.
Please check out link below to a Democrat and Chronicle article where Crown Collectives (and Chris McDonald) was featured:
https://www.democratandchronicle.com/story/news/local/columnists/memmott/2022/07/22/mens-hats-rise-popularity-beat-summer-heat-climate-change/65377969007/
Gun Violence – How We Can Help
Capt. Michael Jones, RPD keeps us abreast of the incidents relating to violence and the steps being taken to curb the violence in our city through our monthly PCIC meetings and subsequent follow-up.
Following is an excerpt taken from the GIVE (Gun Involved Violence Elimination) brochure. GIVE is a comprehensive approach that aims to reduce homicides and gun-related violence in the City of Rochester. GIVE partners include the Rochester Police Department, Monroe County District Attorney's Office, Monroe County Probation, Monroe County Sheriff's Office, and Rochester Institute of Technology. GIVE Partners continue to receive grant funding from the New York State Division of Criminal Justice Services, which began in July 2014. Supporting agencies include NYS DOCCS, US Attorney's Office, Strong Trauma Unit, New York State Police, FBI, DEA, ATF, and various social service agencies.
Why?
To reduce violence in the Rochester Community. To inform gun offenders of potential consequences and prevent retaliation.
To reduce individuals' interaction with the criminal justice system.
To offer a wide array of assistance to those who desire it.
To reduce gun-related violence through community involvement.
You can help us!
Call with any information:
Crime Stoppers – 585-423-9300
Tip Line – 585-428-7210
Services Available:
Pathways to Peace – 585-428-6339
PathStone Reentry Services – 585-802-0292
585-SNUG – 585-615-4315
RochesterWorks! – 585-258-3500
For a complete electronic copy of the GIVE brochure please call the office at 585-328-6571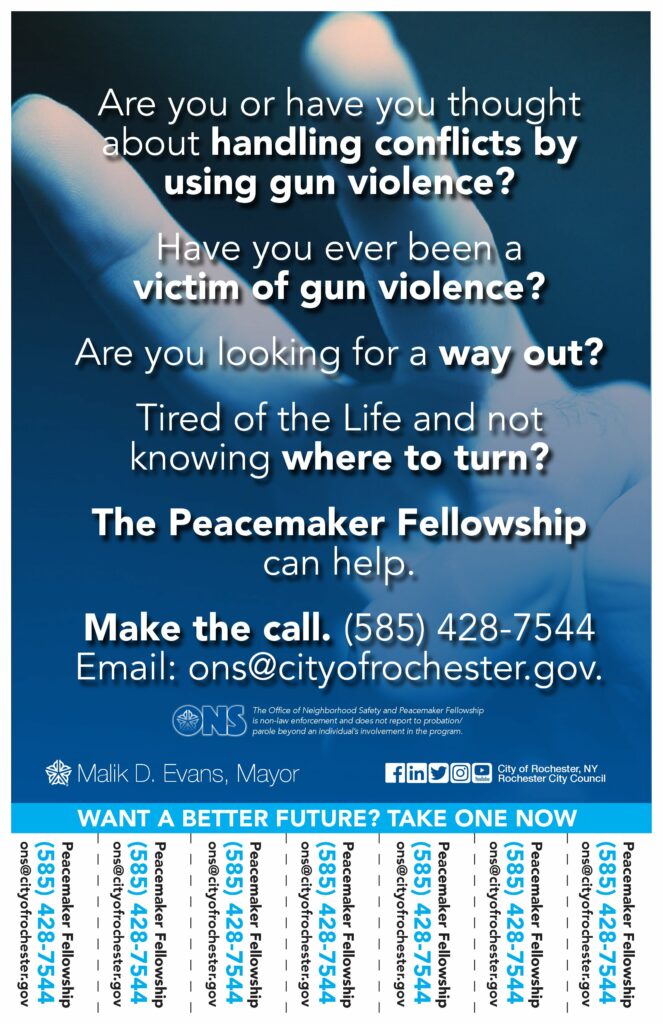 Civics Corner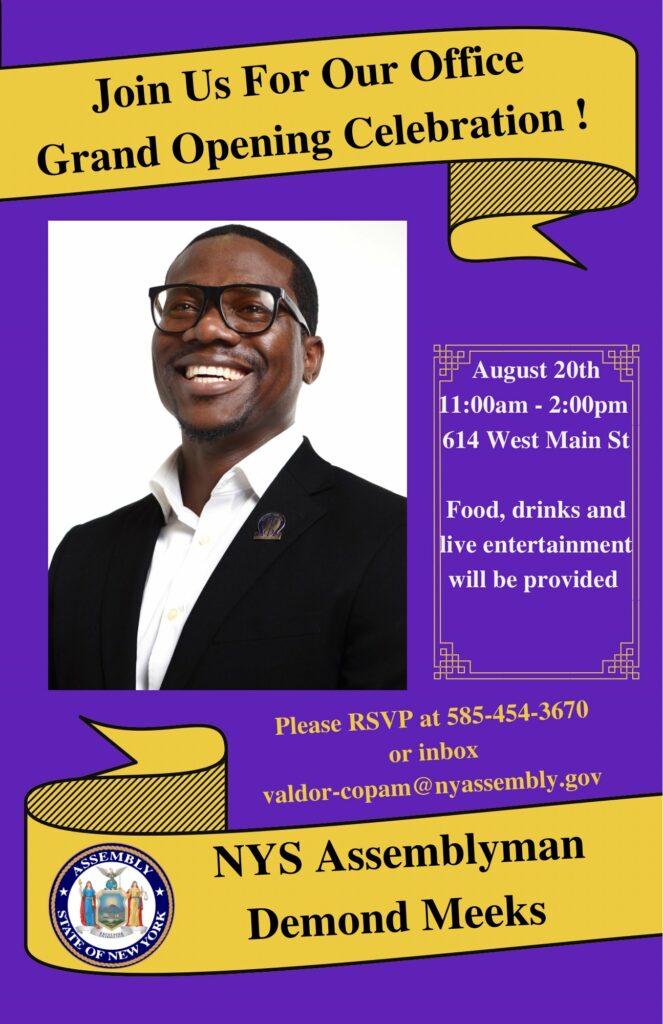 Flyers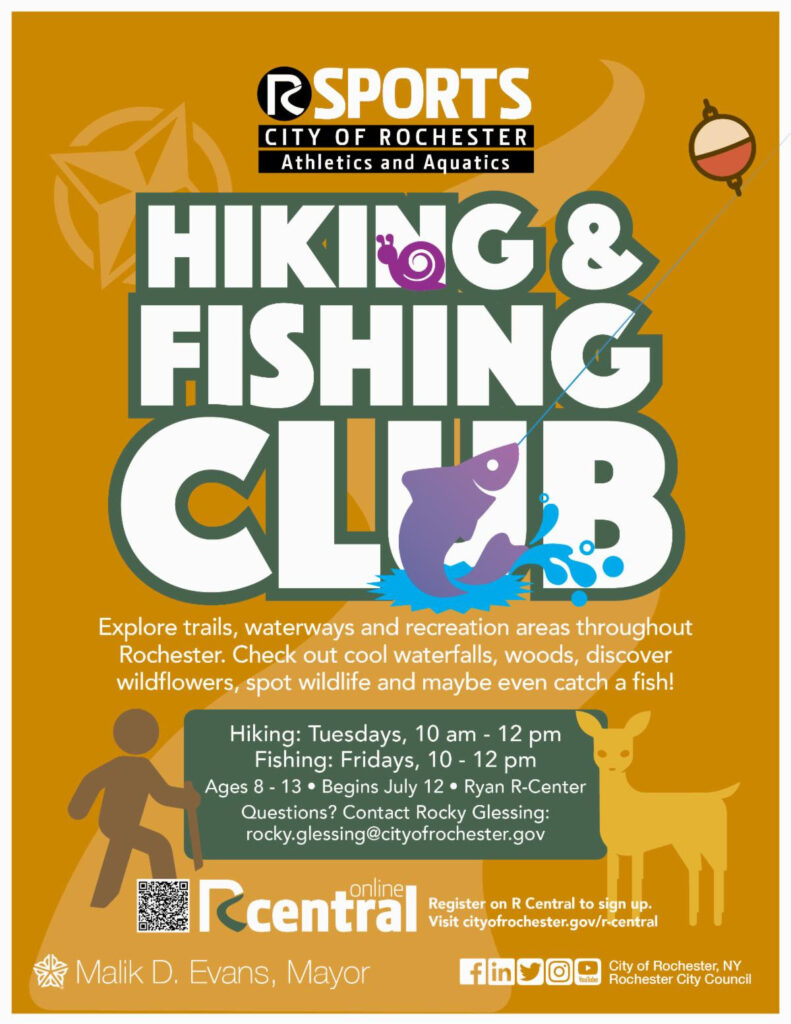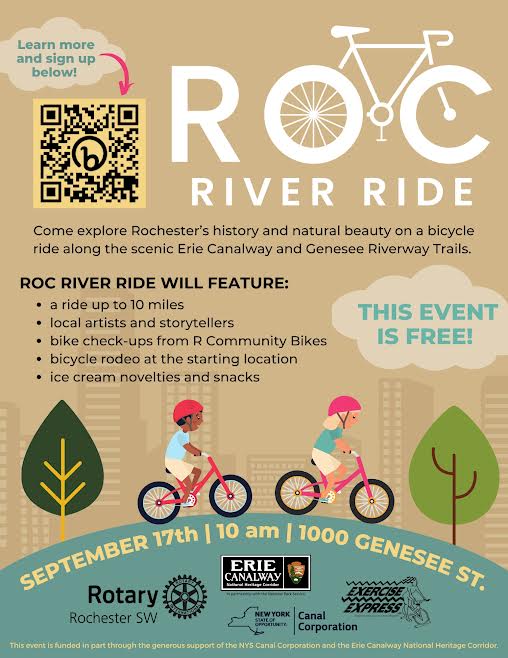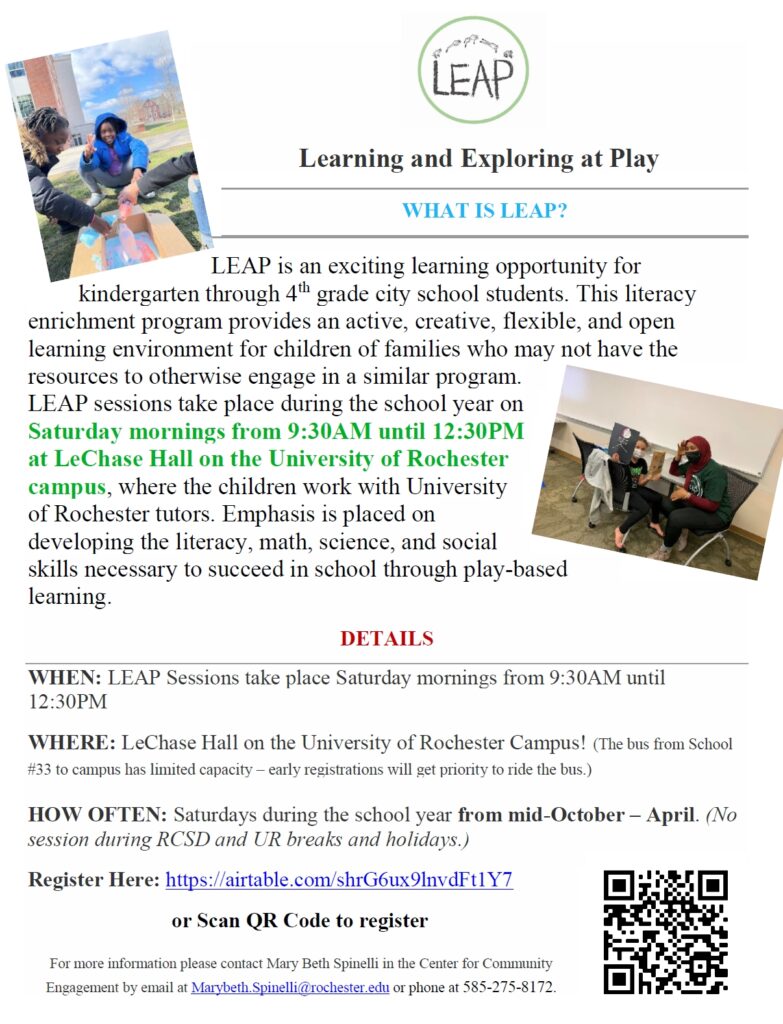 Committee Information
Reach out to our office manager if you would like to get involved.
Delegates Council
Delegates Council will meet virtually 2nd Thursday of each month. They will NOT be meeting the months of July and August, returning September.
Garden Committee
The Garden Committee is enjoying seeing your beautiful gardens bloom.
Communications Committee
The Communications Committee is in search of a new chair.
Housing Committee
The 19th Ward Housing Committee will be restarting soon. Our meetings generally last about an hour. A City representative from Buildings and Code Enforcement attends to work with us on specific properties, concerns/issues, code enforcement, etc.
Schools Committee
The schools committee is continuing to meet and will keep us updated on the good work they're doing.
AmazonSmile – smile.amazon.com – You Shop. Amazon Gives. The 19WCA is listed as a charity, we receive 0.5% when you purchase. Thank you!!