Update 19 January 2023
Presidents Message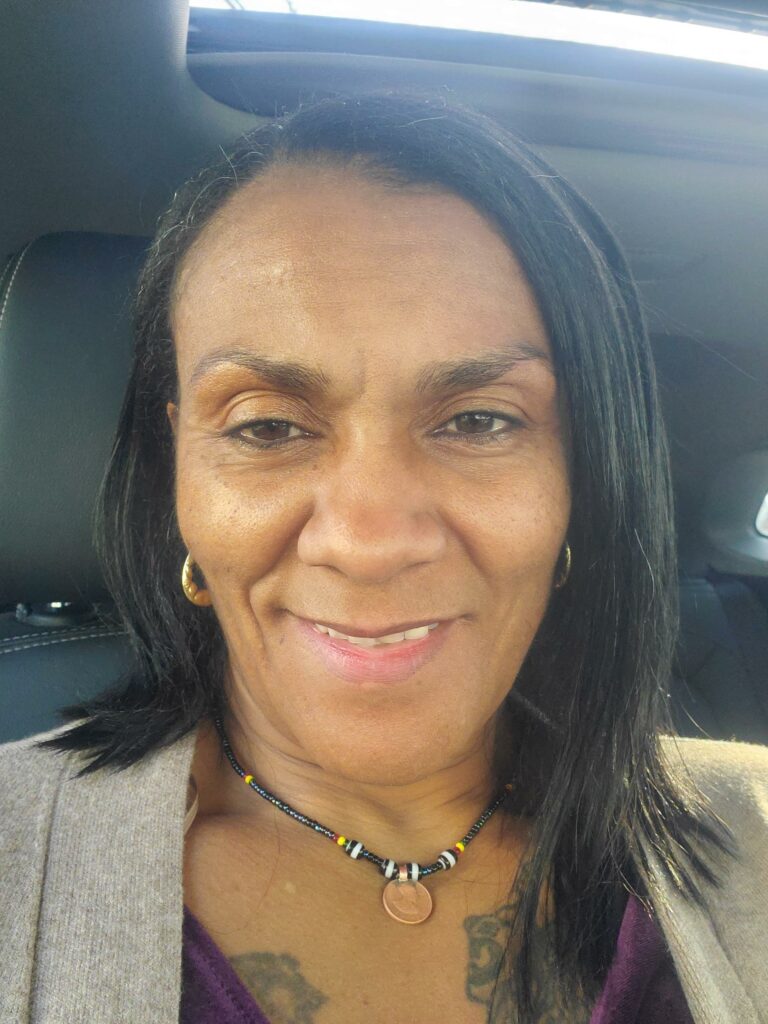 Happy 2023!
I am honored to have been voted in as the 2023 president of the 19th Ward Community Association! For the last 10 years I walked every street of the ward with my partner "King " pictured above. We have stopped to chat with residents & fur babies along the way. I am very proud to be a resident of the 19th Ward for the past 24 years.
I served as the delegate of District 19 for two years and moved on to serve as 1st Vice President to Karen Emerson (past president). Serving with me in 2023 is Sandra Powell as 1st VP, Kate Washington as 2nd VP, Angela Burch as Treasurer and Cassy Bocanegra as Secretary to the Executive Committee. We will be appointing two At-Large members at our first Delegates Council meeting in January. Although leadership has changed I would like to reassure you that I, along with my Executive Committee, are here to listen to your concerns and suggestions.
Our physical location at 216 Thurston was officially sold on December 19. We don't have another location at this time, but as of 12/26 our office manager is working virtually from home. This should have no impact on continuing the service we provide to our residents and community. More information will be provided as we take additional steps to ensure that the 19the Ward Community Association continues to drive forward in the work to strengthen our community and organization. This leadership along with your help and our Office Manager, Ruth Jenerson, will concentrate our efforts on being more visible in the community.
We hope you will participate in our community events! We're currently planning January's MLK event – the celebration program will be held at Genesee Baptist Church, 149 Brooks Ave. at 2pm! ALSO on 01/16 @ 4:30 we are holding a few hot spots "pop up" gatherings at our community gardens Arnett Bird & Butterfly (Arnett Block Club), Ravenwood, Aberdeen Square and Chili/Thurston . We will have hot chocolate, fire pit, and luminaries. St. Monica (831 Genesee St.) is also partnering in with the 19WCA along with the U of R Off Campus Housing on the 16th.
Carol Kramer and Jackie Farrell are heading up our annual Candlelight Dinner to be held February 11. If you've never participated this is a great opportunity for neighbors to meet others in our wonderful community! The Spelling Bee held in April continues to grow. We're looking forward to more students, parents and community members coming out to show their support to our young scholars.
I hope to hear from you as we move forward – your commitment to the 19WCA is appreciated through your membership and involvement in our community as we strive to make the 19th WCA an association that it's members and residents will be proud to belong to.
Josie McClary
President, 19th Ward Community Association
AROUND THE NEIGHBORHOOD
Our newly elected 2022 officers are: Josie McClary President, Sandra Powell 1st Vice President, Kate Washington 2nd Vice President, Cassandra Bocanegra, Secretary. (Angela Burch remains as Treasurer). They introduce themselves below.
Sandra Powell
Thank you so much for electing me as your VP-1 and I look forward to representing the 19th Ward Community Association.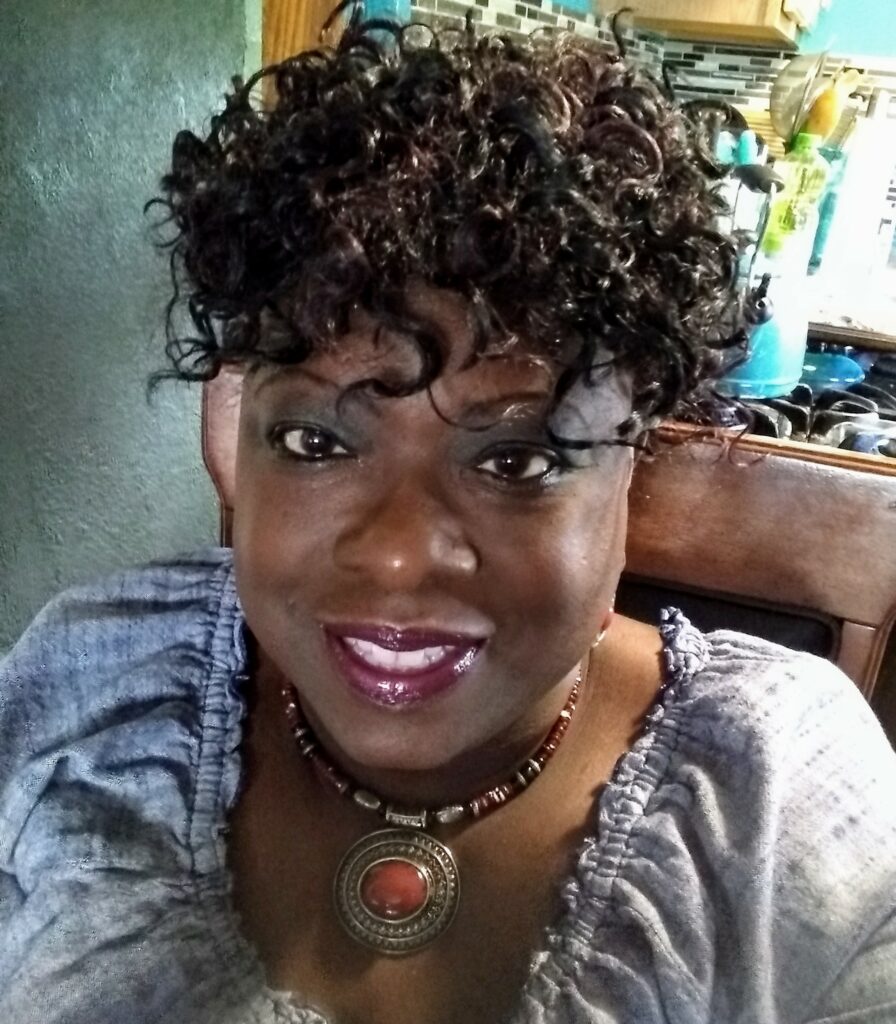 I, Sandra Powell, have been a resident of the 19th Ward for over five decades.
I was five years old when my parents, my siblings and I immigrated to the United States from England. Yes, I was born in Leeds, England, but raised in Rochester, NY, thanks to my uncle, who sponsored us and we arrived in June of 1966. We shared a two-family house with my uncle and his family for 6 months. Then, my parents were eager to own their own home, again. They enlisted the assistance of a realtor, who had their best interest at heart and directed them to a wonderful section of Rochester in the 19th Ward. I am located on a lovely street (Terrace Park) nestled between Brooks, Congress with cross streets of Genesee St. and Pioneer St.
I was fortunate to have grown up in an era of going to neighborhood schools (37, 16 & Wilson Jr. High) with neighbors that created an unbreakable bond and friendship due to all my friends were in walking distance. Our parents knew each other, and everyone looked out for each other (hence the village).
The fall of 1979 was the first time I left the village to attend college in the "Big City". After earning my bachelor's degree, like most college students, I returned home to the Ward. I did not know then (1984), that I would rekindle my love affair with my hometown. I started my career at Sibley's (no longer in business) as an Assistant Buyer and after a year and a half, I was promoted and relocated to Syracuse, NY. I learned that I missed living in Rochester and the need or desire to live in a large city was all out of my system. When I needed a fix, I would plan my vacation for one of those cities, but my home base needed to feel familiar.
Once I returned to Rochester, I switched companies and started back to community involvement as I did in high school – by entering the mentoring program, a committee member for the Strong Museum to increase a diverse membership, as well as being a Big Sister for 10 years with the Big Brother/Big Sister Program. I continue to be a part of many Rochester community outreach programs through organizations like the United Way (Willow and, most importantly, a 19th Ward Member). I have lived in the Ward in the same house on and off for more than 5 decades and while my house has gone through many renovations, the ownership has remained in the Powell Family.
In November of 2019, I was invited to a meeting, which presented an opportunity for me to represent the 3rd District as a delegate. After being a part of the 19th Ward for most of my life, it has become a part of my DNA, with our strong diverse neighborhoods, wonderful rich history in our businesses, in our schools, parks, and bike trails. We are a kind, spirited, caring diverse community filled with pride and many stories to tell, but still more to create.
Please come join my little piece of heaven, the 19th Ward Community, and create your own story and share the beauty of this community. I am not selfish; I am willing to share…
Kate Washington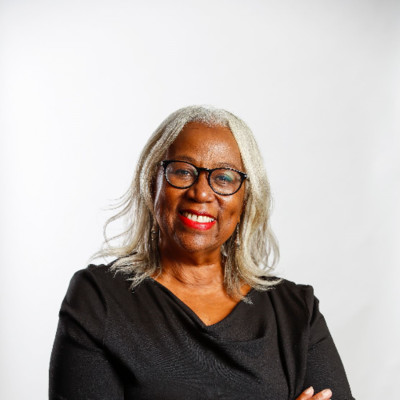 Kathleen (Kate) Washington's unique and non-linear career path is grounded in the education she received through world travel as a child in a military family. Eventually landing in Rochester, NY, Kate attended school, studied violin and went on to become a professional studio musician and music teacher in classical, jazz, and popular music. She launched a professional chamber ensemble, Quodlibet, and performed live jazz with Richie Cole, Cab Calloway, Jimmy Hamilton and Nancy Wilson, among others. She has numerous off-Broadway credits as Music Director for musical theatre and was awarded a Fulbright Teaching Fellowship to Wales in 1982.
Kate served as Deputy Commissioner of Neighborhood and Business Development for the City of Rochester. In that capacity she led Housing, Real Estate, Business Development and Economic Project Development and activities that spanned all neighborhoods in the City of Rochester. Kate's continuing commitment to the revitalization, transformation and regeneration of the City of Rochester was the driving force behind her work. Prior to her tenure with the City of Rochester she was Managing Director of Enterprise Solutions International, her consulting firm that shined a laser focus on small and mid – cap business growth, combining imaginative "Main Street" development strategies with solid financial and operational skills. Her company's model met businesses where they are, recruited the diversity of skills and resources required, and delivered increased profitability. She counts the multiple, successful business turnarounds, despite the most recent recession – providing solvency and futures for employees and families – as her strongest and most fulfilling achievement.
Kate's professional experience includes working with the highest levels of business and government leadership in countries in the Caribbean and South America and the continent of Africa to reduce the cost of energy and to build sustainable energy resources that increase the quality of life in these emerging markets. Kate's civic engagement includes leadership in women and minority issues; the arts; and business growth and development. In 1999 she was awarded the YMCA Minority Achiever Award. She currently serves on the board of the Children's Institute, Southwest Area Development Corporation. She sits on the Simon Advisory Council, advisory boards of BioDrill Technical Solutions, Rochester Jamaican Organization and Merrill Rusling. Kate earned her Bachelor of Music from Syracuse University, studied jazz arranging at Berklee College of Music and earned her Master's degree in Business Administration from the Simon School of Business Administration.
Cassandra Bocanegra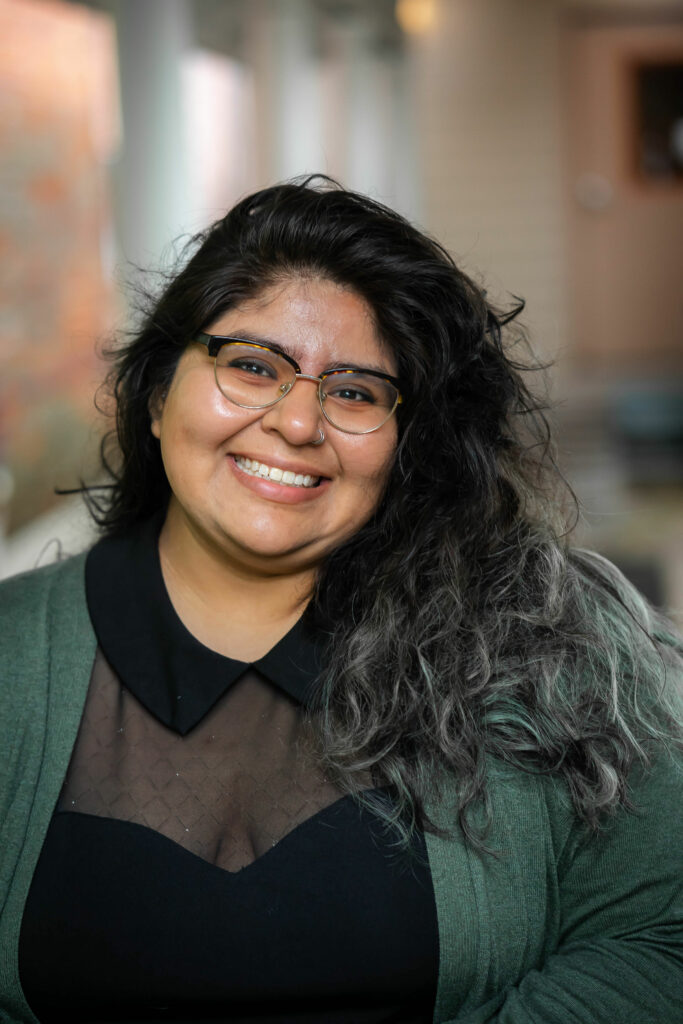 Cassandra Bocanegra is the recently elected Secretary for the 19th Ward Executive Board. She has been a resident of the 19th ward since summer of 2021. Having visited friends in the area frequently in the past, she is overjoyed to now be a part of it and be of service to the community.
Martin Luther King Day – January 16, 2023
The 19th Ward Community Association is excited to host the January 14th Annual MLK Celebration at Genesee Baptist Church, 149 Brooks Ave. on January 14th at 2pm. Luminaries will be available (donations requested but not mandatory) for our January 16th hot spot "pop ups" at various sites in our community beginning at 5pm. Hot chocolate and marshmallows and plenty of community fellowship will be shared. Check out Chili/Thurston Rd., Ravenwood Garden (Thurston Rd), Arnett Bird & Butterfly Garden, Aberdeen Square and St. Monica's parking lot (831 Genesee St.)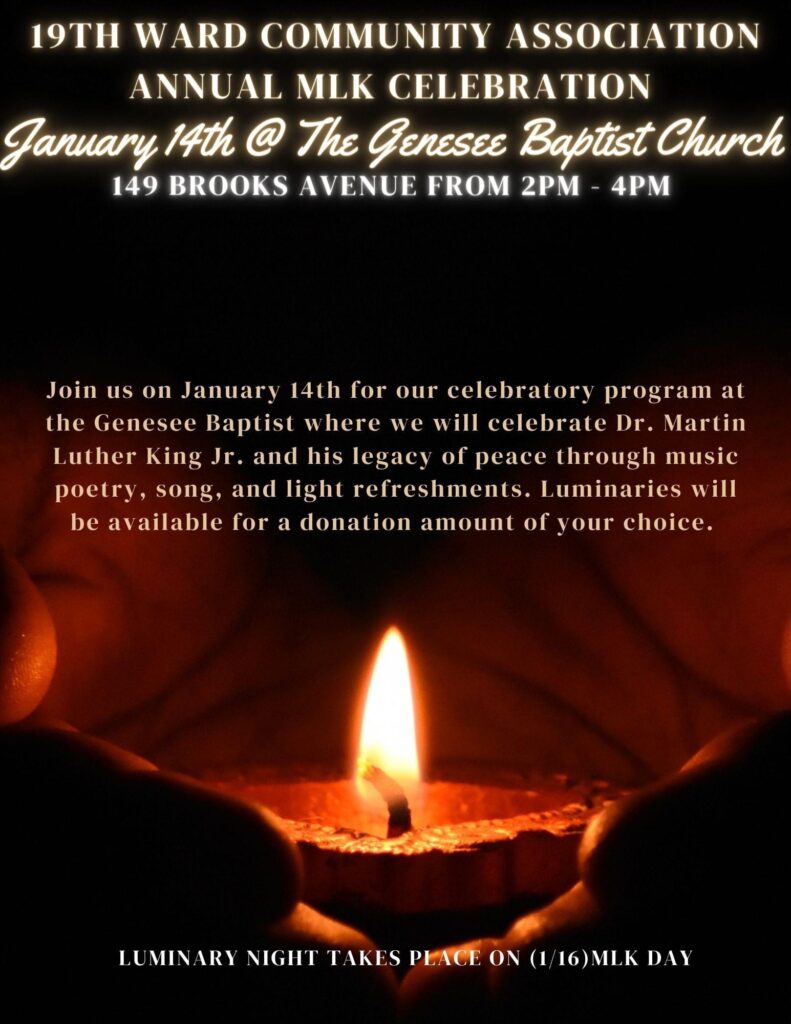 Additional Celebrations
"We must accept finite disappointment, but never lose infinite hope" (Martin Luther King Jr)
The concept of diversity encompasses acceptance and respect. It means understanding that each individual is unique, recognizing our individual differences. These can be along the dimensions of race, ethnicity, gender, sexual orientation, socio-economic status, age, physical abilities, religious beliefs, political beliefs, or other ideologies.
Celebrating Us is the exploration of these differences in a safe, positive, and nurturing environment. It is about understanding each other and moving beyond simple tolerance to embracing and celebrating the rich dimensions of diversity contained within each individual and ultimately in our Monroe County Community
Martin Luther King Jr. Discovery Day
Mon 1/16 10:00 AM – 1:30 PM
Roberts Wesleyan University, 2301 Westside Dr
Rochester, NY
Martin Luther King Jr. Day of Compassion
Mon 1/16 11 AM
The Strong National Museum of Play, 1 Manhattan Square Dr
Rochester, NY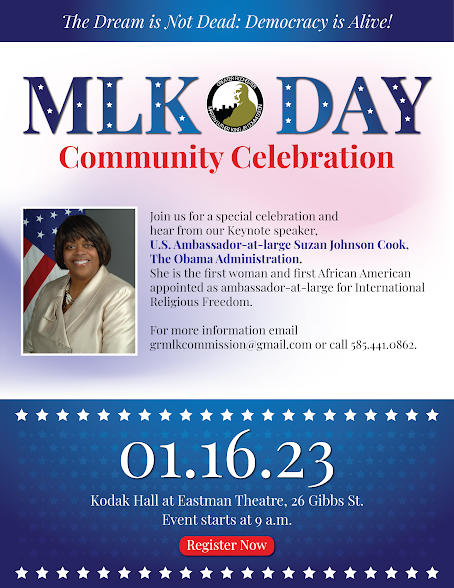 Candlelight Dinner 2023
In person Candlelight Dinners are back for 2023! This year the annual Candlelight Dinners will be held around the neighborhood on Saturday, February 11, 2023. If you did not sign up to host or guest at the Annual Convention you can sign up now. You can call Carol Kramer at 436-7521 or email her at cakramer355@gmail.com until January 31, 2023.
Candlelight Dinners are a 35+ year tradition in the neighborhood. A wonderful opportunity to meet new people and reconnect with other neighbors. Typically the host will provide the main course and the guests provide the side dishes and dessert. Hosts are responsible for contacting the guests who have been randomly assigned to their home.
To sign up for this year's dinners you just need to call or email Carol Kramer. If you want to be a guest Carol needs your name, phone number and/or email address and if you have any dietary restrictions, if you want to attend a family dinner (may include children) and the number of guests attending the dinner.
If you want to host a dinner Carol needs your name, phone number and email address, number of guests you can have at your table, and if you are interested in hosting a family dinner (if you do not specify Carol will assume you want to host an adult dinner).
If you are still not ready for an in person meal we can schedule a zoom/virtual event. Someone will need to step up to host the virtual event and guests will then be assigned to that host. At convention no one expressed an interest in the virtual option, but we can set that up quickly if necessary.
Please sign up by January 31, 2023. Host and guest assignments will be sent out around February 3, 2023. If you have any questions contact Carol Kramer. Looking forward to our return to in person meals!
Schools Committee
Submitted by Dr. Phyllis Moss
It's been my pleasure to serve as the Chair of the 19 Ward Association's Schools Committee for a little more than a year now. I have found the committee members to be faithful and extremely committed to helping the children of our community. Currently, our projects include an annual Spelling Bee and a Tutoring Program at School #10.
I must admit that I was initially skeptical about the idea of a spelling bee. I didn't know that was still a thing! But last year I attended with my son who is a struggling reader and was pleasantly surprised by his excitement. In fact, all the children who attended and participated seemed excited and engaged. This year we are expanding the Bee to include 7th and 8th graders.
Unfortunately, the Pandemic temporarily halted the tutoring program at School #10, but I am still awed by the fact that area engineering firms allowed their employees to tutor our scholars on company time. We need this type of community involvement like never before. I'm told that not only did reading scores improve, so did attendance as scholars seemed reluctant to miss the days they met with their tutor.
We hope to continue and expand these programs in 2023. If this committee is something you would like to be a part of, please email me at drphyllismoss@icloud.com or phone/text me at 585-451-1686.
Happy New Year!
Arnett Branch Library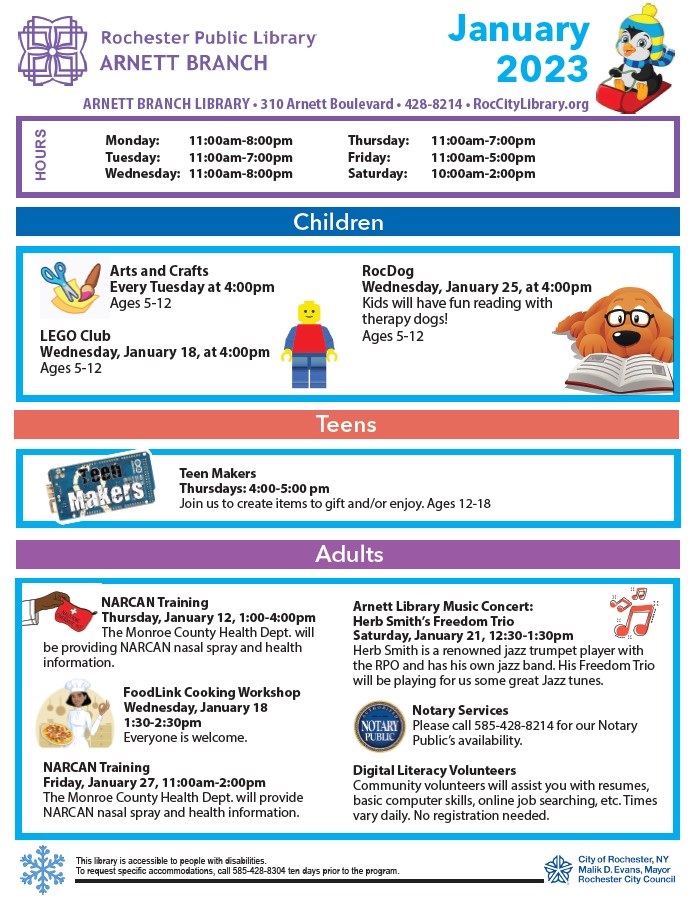 The Music Series 2023 is going to be fantastic! We are celebrating our 100th Anniversary with a kick off Music Series focusing on music from the past 100 years. Our first performers are Herb Smith's Freedom Jazz Trio on January 21st from 12:30-1:30 PM at the Arnett Library. Herb Smith is not only a gifted RPO and jazz musician, he also works with city youth sharing his music talents. Please see the attached flyer and pass the information on to others!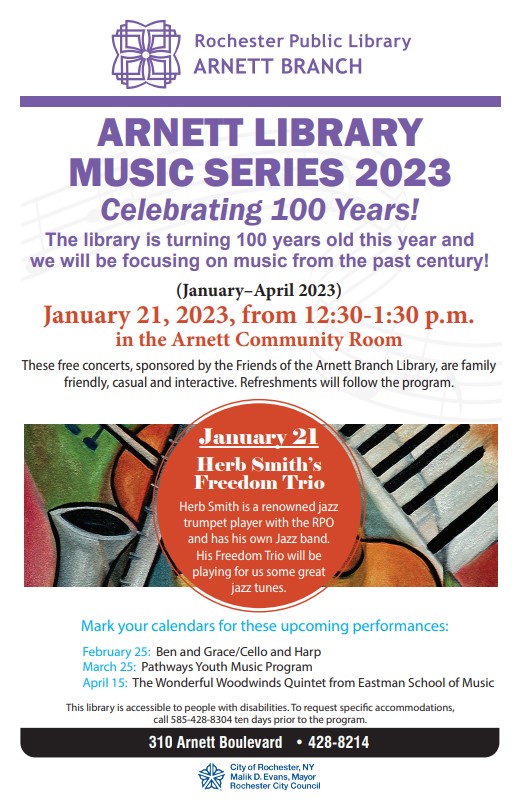 Complete Streets Makeover right in our neighborhood!
The intersection at Arnett and Warwick has been chosen as the winner for a Complete Streets Makeover in Spring 2023! We will be gathering a group of interested people on February 1st for a Workshop at the Arnett library to design the plan for our Complete Makeover. If you are interested in helping please contact Susan Morehouse at 585-775-9548 or Susan@harpsongs.com. Please see the flyer for details. We need people who will represent the 19th Ward Community Association and other neighborhood groups as well as citizens at the table for this planning. If you are interested in improving the safety of our streets for pedestrians and bicyclists you would be perfect for this group! (Submitted by Susan Morehouse)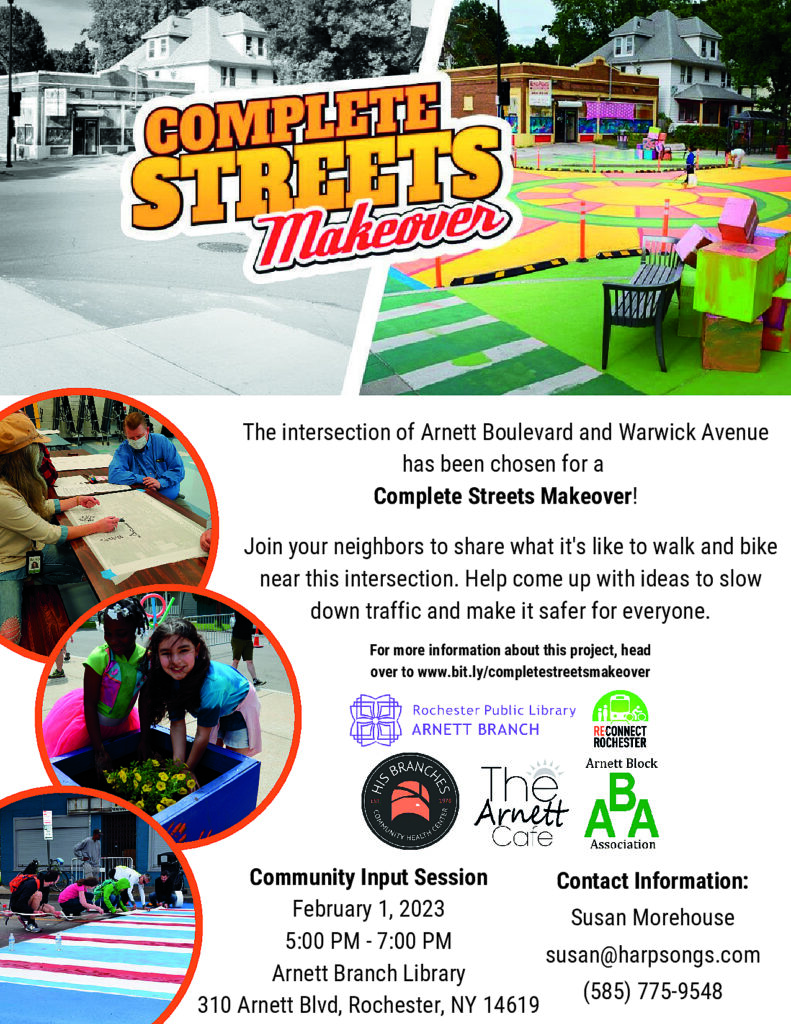 19WCA Building Clean Out
If you are a current chair or past chair of 19WCA events and have items stored in the building, please call Ruth at office (585-328-6571) to discuss REMOVAL and/or STORAGE of materials before Saturday February 11, 2023
Celebration of Rochester Presbyterian Home and Service of Nancy Smyth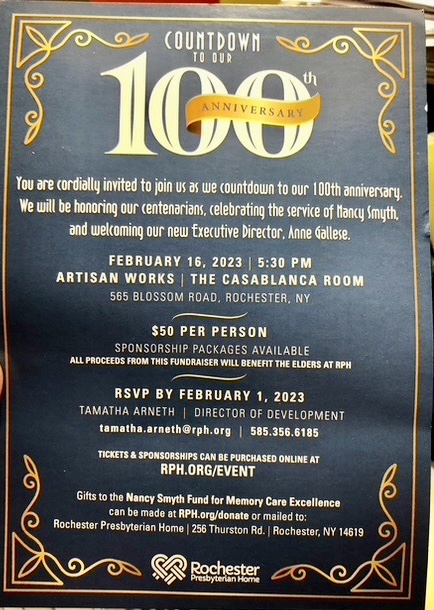 CIVICS CORNER
Job Training Opportunity
The City of Rochester is among four organizations in New York State to receive a $500,000 grant through the U.S. Environmental Protection Agency's (EPA) Brownfields Job Training Program to clean up and transform blighted brownfield sites in the city. The federal grant is the single-largest investment in brownfields infrastructure under the Bipartisan Infrastructure Law.
The City will use the funding to establish a new Brownfields Environmental Skills Training program that would build upon the success of its Rochester Environmental Job (REJob) program. The REJob program has effectively graduated more than 120 students who are currently employed in the environmental construction industry.
"This federal grant is an important investment for the City of Rochester and its residents," said Mayor Malik Evans. "I am extremely grateful to the EPA for helping us pursue our goals of creating a greener and more sustainable Rochester, and working toward environmental justice. Cleaning up brownfields in our community for future investment and supplying the environment-construction field with a trained workforce will greatly enhance our efforts to create a safe, equitable and prosperous Rochester, and to provide city residents with employment opportunities."
The City's new Brownfields Environmental Skills Training program will train nearly 100 participants and place approximately 80 percent of them in environmental remediation careers. The training includes OSHA's 40-hour Hazardous Waste Operations and Emergency Response, Asbestos Handler/Worker Certification, Air Monitor/ Asbestos Project Monitor Certification, OSHA's 10-hour Construction Site Safety, and Construction Inspection. Students who complete the program will earn up to one state and three federal certificates.
The City has received four grants under the EPA Brownfields Job Training program to-date, totaling $1.1 million in funding.
You can find video footage and more information of the City's REJob program here.
Foodlink
Curbside Market schedule: https://foodlinkny.org/program/curbside-market/
a. The schedule does change seasonally, but we always keep the website updated.
2) Foodlink Career Fellowship nomination information: https://foodlinkny.org/program/foodlink-career-fellowship/
FLYERS
Health & Wellness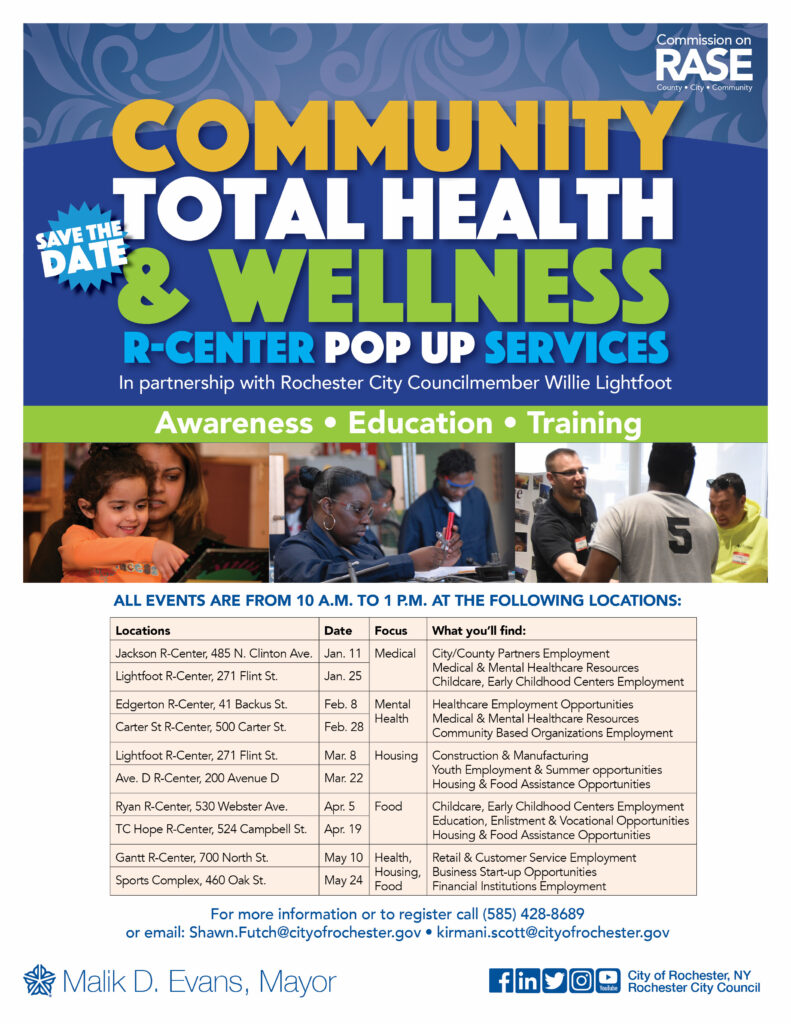 The Food Pantry @ Church of Love. Now serving, City of Rochester residents of zip codes; 14608, 14611 and 14619.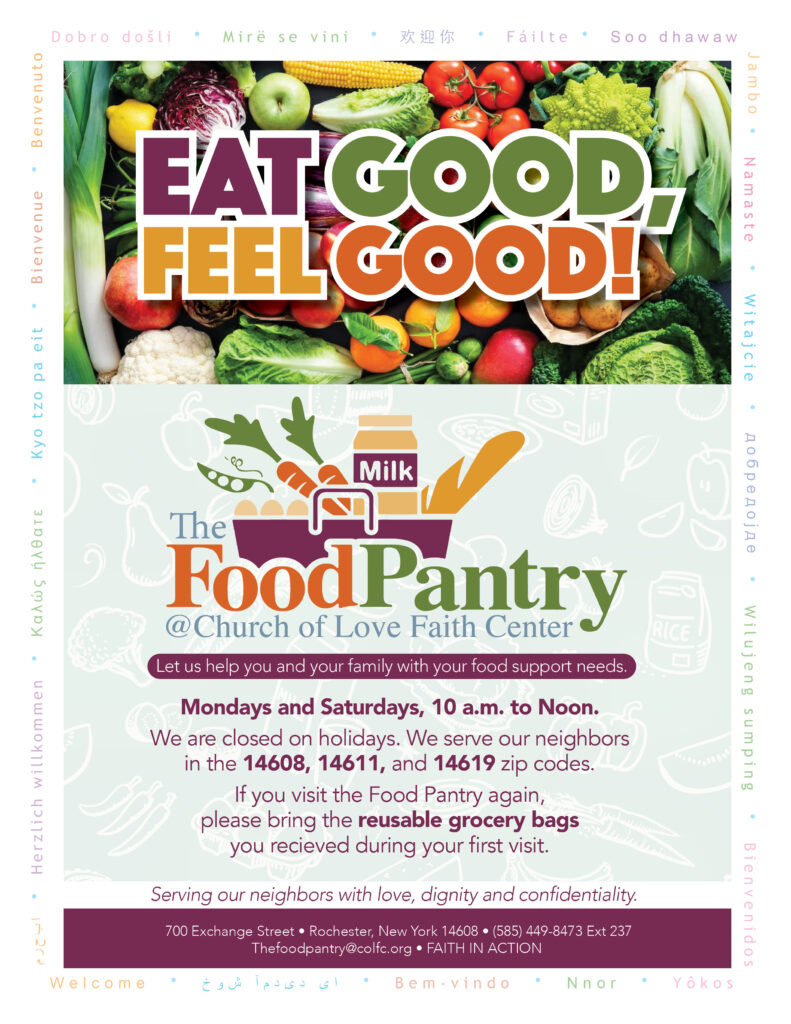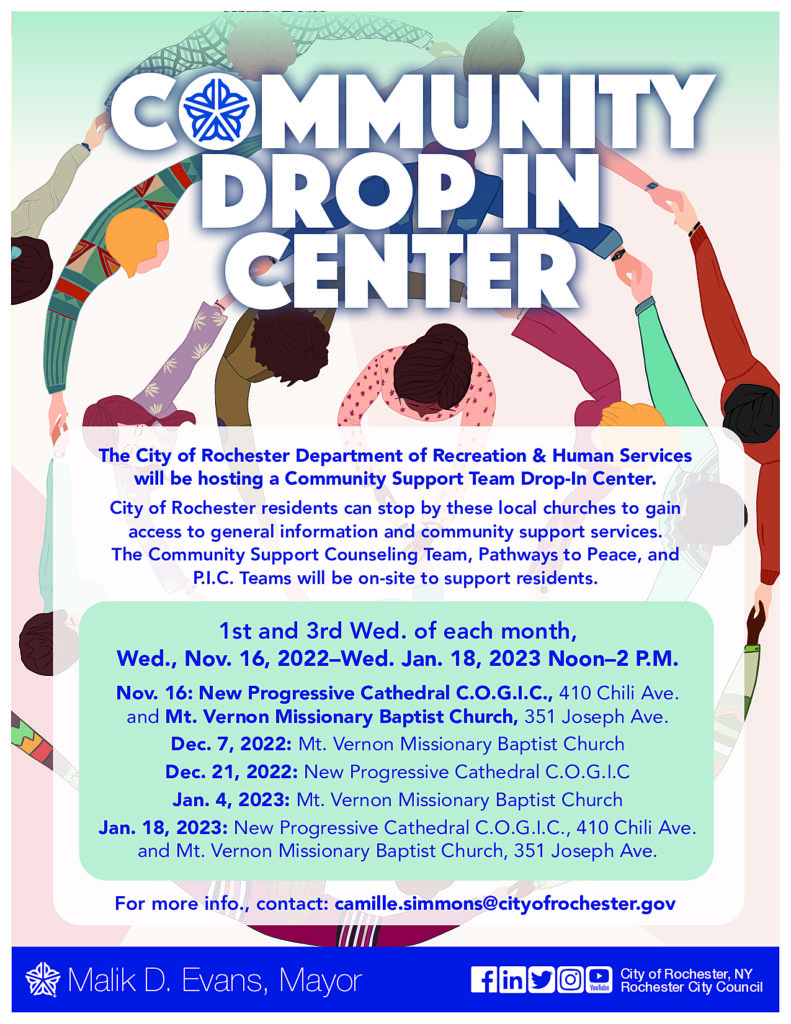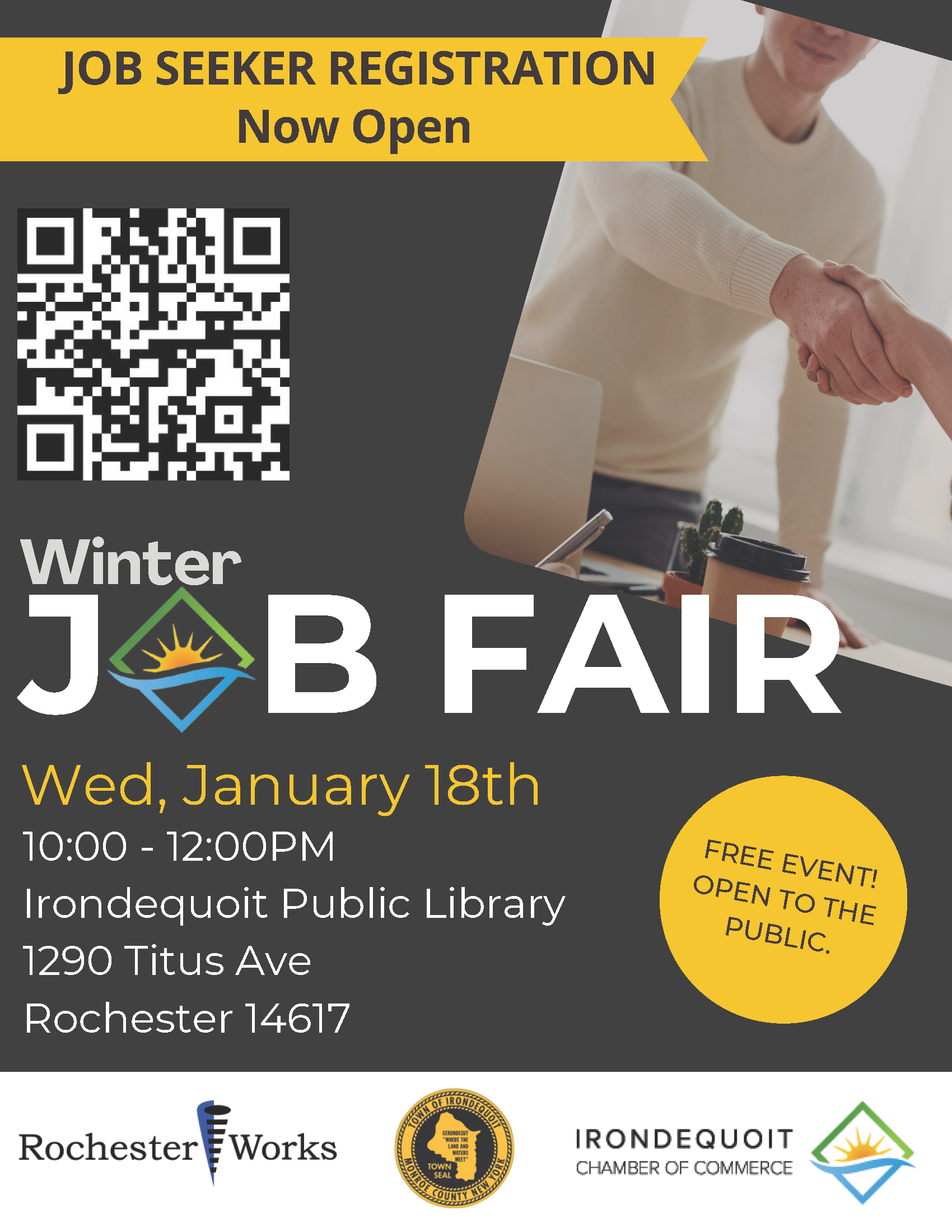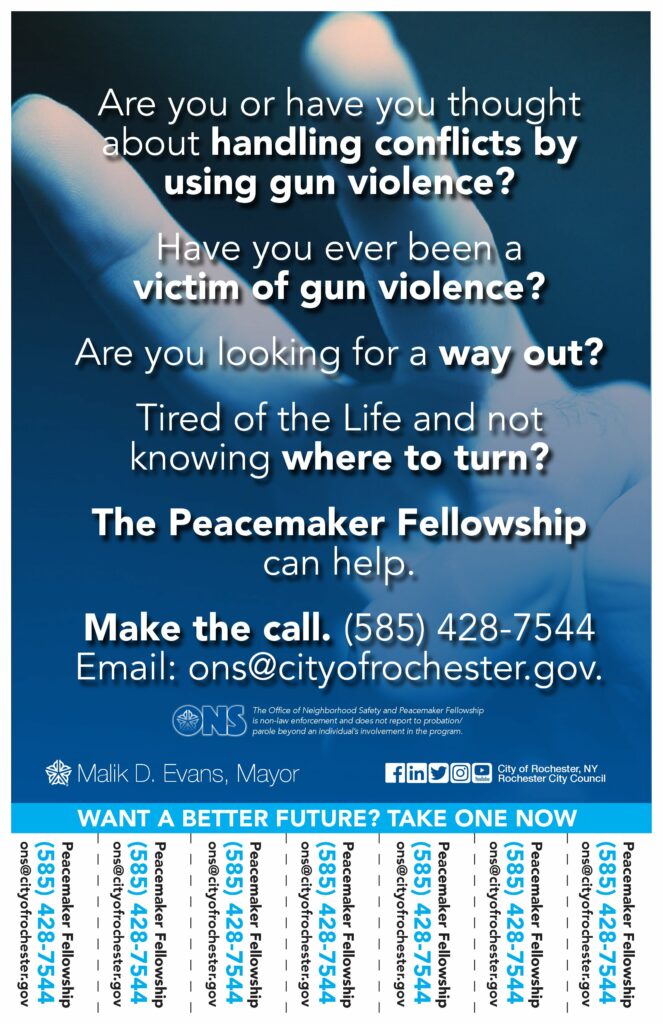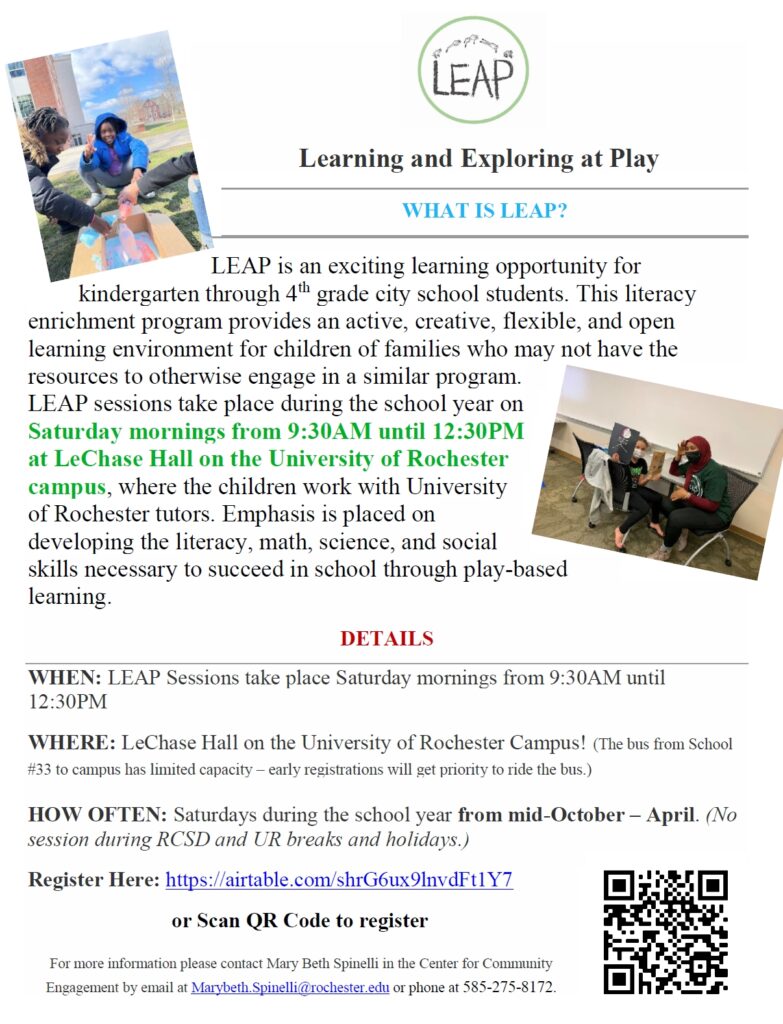 Committee Information
Reach out to our office manager if you would like to get involved.
Delegates Council
Delegates Council will meet 2nd Thursday of each month at the Arnett Branch Library.
Garden Committee
The Garden Committee is always looking for help in maintaining our neighborhood gardens.
Communications Committee
The Communications Committee is in search of a new chair.
Housing Committee
The 19th Ward Housing Committee will be restarting soon. Our meetings generally last about an hour. A City representative from Buildings and Code Enforcement attends to work with us on specific properties, concerns/issues, code enforcement, etc.
Schools Committee
The schools committee is continuing to meet and will keep us updated on the good work they're doing.
AmazonSmile – smile.amazon.com – You Shop. Amazon Gives. The 19WCA is listed as a charity, we receive 0.5% when you purchase. Thank you!!