Luminary Night
"Darkness cannot drive out darkness; only light can do that.  Hate cannot drive out hate; only love can do that." – Martin Luther King, Jr.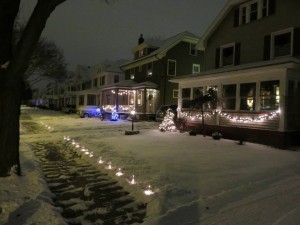 Each year in honor of Martin Luther King Day, neighbors in the 19th Ward light up the night with luminaries. Luminaries are simple to make with a milk jug or paper bag, a weight, and a candle. Kits are also sold at neighborhood businesses like Menezes Pizza, and Brue Coffee. Celebrate with your neighbors by visiting one of the hot chocolate stands or bonfires around the neighborhood or host your own!
Check out our 2020 Hotspots! We look forward to seeing you at 6:30pm on 1/20 for Luminary Night and Hot Spots. Don't forget about the celebration this Saturday, 1/18, at noon at the Arnett library!
Candlelight Dinners
For over 25 years, it has been a winter custom to have potluck dinners throughout the 19th Ward, bringing together old and new neighbors, for an evening to celebrate community. A host will sign up and volunteer to have as many guests as can fit around the table. The week before the event he/she will call guests and tell them what to bring–appetizer, wine, salad, etc. and what time to arrive. In the past there have been games, singing, and discussions; always lively, always fun. This is a great way to welcome new neighbors to the 19th Ward!
Square Fair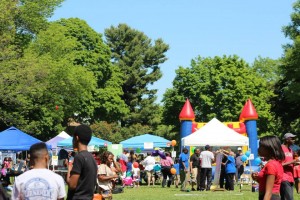 The first Saturday in June the 19th Ward Association hosts the Square Fair, a neighborhood festival celebrating community, held in Aberdeen Square. It includes a lively parade, delicious pancake breakfast, games and activities for kids, local vendors, a book sale, and performances throughout the day.  Download the 2019 vendor application vendor application (1) (1) 2019           Join the parade june parade information and application.doc2019
Help us cover the cost of this event – Become a Sponsor 2019 Sqaure Fair Sponsorship Form (1)
Citizen Merchant of the Year Dinner
This event celebrates citizens and merchants making a difference in our neighborhood. Please come and support our winners and our neighborhood! The dinner is held each year in September.
The three categories are:
Citizen of the Year – to a person who has made significant contributions to our community and made it a better place to live.
Merchant of the Year – to a local merchant who has contributed most to our well-being as a community.
Hall of Fame Award – to a person or organization that is impacting the 19th Ward in a positive way through promotion, encouragement and the improvement of neighborhood unity.
The CMOY Selection Committee accepts nominations until August 1st
Submit by mailing to:
19WCA Office
216 Thurston Road
Rochester, NY 14619
or drop it in the mailslot at the Association office, or attach it to an email to 19thward@19wca.org
House Tour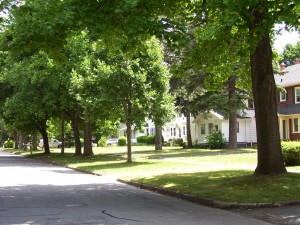 The 19th Ward House Tour showcases some of our finest and most unique homes in the neighborhood. Some have been rehabbed with the latest technology and others have been well preserved. The house tour typically happens every other year in the fall and raises funds to support the 19th Ward Community Association.
Convention
The 19th Ward Community Association hosts an Annual Convention each November. It begins with pizza, and silent auction followed by a meeting to elect officers and vote on the next budget. Everyone is welcome but only registered members of the 19th Ward Community Association are eligible to vote on official business.