Update 19 – March 2020
President's Message Zola Brown
Celebrating 55 years as the 19th Ward Community Association says a lot about the people in the neighborhood who care and are trying to support the quality of life in our area that many of us take for granted. We are keeping our history alive and focusing on the needs of our neighborhood. We are known for fighting for fair housing, education, good jobs and supporting our neighborhood businesses. This year we start with a new logo and an updated website so that we are communicating effectively. We want all our neighbors to feel proud about living in the 19th Ward and being a member of the Association.
When celebrating Black History month, I related to the year I was born, 1965, and the 1965 Voter Rights Acts. This Act, which was signed into law, prohibited the unfair and discriminatory practices used to prevent black people from voting. Congressman John Lewis continuously reminds us about March 7, 1965, in Alabama, known as Bloody Sunday, when civil rights marchers crossing the Edmund Pettus Bridge were attacked and 17 hospitalized. This incident sparked President Johnson to sign the Voter Rights bill into law. So many sacrifices were made so people can register to vote – sacrifices to build a better tomorrow.
My question to you: Is everyone in your household registered to vote? If not, you can go online to Board of Elections. Forms are also available in the 19th Ward Community Association office, 216 Thurston Rd. Office hours are Tuesday-Friday 9:30-2:30 p.m.
Census 2020 starts soon – April 1, 2020. So 19th Ward let's make sure we are counted! This data is also used to direct more than $800 billion annually in federal dollars to states and local communities that impact health care services, housing, schools, and economic development plans among other priorities. We need to make sure that appropriate dollars are coming to our neighborhood. You will hear more from us in our weekly updates in preparation for Census 2020.

I want to thank Adrienne Kllc for her years of service as our Chair for the Zoning Committee. She brought it to life and we shall carry on her good work. John DeMott is currently serving in her place. We welcome members of the association to learn more about the important work of this committee
Zola Brown, President 19th Ward Community Association
Membership and Website
Our new website is live! Have a look around and tell us what you think. While you're at it, make sure your membership is up to date and you've gotten your stickers or buttons or to help us represent our neighborhood and association. If you're able to give a little more this year, we're offering special edition 19WCA hats for members at the rank of contributing member or higher. We'll be distributing lawn signs with a special edition of our logo this spring as well!
We're working with the local design team to tell you the story of our new logo, and our past logos – stay tuned!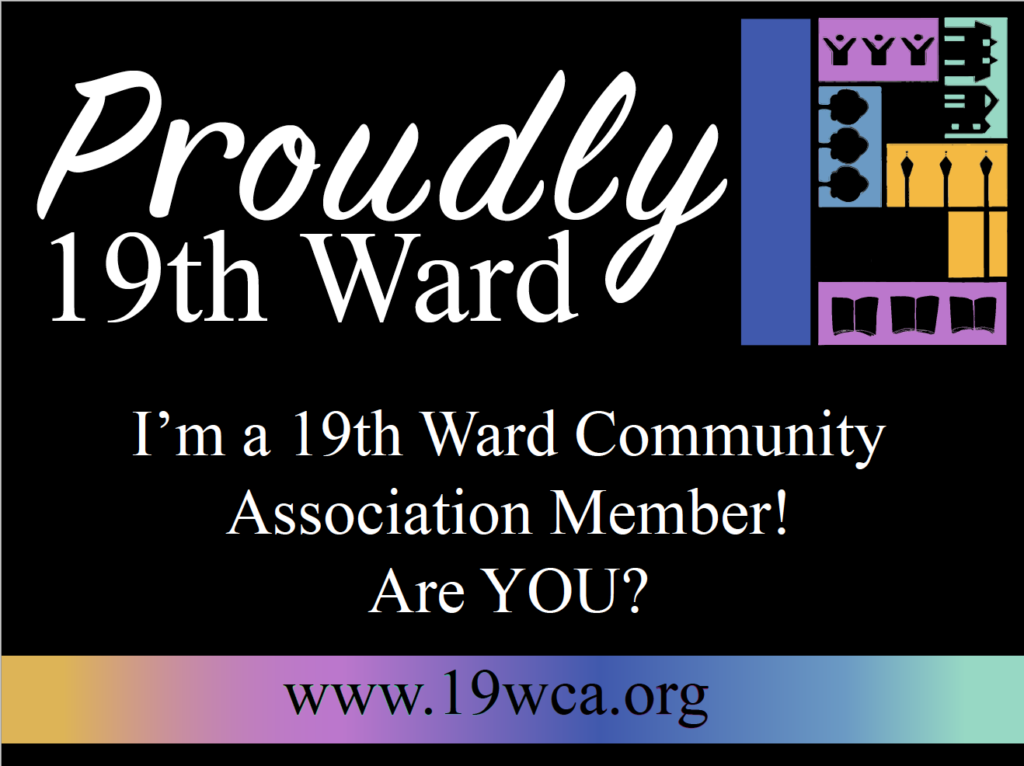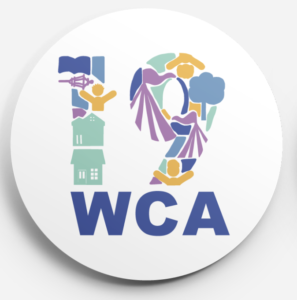 In addition, our friendly street managers have updated our SW food map! We added it to the page with our recommended neighborhood businesses and contractors in addition to including it here. According to John and Chris: "There are 39 on the map, so you could have a different kind of food every day for over a month! We advise friends to Google places to get hours and phone numbers. Happy dining!"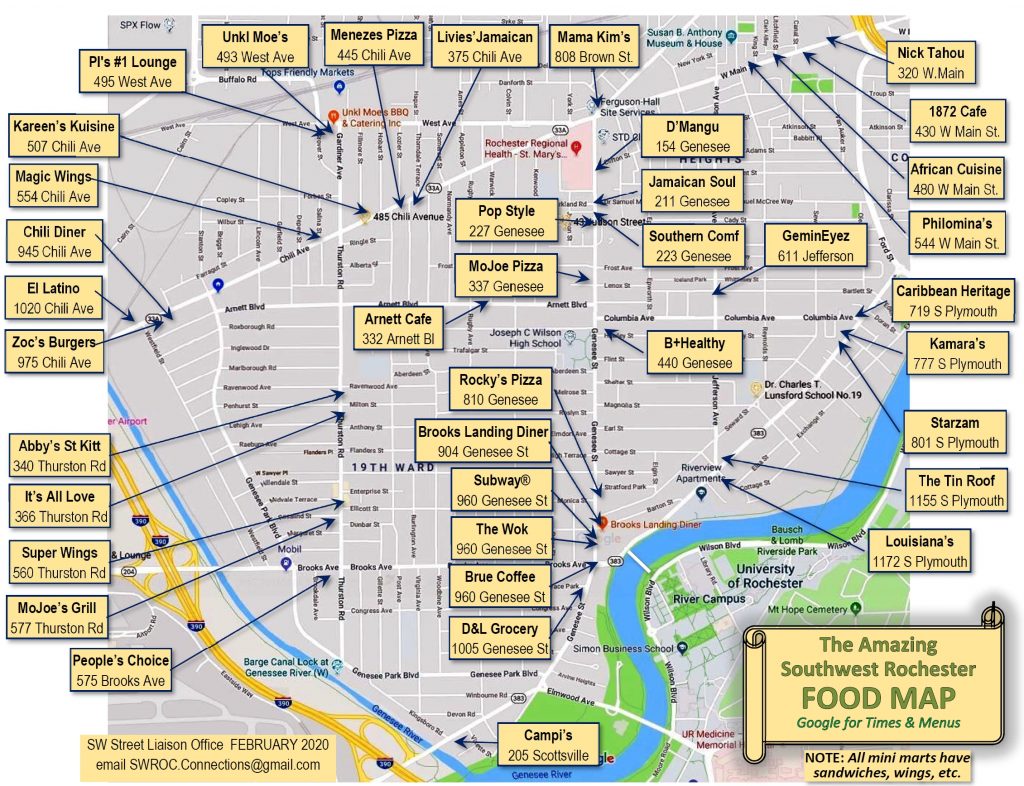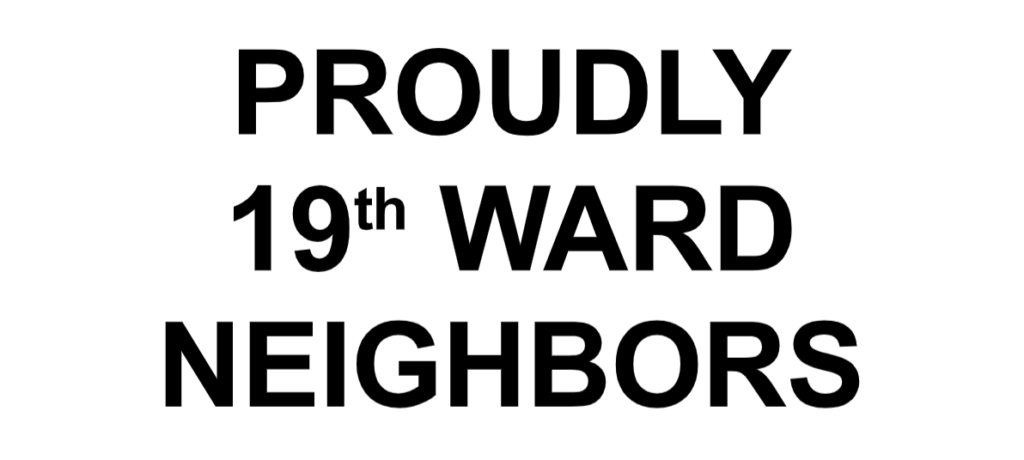 John Laing grew up in the small town of Orillia, Ontario, Canada. He graduated from the University of Toronto with a BSc in Math and Chemistry, from the University of Chicago with a PhD in Chemical Physics, and came to University of Rochester Chemistry Department to do a post-doctoral fellowship. And that's how he ended up in the 19th Ward for over 40 years – because it was close to the U of R! After his post-doc, John worked at Xerox until he retired.
John married his wife, Kathy King, while she was working on her PhD in Nursing at the University of Rochester. They've been married 36 years. They have two children. James has a PhD in Environmental Science & Engineering and lives in Seattle. Genevieve has a Masters in Mechanical Engineering and lives in San Francisco.
Through the years, John met many people in the neighborhood who were involved in the community. After his children graduated from college and he retired, it was an easy transition to became more involved the 19th Ward Community Association. One of his first projects was to join a group of activists to get the Rochester City School District to renovate School 16 and reopen it. Since 2013, John has been the Chair of the 19th Ward Community Association Schools Committee. The Committee sponsors the annual Spelling Bee for 3rd to 6th grade students who attend the public schools located in the 19th Ward. This year the Bee is on March 28th. Anyone interested in joining the School's Committee can contact the 19th WCA office.
John is also on the Board of Directors of the South West Ecumenical Ministries, better known as SWEM. John is in charge of the SWEM's BackPack program, which addresses childhood poverty in the RCSD and weekend hunger. The BackPack program is a national program and, locally, Foodlink provides and packs the food which SWEM volunteers distribute to Schools 2, 16, and 29. Children receive their pack of food on Fridays to take home – in their Backpacks – for the weekend. SWEM supplies over 160 bags of food each week to the 3 schools, and pays $2.50 per bag to Foodlink. If you wish to contribute, donations can be made to SWEM-CS, 350 Chili Ave., Rochester, NY 14611.
John was diagnosed with Parkinson's Disease a few years ago. Luckily it hasn't slowed him down too much. Medication is keeping his health relatively consistent, and although he doesn't ski any longer, he still plays ice hockey twice a week (eh, Canadian blood?). He jokes that his 'claim to fame' is that he's played hockey in all eight decades of his life! His advice to someone dealing with an illness is to learn to cope and accept help from people who offer it. Most of all, continue with life as much as you can!
Regarding the 19th Ward Community Association and becoming a member, John says, "You can make a difference if you get involved. Politically the 19th Ward has more clout than we think. Importance of family and community connections – this is what makes this community a great place to live!"

Recent Events
Candlelight Dinners
Upcoming Events
Spelling Bee: March 28, 2020. Check out the video from last year!
Palm Sunday Breakfast: April 5, 2020. Get in touch to help us prepare!
flyer-PALM-SUNDAY-BREAKFAST2020-1

Square Fair: June 6, 2020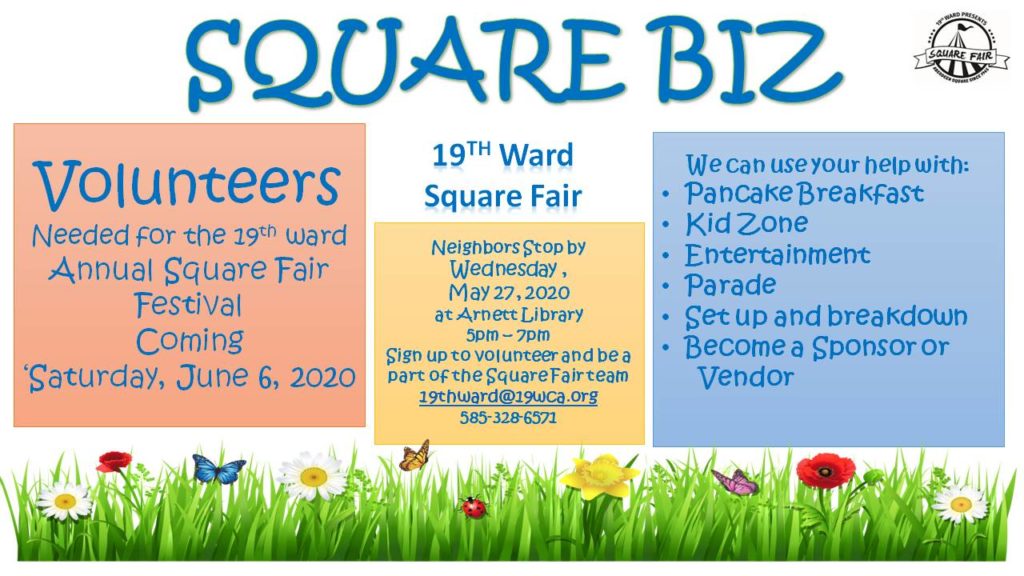 Vendors, download your applications now:
Delegates Council
May 14
June 11
September 10
October 8
November 12
December 10
Check upcoming issues of Update 19 for more information about our summer and fall events!
Committee Updates
Reach out to our office manager if you would like to get involved.
Delegates Council
Delegates Council continues to meet at 7:00 PM the 2nd Thursday of the month at the Arnett Branch Library. Our next meeting is on March 12, 2020. See full list of dates above!
Garden Committee
The Garden Committee is looking forward to spring. Some of us saw some bulbs peeking out of the ground!
Communications Committee
The Communications Committee meets on the third Tuesday of each month at 6pm at Arnett library. We're looking for a new chair, so please get in touch if you are interested!
Housing Committee
The 19th Ward Housing Committee meets the third Thursday of each month at 1 pm, at the Neighborhood Service Center, which is located at 923 Genesee St. Our meetings generally last about an hour. A City representative from Buildings and Code Enforcement attends to work with us on specific properties, concerns/issues, code enforcement, etc.
The Housing Committee is actively seeking new members – join us!
Schools Committee
The Schools Committee meets the first Tuesday of the month at 7 pm in the association office.
Updates:
The 10th annual 19th Ward Spelling Bee will be held on Saturday March 28, at University of Rochester. Students from grades 3, 4, 5, and 6 and schools 10, 16, 19, 29 and 44 will be practicing at the Arnett library Saturdays from 10-11. If you know children who are eligible to compete please encourage them to join the competition.
Other news:
Democrat and Chronicle Series on Housing Discrimination
Get Ready to Ease on Down To Thurston Road
Still time!
Rapids Cemetery Generous Funding Matching!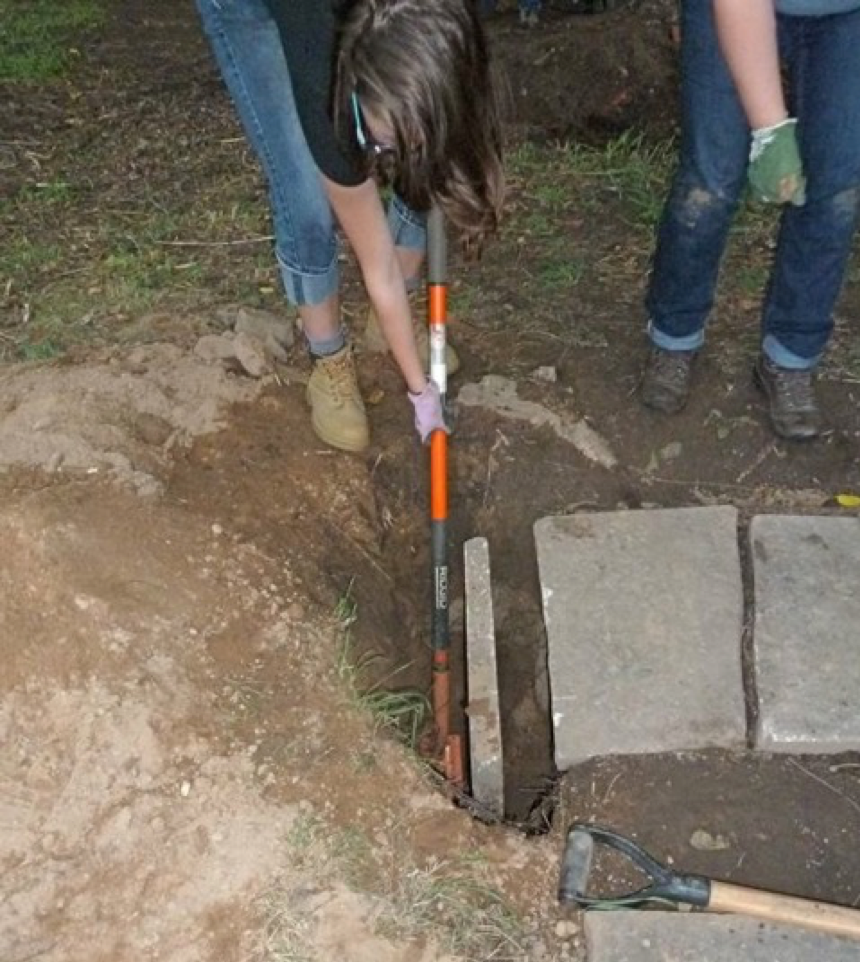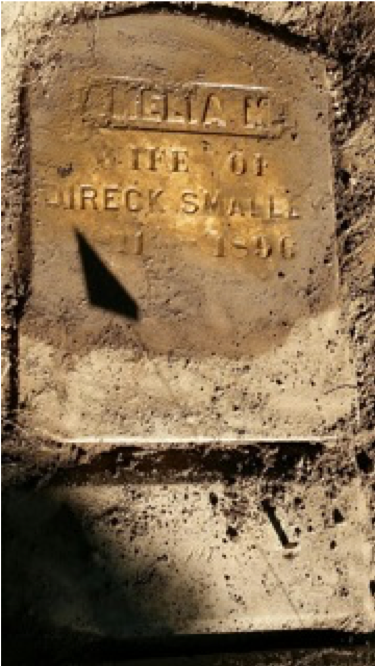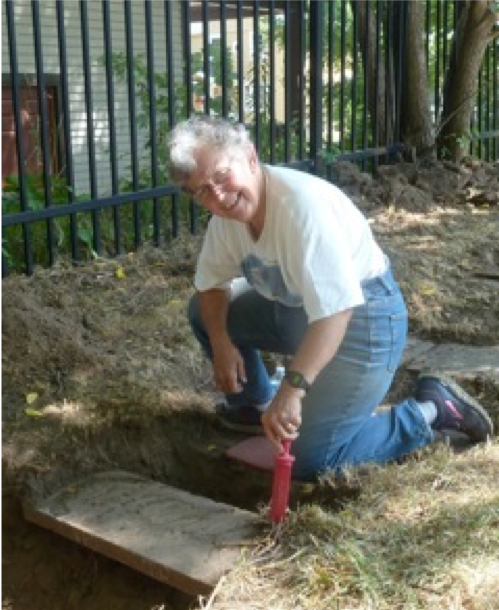 We have received $215 of our $500 goal – can you help us reach the finish line?
A generous donor has agreed to match donations to our 19WCA Rapids Cemetery fund for a limited time.
An anonymous donor has stepped forward and offered to match Rapids Cemetery donations, for a limited period of time, and up to a total of $500. Even small amounts are very welcome. $5 that you give becomes $10, $20 becomes $40, etc.
To take advantage of this exciting matching offer, simply earmark your contribution by mentioning, when you call the office or when you send in your check, that the donation is for the Rapids Cemetery Fund. 19WCA is a 501(c)3 nonprofit organization.
If you are not familiar with this 19th Ward pioneer cemetery on the north side Congress Ave near Genesee St., do take a walk over there some day. Much restoration work has been done in the past few years, all on a volunteer basis.
Some of the ways the Rapids Cemetery funds might be used:
Interpretive signage that will instill neighborhood pride and stability
Professional IT development work to complete the virtual tour of the cemetery that was begun in collaboration with RIT
An ongoing need to purchase a few items to support volunteers, such as shovels, hoses, probing tools, gardening gloves, buckets, clippers, a wheelbarrow
Engage youth in paid supervised prevocational skills
Consult with a specialist on food forests and edible gardens
Develop the site as a heritage tourism stop 
Design commemorative floral gardens alongside a rebuilt entryway that will invite passersby to enter, explore and reflect.
Speaking of heritage tourism, it is perhaps not well known that Susan B. Anthony lived nearby on Brooks Avenue from 1840 through the mid-1860s. Her Temperance Movement interest coincided with the Castle Town period of drunkenness and rowdy behavior. The Sunday afternoon tea sessions with abolitionist Frederick Douglass took place here in the 19th Ward at her father's home. Asa Anthony, a distant cousin who harbored freedom-seeking slaves, lived in the 19th Ward also. Close by the cemetery itself is the Underground Railroad safe house owned by Susan's Voting Rights colleague Rhoda DaGarmo.
The Rapids Cemetery Restoration project stakeholders include:
Office of the City Historian: Christine Ridarsky
Veterans Groups including VFW, American Legion, Legion Auxiliary, Chapter 20 Vietnam Veterans, Buffalo Soldiers and others
19th Ward Community Association (and its History & Archives Group)
City of Rochester Department of Planning & Zoning
City of Rochester Department of Environmental Services
City of Rochester Department of Parks & Recreation
Work Camps Home Repair – Application Deadline March 31, 2020