Update 19 – April 2021
President's Message Karen Emerson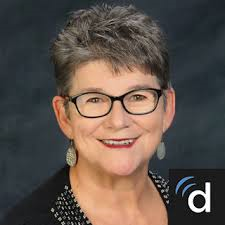 When I told Ruth that I thought I would write about the history of the 19th Ward Community Association, she was delighted! She had decided to pick the 19WCA as the Proudly 19 Neighbor of the month. Great minds think alike 🙂 It is not surprising that many of the same issues we are experiencing now are the same issues that plagued neighbors in the 1960's when the Association was formed. These issues are owner occupancy, speculative buying for rental, economic stability, activism and "Red lining/Block busting". It was felt that it was neighbors who needed to have strong commitment and tenacity to preserve a stable neighborhood. As in the early part of the Association, it is through the dedication and efforts of the neighbors that our Association has the respect of city, county, state and federal governments. It is rare when our collective voice is not requested or valued.
I began my search with the very informative "Neighborhood as Community" written by our neighbor Doris Meadows in 1984. This booklet gives the reader a glimpse at the historic struggles of our neighborhood. The Home Realty Company advertised the Hillcrest area (now Warwick Ave.) as "Rochester's Best Home spot." The advertisement stated that the area provided:
"Freedom from smoke, dust and city odors. Desirable neighbors owning their own homes. Pure country air…Nearness to public and parochial schools and churches and stores."

(Neighborhood as Community, Meadows, Doris, 1984)
Homes included such features as "hardwood floors, beamed dining room ceiling, large stained glass windows, and bronze hardware."
These are the same features that continue to draw buyers to our neighborhood. Homes were generally one or two family. They featured 3-4 bedrooms, ideal for families. They were priced within a range that was affordable. The neighborhood thrived with families of similar ages and shared values. From 1920-1960 the area was a stable neighborhood united by economic stability (many working in and around the neighborhood), owner occupancy and convenience to stores, schools and churches.
According to Meadows critical changes took place in the early 1960's: many residents of the 19th Ward were aging and there were trends to move out of the city. It was then that 19th Ward neighbors noted disturbing trends like "block busting". Block busting included the following techniques: The use of race issues to encourage panic selling, the encouragement of black prospective buyers and the discouragement of white buyers, and the encouragement of buyer to use property for speculative purposes rather than for residence.
A group of concerned neighbors called a meeting July 19, 1965 at the Calvary Baptist Church on Genesee Street. A group of seventy-five neighbors voted to create the Nineteenth Ward Community Council. The goal of the council was:
"The formation of a community council is designed to take preventive measures which would deal with the above factors, as well as new situations which may arise. The overall goal is to preserve the 19th Ward as a desirable residential community, open to all who can afford to maintain a home. It is hoped that it could prove a model for the possibility of a racially integrated community within a stable residential area. When we speak of a stable community, we mean one in which property owners are largely resident on the premises, in which homes are largely one and two family residences and in which the buying and selling of property takes place for reasons other than panic and speculation."
Over 700 residents became members to work on this goal. They quickly found that housing was not the only issue. Schools, youth services and the expansion of the airport moved many to become involved.
A lot has happened and been accomplished since the beginning of the 19th Ward Community Association. The following list is a few of the things that have been done to create a safe, stable and thriving community:
A real estate center which helped buyers and sellers work together to purchase homes without a realtor, housing rehabilitation, youth programs (Little League teams), Square Fair, Citizen and Merchant of the year, Annual convention, Bridge Dinners, Zoning, Human Resources, Schools Committee, Westside Farmer's Market, opposition to 390 running through Genesee Valley Park, multiple efforts by Zoning Committee to keep the area residential, and many more.
Doris Meadows states in the final part of the booklet that building community is difficult and complex. It is important to make sure we have a solid foundation of owner occupied homes which creates stability and proud ownership of not only their property but the entire neighborhood. Activism and timing are the final pieces in neighborhood becoming community. Meadows ends her booklet with "the desire to protect and preserve what is found to be good and the willingness to work to improve that which is considered undesirable. … Activism depends on continual involvement by citizens and institutions to monitor change and to address new issues as they arise. The issues also require diverse talents and expertise as well as strong commitments from many people over a long period of time. Community requires constant vigilance and continuous nurturing. Perhaps it is the very fragility of a strong sense of community that makes it such a rare and valuable experience."
We celebrated our 50th anniversary in 2015! In recognition of that milestone, the Landmark Society of Western New York honored the 19WCA with a Special Citation Award. At the November 15, 2015 presentation, they honored us as follows: "Celebrating its 50th anniversary this year, the 19th Ward Community Association strives to preserve the residential character of its neighborhood by fostering a multi-racial community where people share a sense of pride and culture, as well as history. Recently, the Association sponsored the designation of four new National Register Historic Districts to further encourage the rehabilitation of its historic homes."
I have taken on the role of president to continue to state to myself and my neighbors that I believe in our community. I believe that although imperfect we are all interested in making our neighborhood a great place to life. We all have our biases and quirks but in the end, we just want to live in an area with good schools, a safe place to walk and worship. A place where if you need a cup of sugar or a ride to the doctor you know you can count on a neighbor or two to help you.
Please join me and your neighbors: To create a conscious multi-racial community where individual and cultural differences are celebrated and where people share a sense of community; to advocate on issues pertaining to the entire metropolitan community, especially the city of Rochester; to provide, to the members of our community who can least afford them, access to charitable services and necessities and to coordinate activities that improve the quality of life in the 19th Ward. There is so much more to do!
Bring your special skills and expertise to help us continue to do the hard of work of building a community. So far this year we have addressed the stealing and defacing of LGBTQ, Coexist and BLM flags, food insecurities and changes to the RTS routes (and it's just April!). There is currently a dedicated group of your neighbors meeting monthly or more, working to create the viability and sustainability of this organization. Please join us!
Karen Emerson, President
In memory of John Borek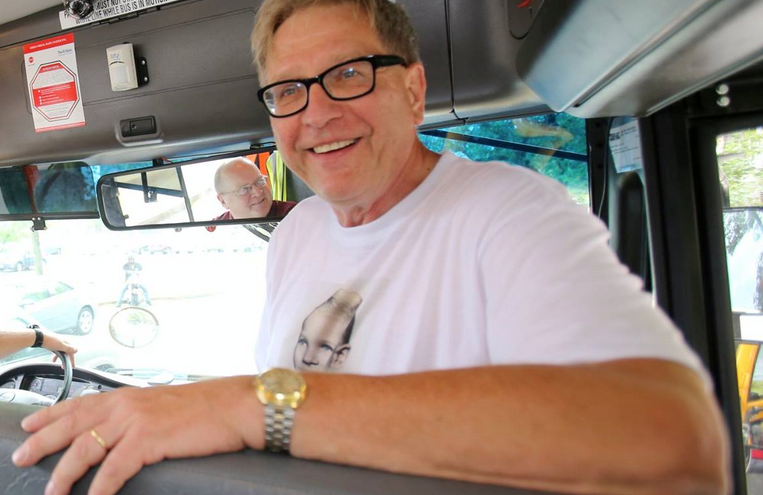 The 19th Ward Community Association, community and neighbors extends our condolences to the family and friends of John Borek, former President of the 19th Ward Community Association. Rochester City Council proclaimed February 21, 2021 as John Borek Day in recognition of his many amazing accomplishments in the Rochester community. We also remember his wife, Jacqueline, who passed away 10 months ago.
Around the Neighborhood
Welcome a New Neighborhood Business
Here is another locally-owned business that just opened to serve our neighborhood. They would love to have us visit their newly remodeled store. Andy's Southern Deli opened at 934 West Main St., across from St. Mary's hospital, in a 100-year-old building once planned to be demolished. Andy Winterkorn renovated the building and built the deli himself. The deli offers hot and cold sandwiches, subs, fresh meats, cheeses, beverages, groceries. Neighbors will love the popular southern foods shipped from Georgia. You'll find Andy and his daughters working in the store 7 days a week. His vision is to offer great food, friendly service and jobs for the Bull's Head neighborhood. Call 436-3330.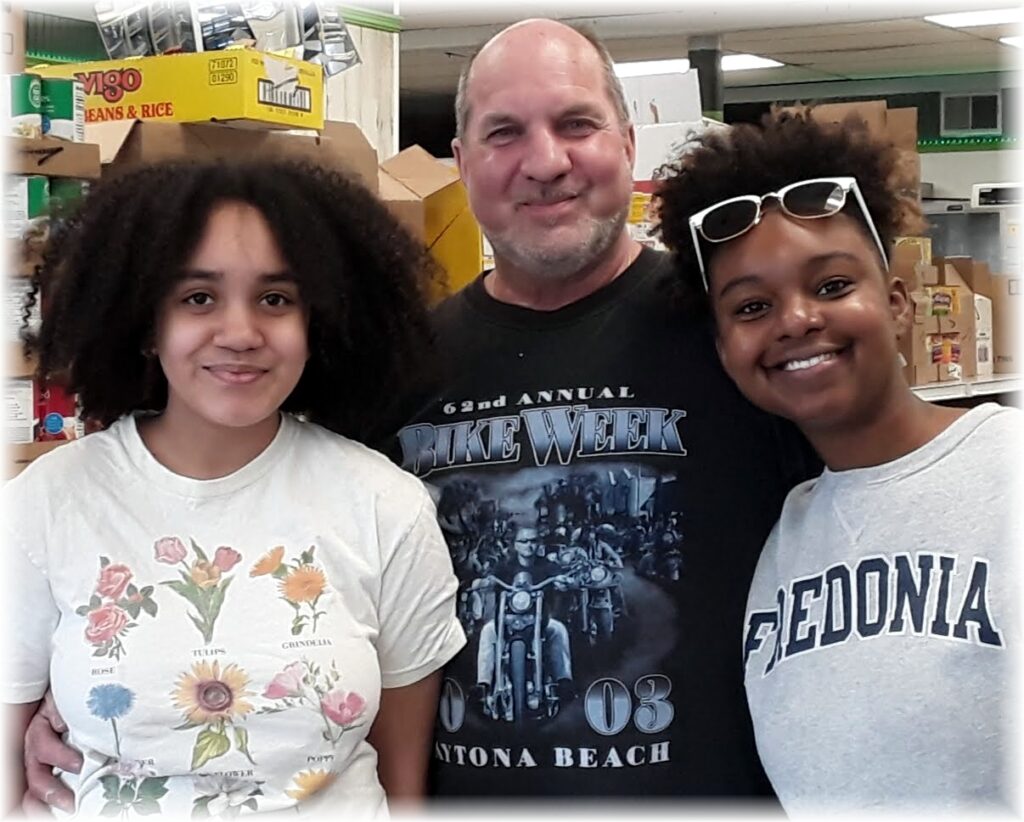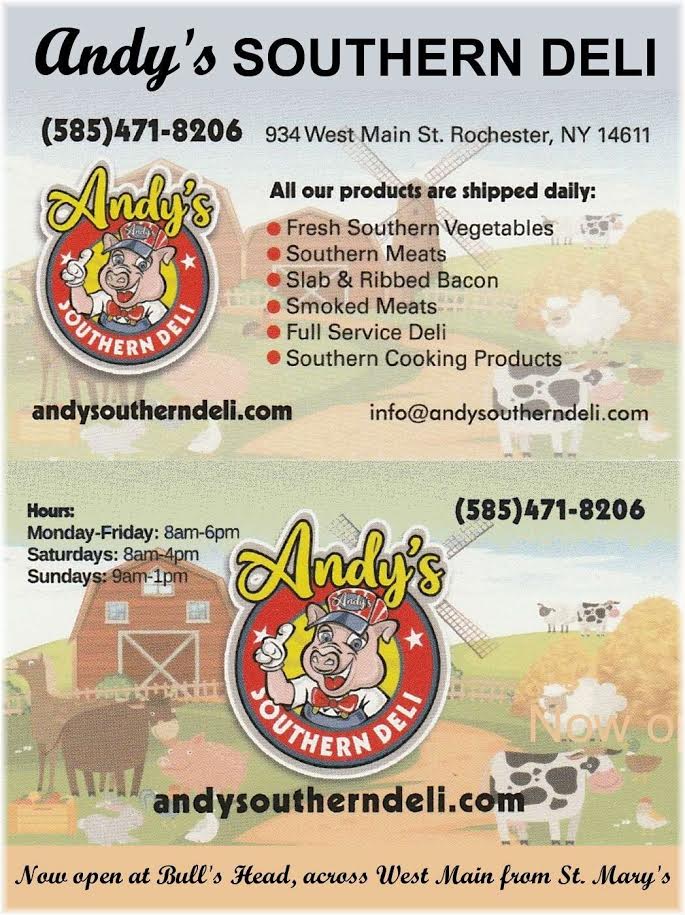 Food Stand – at Arnett Branch Library!
Rapids Cemetery
Do the "Lavender Twist"
Help plant the new "Lavender Twist" weeping redbud at Rapids Cemetery on Sunday April 11th. The tree will be a memorial for Nancy Sweetland, Mark Sweetland's mom. Volunteers can also clear brush from the cemetery grounds. Helpers are needed from 1-3 pm. This will be the kickoff for this season, open for volunteers on the second and fourth Sundays each month.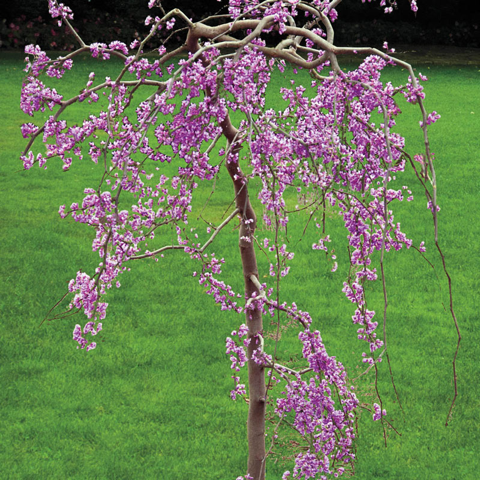 COVID Vaccines

There are more vaccine sites opening in the area. Please check https://flvaccinehub.org/ or call 311 and they can help with registration.
Grace Family Medicine, 340 Arnett Blvd., has vaccines available. Please call 585-469-6609 to arrange a time.
Arnett Block Association
Kids and grownups had fun at the Arnett Block Association's Easter Egg Hunt! The Arnett Block Association helps improve safety and create a sense of community through activities such as the Easter Egg Hunt, a neighborhood garden, and programs at the Arnett Branch library.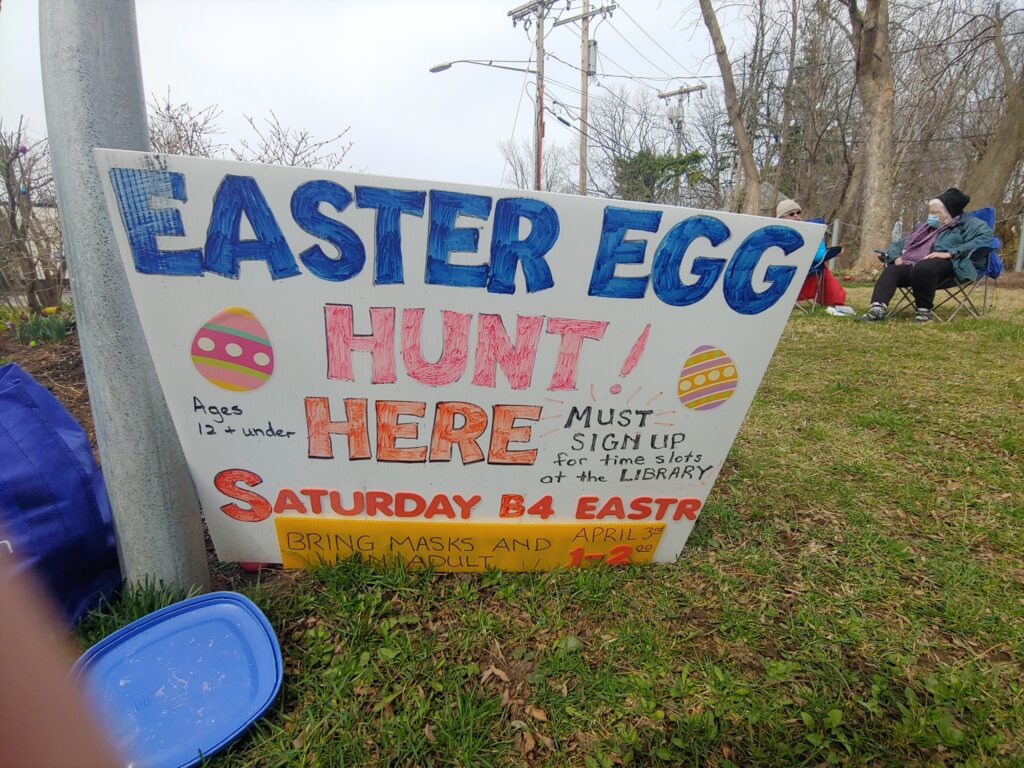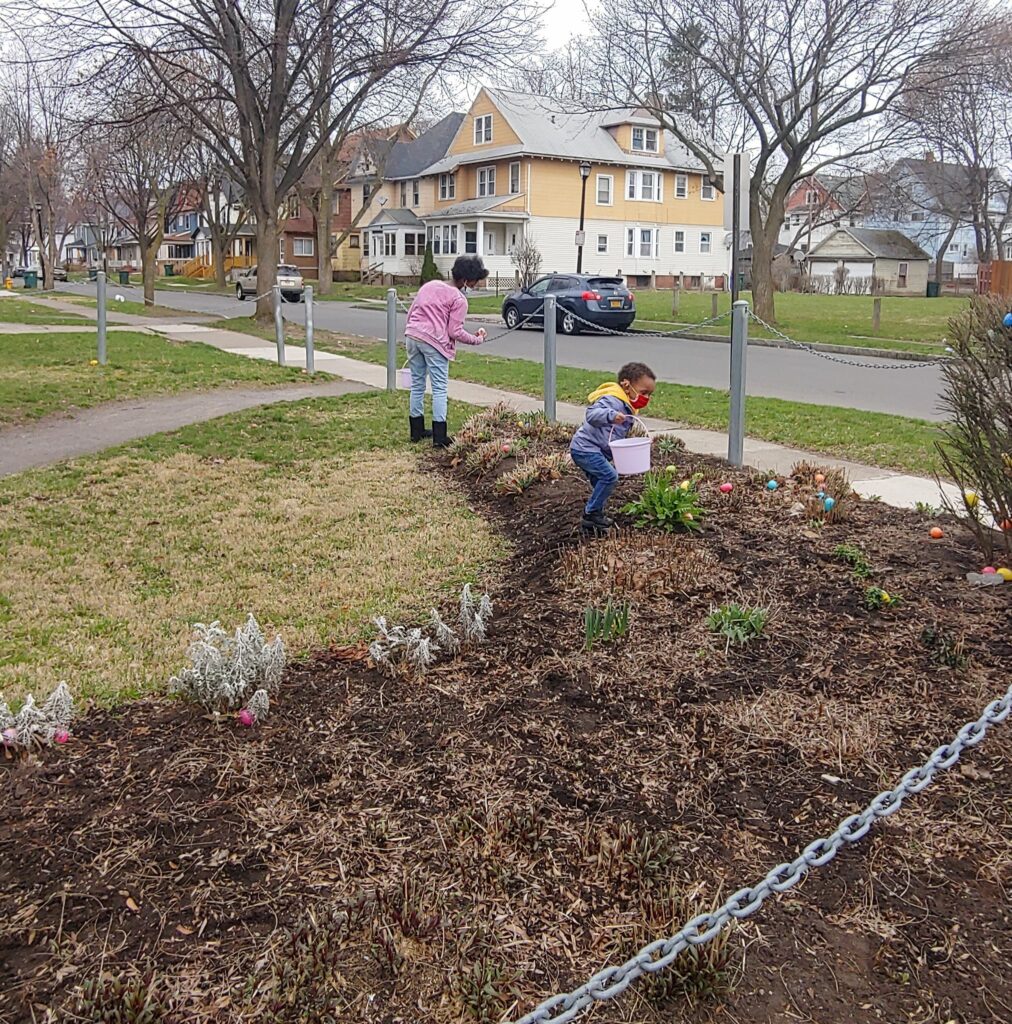 New survey for West Main Street study
There is a new survey out for the West Main Street study. It will be available for a limited time at: https://www.surveymonkey.com/r/wmain3. This is a different survey than the one that was reported on previously in Update 19.
The new West Main Street Multimodal and Placemaking Study that is looking at reconfiguring West Main. There are opportunities to make improvements, but there is not much room for competing demands. If you drive, bike, walk, or take the bus on West Main Street, please take the time to provide input to the new survey.
The study will look at options for reducing the number of lanes to accommodate new bike lanes. This is a common approach on wide roads; however, West Main has the additional challenges of being a bus trunk line and not having nearby parallel main roads that traffic can be redirected to.
The study will look at ways that sidewalks and crosswalks can be improved. It will also look at ways to improve the look and feel of the street, and to honor its history.
Find out more information on the study at: https://www.cityofrochester.gov/wmain/
Daffodil 'Tete-a-Tete' and Scilla 'Spring Beauty' from our neighbor Marcy Klein! Thank you!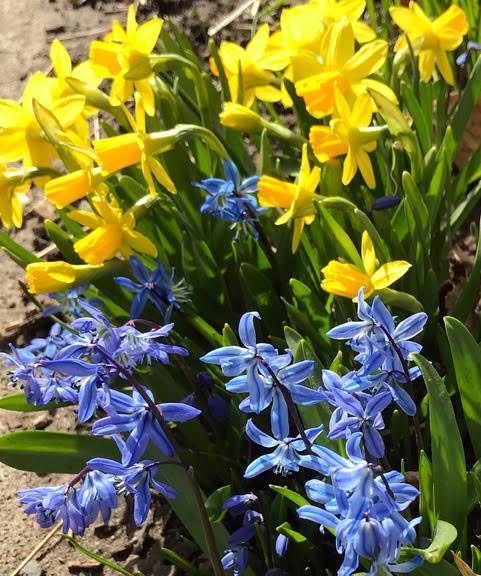 NEWS YOU CAN USE!
Eviction Prevention Initiatives
The City and County hosted a webinar on March 25th to review the eviction prevention initiatives and programs that have been implemented since the pandemic began, and to preview an upcoming program.
Please click the links below to view:
There is a NYSSERDA 50/50 program that gives 50% off the installation of On-Demand Hot Water Heater through Isaac Heating. The program does not seem to be income dependent, just geographical. 14611 and 14619 qualify. Anyone interested in insulation, furnace or on-demand hot water heater can call Tom Curyto at Isaac Heating & Air Conditioning at 585-410-8007.
Join us as we tour magnolias at Highland Park. This will be on Wed. April 14th at 3 PM. Meet across from the Lamberton Conservatory.
We plan to walk the whole loop from there to the top and back to cars. You can go as far as you want, or just see magnolias. This is the best time of year to see Highland Park. So much blooming, and new every couple of days. RSVP at msweetla@frontiernet.net, so we know who to wait for before we depart.
FOR YOUR CALENDAR
First day for volunteering at Rapids will be Sunday, April 11 at 1pm.
Blessing of the Bikes – April 17th at Genesee Valley Park 9:30-10:20 am
Grand Opening – Supreme Salad Bar – 344 Thurston Rd. April 24th 3pm
Day of Caring – May 13
Ease on Down the Road – May 22 and May 29 – Stop by the 19WCA office on those dates!
Westside Farmers Market – Anxiously waiting for June arrival!
FOOD SECURITY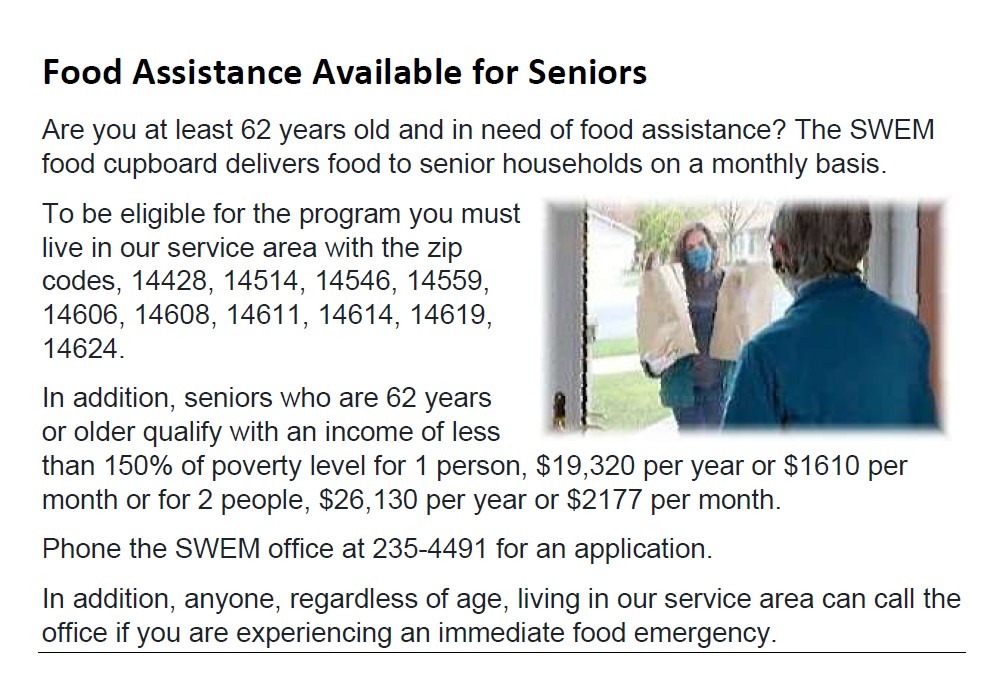 Senior Meal Delivery Restaurant Grant Program collaborating with 25 restaurants to deliver meals to area seniors.
The restaurants will deliver meals to area seniors, age 60 and above, who are unable to travel or frequent restaurants due to the Coronavirus pandemic. Seniors can call 211 to place an order. The program will run through April 30.
FOODLINK
https://foodlinkny.org/
Foodlink is a Rochester-based nonprofit dedicated to ending hunger and building healthier communities by addressing both the symptoms and root causes of food insecurity. They serve as the hub of the emergency food system across a 10-county service area. As a leading public health organization, Foodlink administers many programs and initiatives that aim to build the health and wealth of communities.
Foodlink relies on thousands of volunteers each year to sort, inspect and pack food that nourishes thousands of our neighbors. We could not do the work we do without them! Volunteers also contribute to the success of our other food-related programs, such as the Curbside Market, Nutrition Education, and the Lexington Ave. Community Farm. Sign up today to donate your time and support our mission!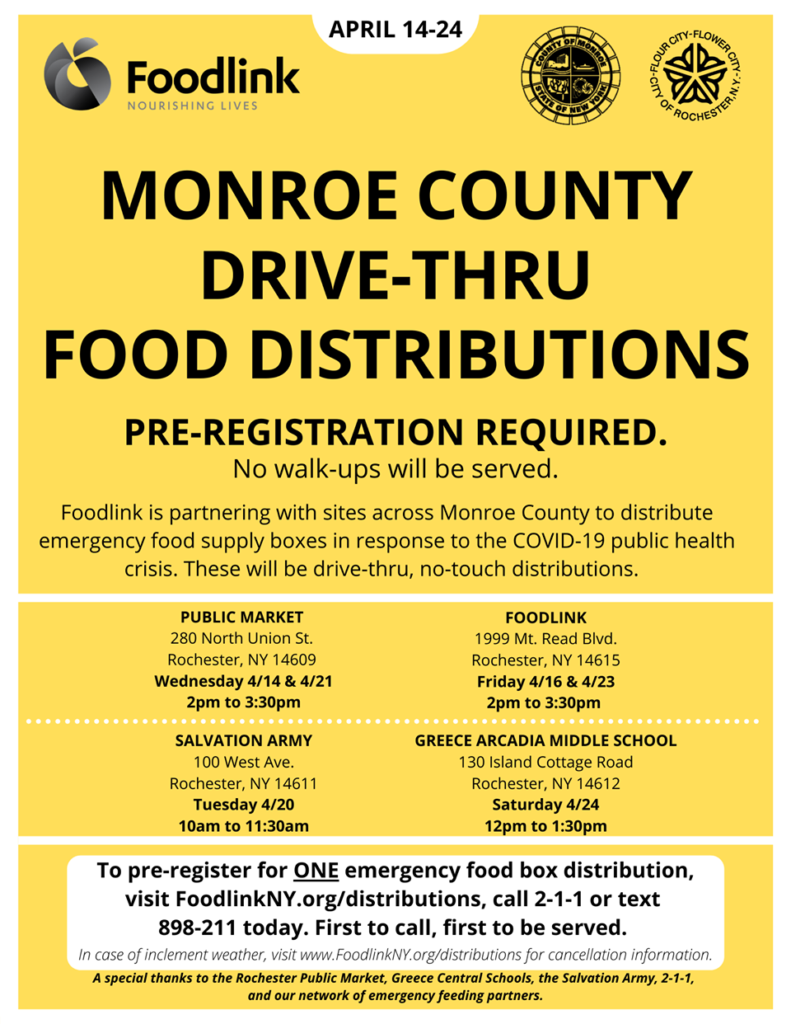 Committee Information
Reach out to our office manager if you would like to get involved.
Delegates Council
Delegates Council meets virtually on second Thursday of each month at 7pm via Zoom.
Garden Committee
The Garden Committee is seeing spring flowers, once again! Please volunteer if interested!
Communications Committee
The Communications Committee is in search of a new chair. Get in touch!
Housing Committee
The 19th Ward Housing Committee will meet the third Thursday of each month at 1 pm when we are able. Please get in touch with our Office Manager about how we'll meet during social distancing. Our meetings generally last about an hour. A City representative from Buildings and Code Enforcement attends to work with us on specific properties, concerns/issues, code enforcement, etc.
Schools Committee
The schools committee is looking for a new Chair. They are continuing to meet and will keep us updated on the good work they're doing.
More news
Healthi Kids Upcoming events
April 24, 2021 – The African American and Latino Health Coalitions present the Speak Life! 2021 Health Equity Conference. Join us online from 9:00 AM – 12:00 PM for a free, thought-provoking action-oriented discussion around healing from the trauma of racism and discrimination, including the trauma of the COVID-19 pandemic and its aftermath. Register here.
April 26 – 30, 2021 – Every Kid Healthy™ Week is an annual observance created in 2013 to celebrate school health and wellness achievements. Each day of the week shines a spotlight on the great actions schools and families are taking to improve the health and wellness of their kids and the link between nutrition, physical activity, mental health and learning – because healthy kids are better prepared to learn and thrive. Participate here.