Update 19 – June 2021
President's Message Karen Emerson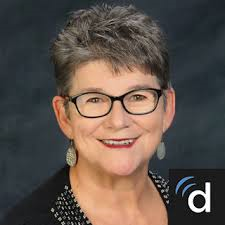 So much is going on!
We are sponsoring Boy Scout Troop #1965. It is a new troop which will allow a safe environment for our young boys and girls to learn through activities and service. The troop number is the significant because it is the year the 19th Ward Community Association started. We have a small group of neighborhood children that are ready to get started. If you have been a scout or wanted to be, please consider volunteering. We need children to join and adults to help lead. Call the office and we can get you connected.
The 19th Ward Virtual Trivia Night, scheduled for June 17, is being postponed until September. This will allow the committee to provide a more exciting opportunity for our neighbors and friends. We hope you will join in on the fun in September!
After decades of talking, the city announced that the Bull's Head Redevelopment Project is going to start. I had the opportunity to meet several of the developers. Many of them have 19th Ward connections. Melissa James Geska's company will be working on the project. She grew up in the neighborhood, and her family owned the Shamrock Garage and the ice cream shop. She and her coworkers are so excited to be working in the neighborhood. They want to bring the sense of community back to the area.
Juneteenth Celebrations – 540 West Main is hosting Introduction to Juneteenth on Friday June 18, 4-6pm (EST) – register here. This is a historical scope of Juneteenth, its present-day relevance, and importance to United States history as well as the Black American community. June 19th will have several events: Strong Museum will continue to host its event which will have inside and outside activities. The ROC Freedom Riders will start and end their ride from the Strong Museum. More information will follow. Also, consider joining the 2nd Annual Juneteenth Poetry Slam at Highland Bowl sponsored by Save Rochester. This is a family event more details at SaveRochester.org to register or call 585-667-0660.
Remember the Westside Farmers Market is opening June 8th. Please bring yourself and friends.
Please take some time to congratulate our office manager, Ruth, for graduating from the Mayor's Neighborhood Leadership Training Program. Along with all of her other duties and dedication to the 19WCA, she spent the last 8 Thursdays for 3 hours in the evening to learn about the city and its programs. She states she learned a lot and it has inspired her to utilize her increased knowledge to better support our neighbors.
June is National Gun Violence Awareness Month. Gun Violence Awareness month was created to draw attention to this tragic reality and demand life saving change.
June is Pride Month. In celebration of Gay Pride month 19WCA is bring attention to the random persistent damage and theft of Gay Pride flags. As you have read a generous neighbor has donated pride, coexist and BLM flags to show that we value ALL people. Our neighborhood and nation becomes better when there are lots of voices. It doesn't matter that we are different in color, size, ethnicity, religions or social strata, we can all live together! Sign up for your flag at 19wca.org.
June is also Men's Health Month, a national observance used to raise awareness about health care for men and focus on encouraging boys, men and their families to practice and implement healthy living decisions, such as exercising and eating healthy.
Please remember to vote in the upcoming Primary June 22, 2021. Primaries are your way to have a say about who is on the ballot in November. You will be voting for a representative for City Mayor, City School Board, City Council At Large and Monroe County Court Judges. If you have any questions about this primary please go to Vote411.org. Your participation in this is vital to getting the representation you want and need to get the things you envision for our city and county. Thanks for your involvement.
As the weather warms, be prepared for the boom-boom from cars and the sound of fireworks. Know we are aware and are doing what we can. Please continue to bring your issues to the Neighborhood Service Center and our office. We will continue to work as hard as we can to help with these concerns.
Be safe, consider getting vaccinated and enjoy the warm weather!
Karen Emerson, 19WCA President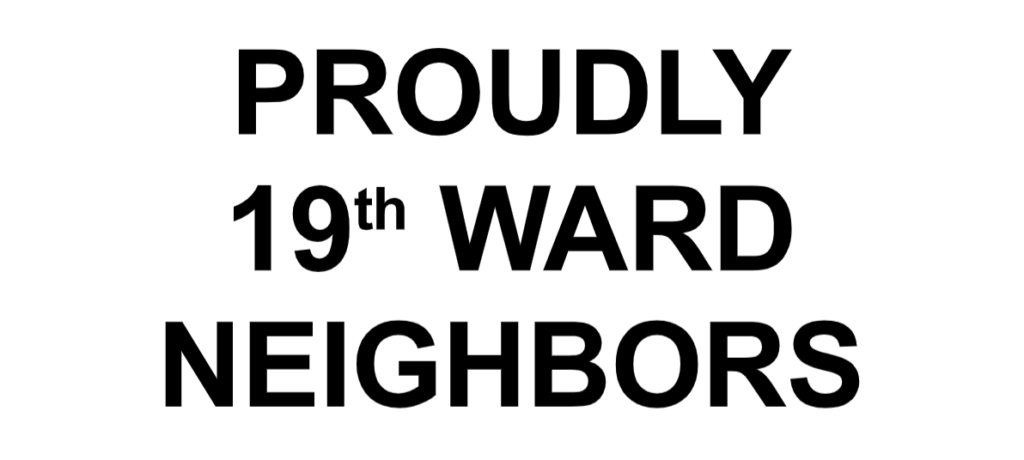 Mitchell Lurye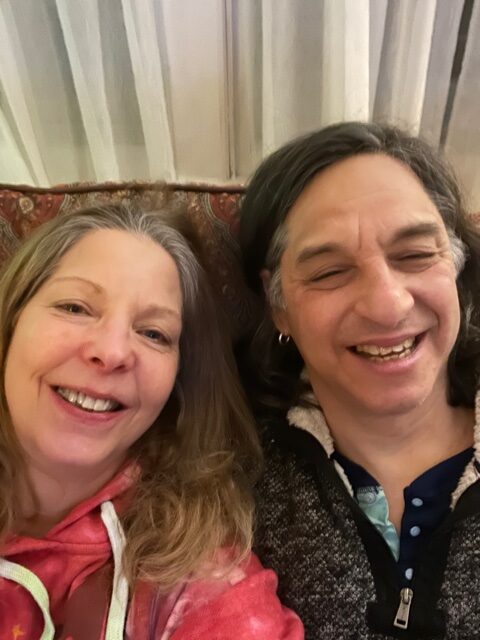 I came up to Rochester from Brooklyn (where I grew up) in 1986. I grew up in the streets of NYC. In my teenage years I worked as a bicycle messenger and spent my more constructive time doing art and selling my work on the streets of Greenwich Village. I attended HS of Art and Design but left for a GED. I had way more interest at that time in hanging out in Central Park.
I attended FIT as a textile design major on a grant for city kids that needed guidance through a program called the Door. From there I transferred to SUNY at New Paltz where I majored in Psychology. I have a degree of Masters in Social Work from Columbia University. I currently have a Psychotherapy practice since 2011.
Alison and I have moved to the 19th ward in December of 2019. We love being part of this community. Our home is wonderful as are our neighbors. We find great joy in the diversity and the warmth of the residents.
I am the alternate District Delegate in District 7 of the 19WCA. My desire to volunteer in the 19WCA is driven by my appreciation for being part of this community!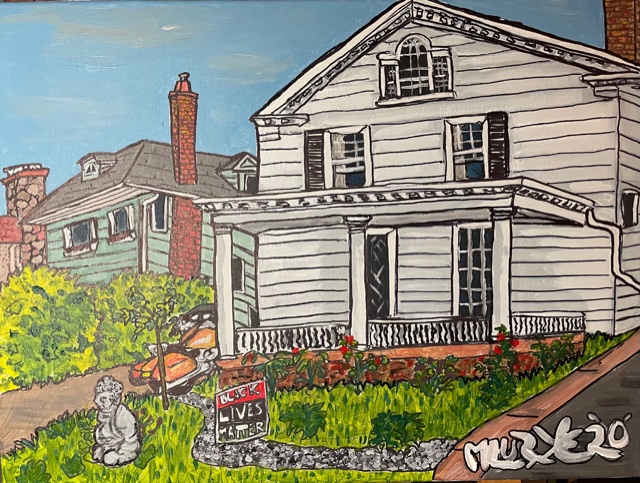 Around the Neighborhood
COVID-19 Vaccinations
BarberShots https://www.hisbranches.org/barbershots (To sign up, follow the link and then scroll down a bit to pick your preferred date/time, click "continue," register with your info, and complete the appointment.)

What: Vaccine pop-up with free haircuts!
Where: Visions Barber Shop (511 Thurston Rd)
When: 10 am – 1 pm, Saturday 6/5/2021 and 6/23/2021
Who: Open to age 12+ with parent/guardian supervision

Brought to you by His Branches Community Health Center, Visions Barber Shop, The Community Foundation, and Rotary Club of Rochester Southwest!
RAPIDS CEMETERY – Preparation for Memorial Day by Scouts and families
Scout families' volunteerism at Rapids Cemetery 5/30/31 in preparation for Memorial Day.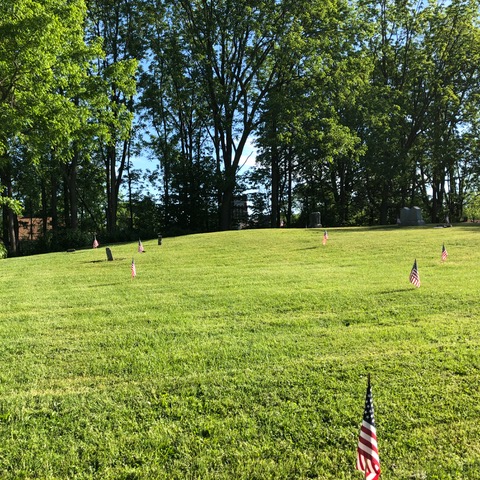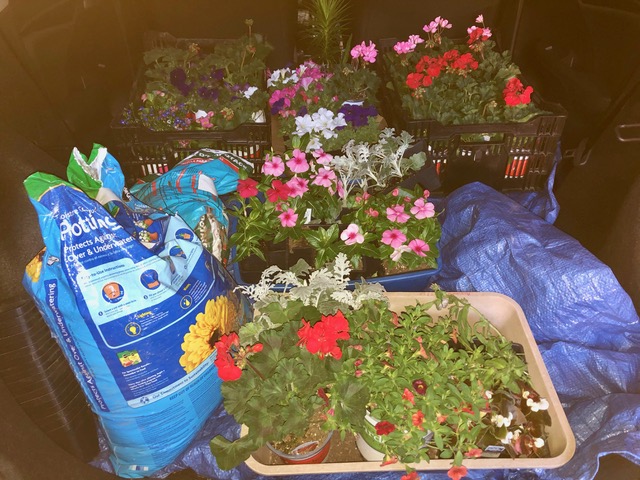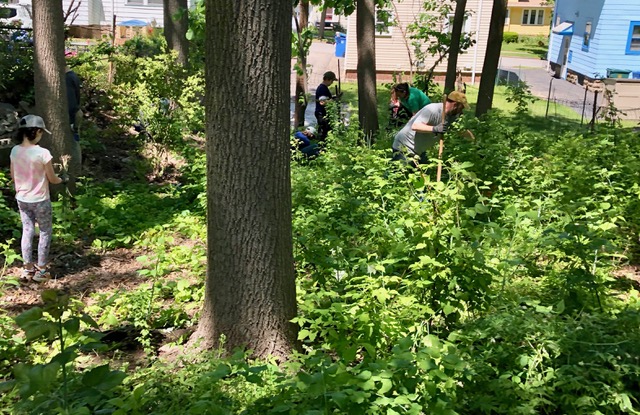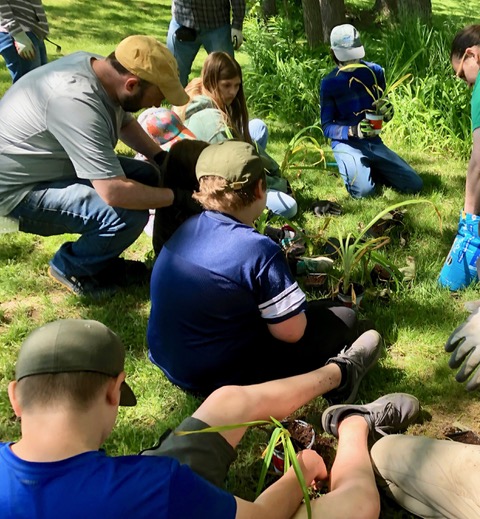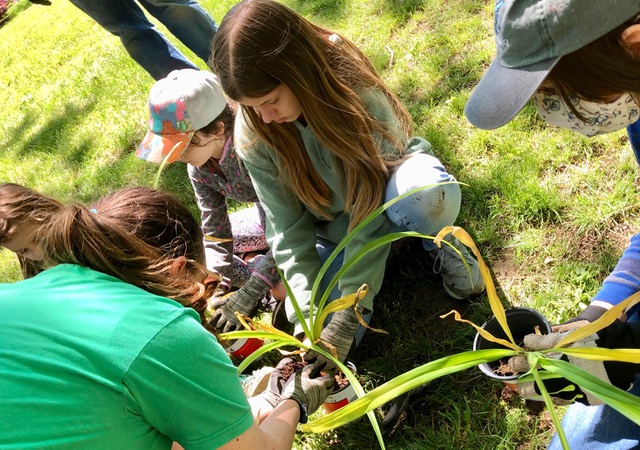 News coverage here, if you have access: https://www.democratandchronicle.com/picture-gallery/news/2021/05/31/memorial-day-service-remembers-civil-war-nurse-rapids-cemetery-rochester-ny/5281105001/
19th Ward Spelling Bee holds annual competition (5/15/21)
Here is the link from channel 10.
It is labeled: 19th Ward Spelling Bee holds annual competition
Arnett Bird and Butterfly Garden
Two iris and a spiderwort – Thank you to the crew who helped do some planting there on Saturday May 22nd. (Susan Morehouse)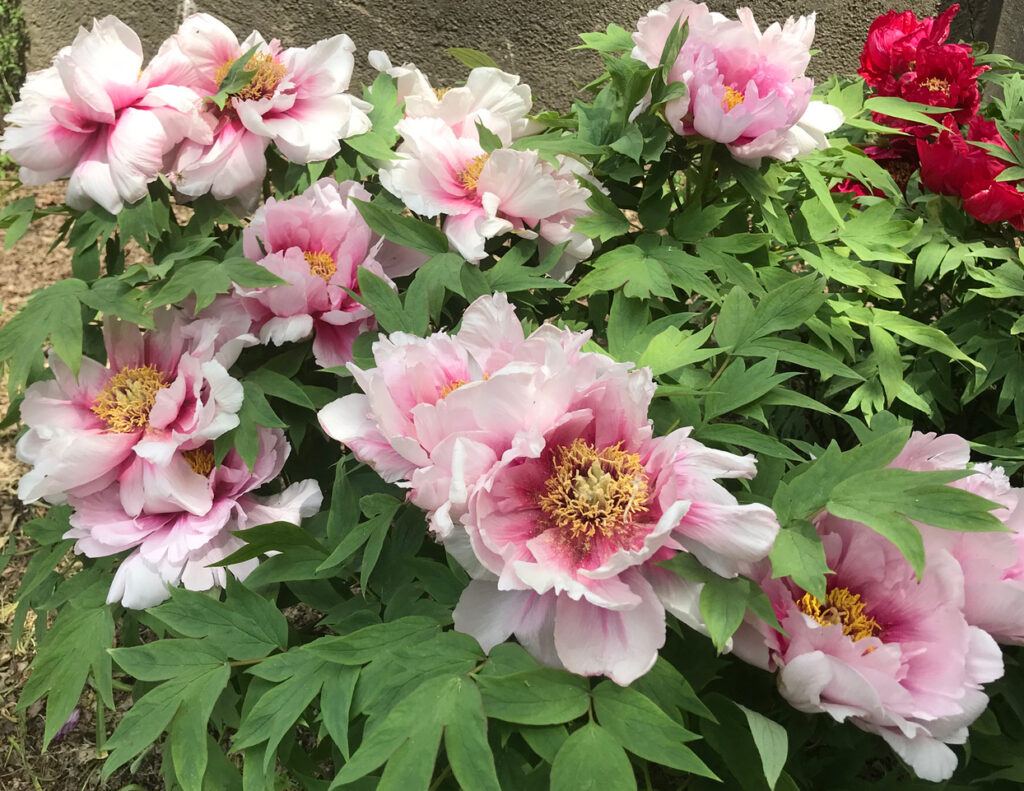 Community News
WESTSIDE FARMERS MARKET – TUESDAY, JUNE 8, 4-7 PM, 831 GENESEE ST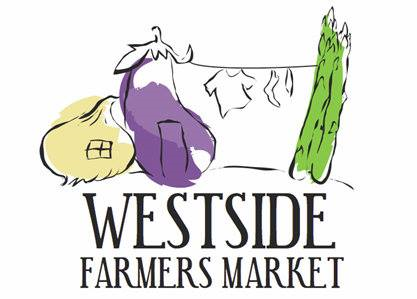 The Westside Farmers Market Crew is gearing up, and just about ready to go. We are very excited for this year's market. We are proud to let you know that most of the farmers and vendors who were at the market last year will be joining us again this year.
You can look for Rainwater Farms, Lagoner Farms, Flint Maple, Stir Crazy Kettle Corn, Cooking and Eating Health with Phil, GG Bakes, Taste of Supreme Bakery, Grawn Family Farm, and the Arnett Branch Library.
Some great news – new to our market this year is Fisher Hill Farm with produce, chicken, and eggs (they supplied us with corn and eggs last year), Flour City Bread (rolls, baguettes, sandwich bread, artisan breads), Happy Pickle (pickles of course), Flower City Noire Collective (beginning in July with collards, callaloo, and educational books), a collaboration with SUNY Geneseo bringing starter plants and ethnic produce, Weatherfield Farm bringing teas and herbs. C&C Urban Farming will have microgreens and wheatgrass.
That's not all…Guten Appetit will be joining us with Swabian German style soft pretzels; SNAP-Ed Nutrition will return with nutritional information, recipes, and samples. His Branches will check blood pressure and distribute vaccine to those who are interested. The market info tent will have tomato plants available. The Rochester Public Library and the market have partnered to bring some very cool story boards to our market for the young folks. Impact Earth will provide composting.
COVID 19: We will be following guidelines established by NYS Dept of Agriculture and Markets (which are changing often). We will keep these updated on our website. Social distancing will be expected, masks will be encouraged but not required for those of us who are fully vaccinated. Tasting and sampling will return, but will have guidelines; there will not be places for gathering such as the dining tent or kids craft area, but socially distanced dining on the lawn will be allowed; music may return with restrictions.
Mark your calendar now for OPENING DAY, JUNE 8 at 4:00, 831 GENESEE ST
Fruit and Veggie Costumes and dancing encouraged.
Join us for our market kickoff (almost a parade) on Saturday, June 5. Help us promote the market by distributing lawn signs, flyers, door hangers. Meet at 9:45 am, 470 Rugby Ave. for snacks and information. Start the 'almost parade' at 10:00. Call 436-8999 to request a lawn sign.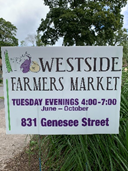 ARNETT BRANCH LIBRARY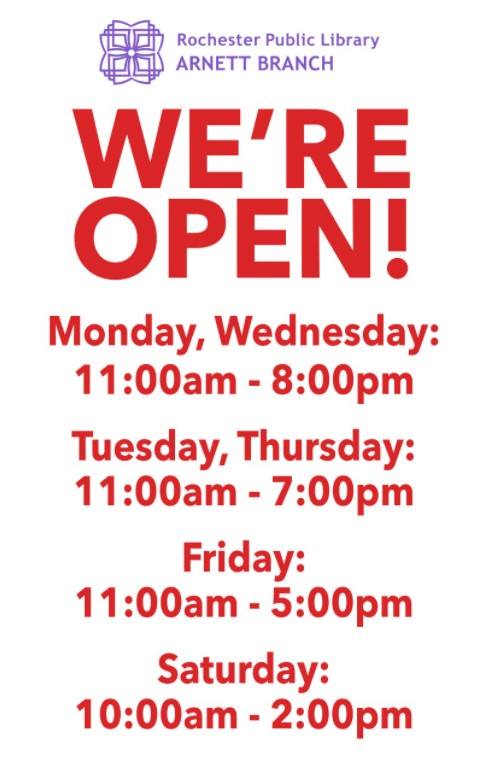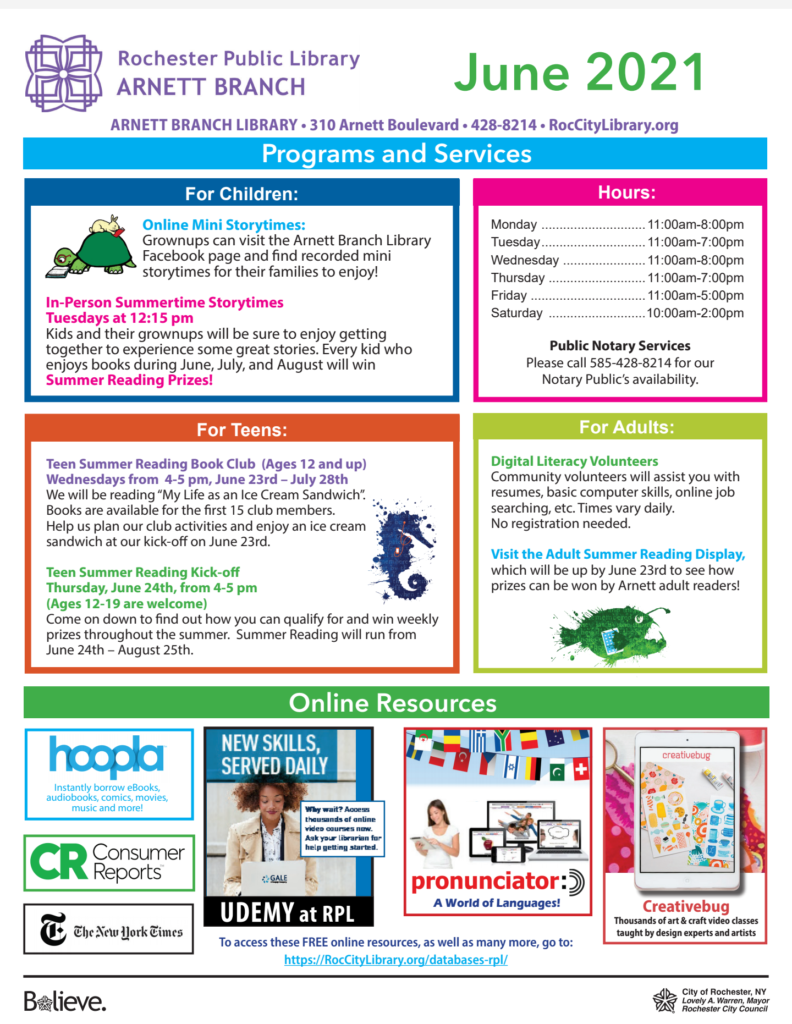 More News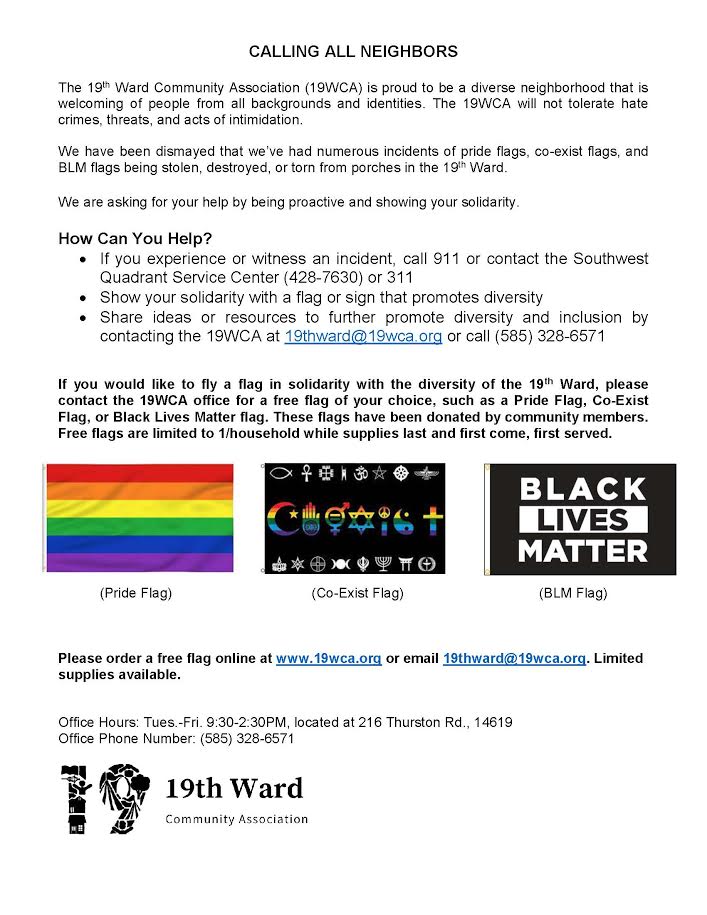 CALL FOR VOLUNTEERS
Volunteers are needed to help water and weed the gardens a few days/week at Spiritus Christi's Prison Outreach's new housing location at 30 Millbank St.
It will be a few more months until the residents move into the property and in the meantime, they need help with keeping up the beautiful gardens and landscaping. If you are interested in volunteering, please contact Elizabeth Martinez at emartinez@spirituschristipo.org.
Committee Information
Reach out to our office manager if you would like to get involved.
Delegates Council
Delegates Council meets virtually on the second Thursday of each month at 7pm via Zoom.
Garden Committee
The Garden Committee is seeing spring flowers, once again! Please volunteer if interested!
Communications Committee
The Communications Committee is in search of a new chair. Get in touch!
Housing Committee
The 19th Ward Housing Committee is in search of a new chair. If interested please get in touch!
Schools Committee
The schools committee is looking for a new chair. They are continuing to meet and will keep us updated on the good work they're doing.
Flyers